I can remember how excited I was to finally ditch my old top loading washing machine in favour of a brand new front loader. I was sure I had done all the necessary research when it came to a front loader vs top loader, but it wouldn't take long before I realized I made a big mistake!
Now, I realize that many people absolutely love their front load models and wouldn't trade them, but for me I started counting the days to when the front loader would give up the ghost so I could switch back.
That day came in July when it wouldn't pump out the water, and a new pump was going to cost almost half of what a good quality top loader would cost. Given my front loader was several years old and we had already sunk a couple hundred dollars into fixing other minor problems. I knew it was time!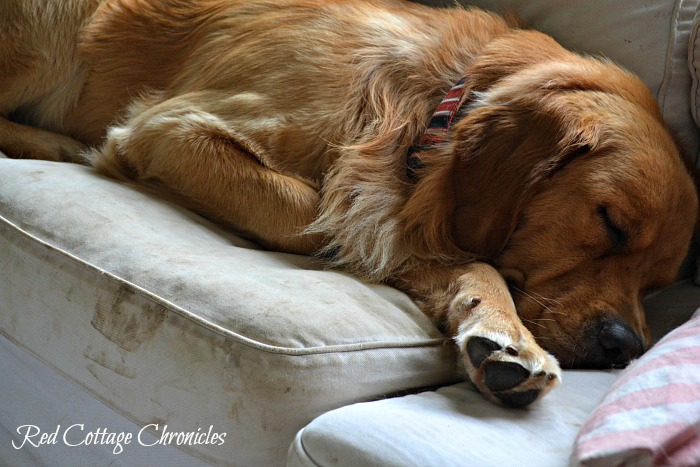 The first thing I had an issue with when it came to the front loader is the door latch failed just over a year after we got it. Although it was a relatively quick and inexpensive fix, over the years it failed 3 times.
Front loader vs top loader when it came to the length of time it required to wash a load, top loader wins hands down. My model did not come with a quick wash cycle. The shortest cycle on the front loader was the delicate cycle, which was supposed to take 58 minutes. The longest was the sanitize cycle at 1 hour 36 minutes. The regular cycle timed in at about 1 hour 5 minutes.
In actual fact the regular cycle took closer to 1 1/2 hours and the sanitize cycle took nearly 3 hours regardless of the size of the load. With time of use electricity rates, we limit doing our laundry to after 7pm and on weekends. We were lucky to get one load done during the evenings, and I didn't want to spend my entire weekend getting laundry done.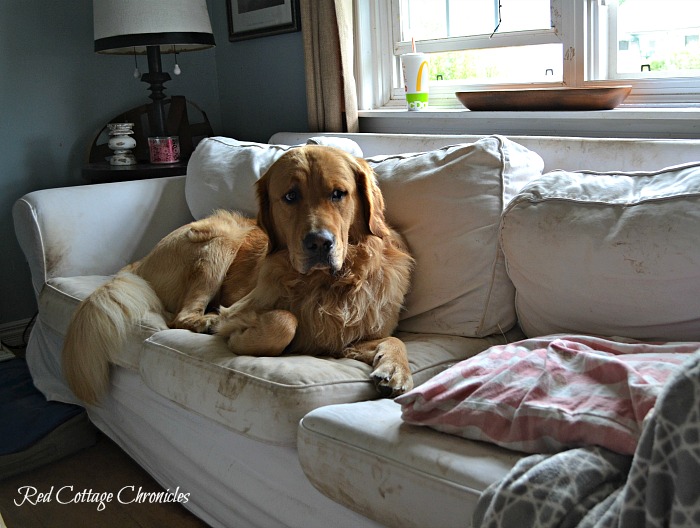 The biggest reason I went back to a front loader was that right from the onset I noticed that our clothes were not getting as clean as they had been even in my 12 year old top loader I had given up. Stains were not coming out and whites never seemed to really get white. I always use Tide or Persil both quality brand detergents, but I also tried Gain and adding Oxyclean and still wasn't getting good results.
I decided to test the theory a couple of years ago.
We have white slipped covered furniture. We also have always had 2 Golden Retrievers. Need I say more. If you follow me on Instagram you probably have seen that my dogs ignore their cozy dog bed in front of the fireplace in favour of our sofa! Our front loader was just not getting the dirt out or getting them white overall.
Although the before photo above shows new dirt that the dogs had tracked in that morning, the background dirt is what I couldn't get out with my front loader.
At one point I decided to take them down to my mother's house and wash them in her basic top loader. I used the same detergent, same water temperature and loaded the same size load. When the came out of the machine, they were as white as the day I bought them! Ever since then I knew I would be switching back to a top loader with an agitator as soon as the opportunity arose.
When it was clear that our front loader was not worth fixing, although I agonized over spending the money, when we hit the appliance store I went straight for the top loaders.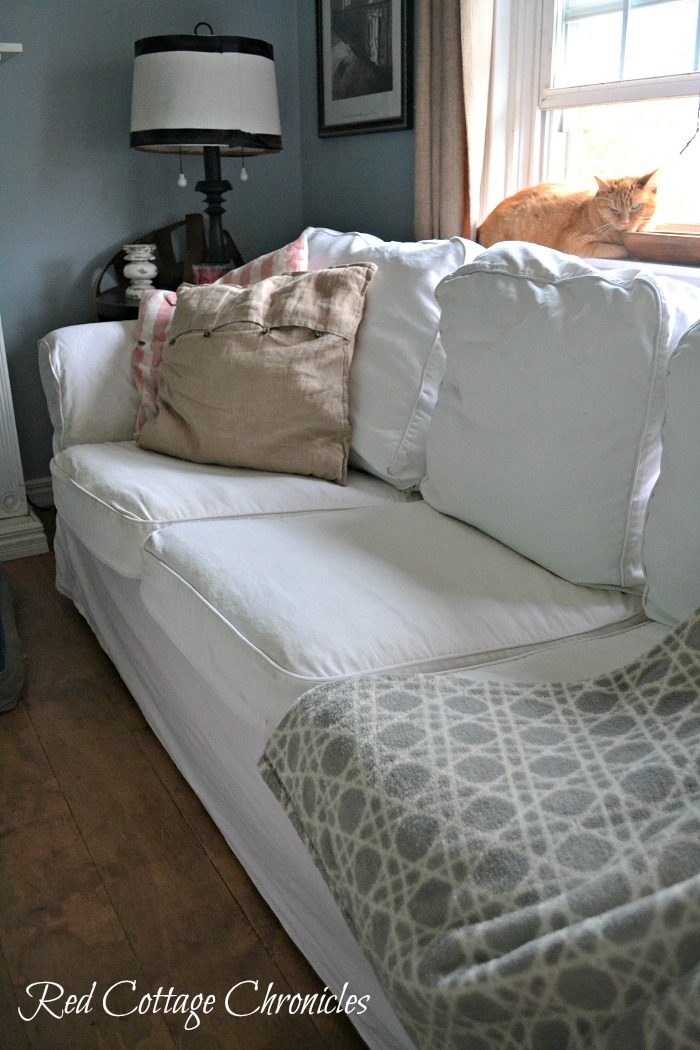 We decided on a Maytag high efficiency washing mashing with an agitator. It still has the water saver feature, were it will select the correct amount of water based on the size of the load, however we rarely do less than a full load, so I almost always use the deep water wash. I have used the sensor water level, and the clothes are still coming out way cleaner than with the old front loader. And they actually smell clean!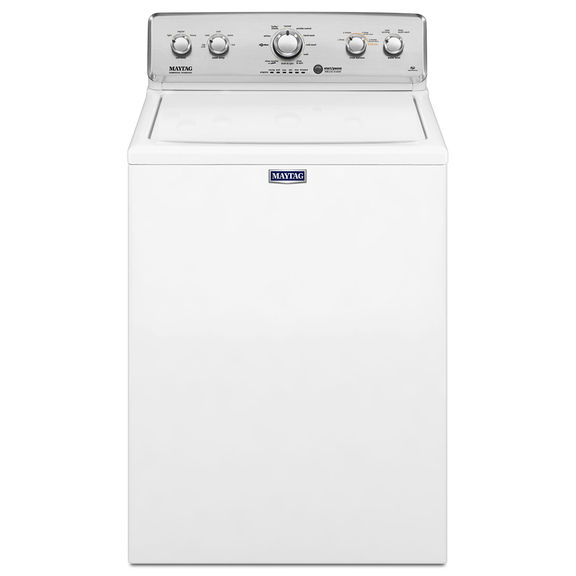 Maytag MVWC416FW 4.2 CuFt Top Load Washing Machine
Now I am getting really clean clothes in about 30 minutes! It is still early days, as I have only been using it for about a month, but so far I could not be more pleased. No door latches to break, much shorter cycles and best of all, clean white slip covers! If my slip covers are getting this clean, I know even my dark clothes are getting a good, deep clean.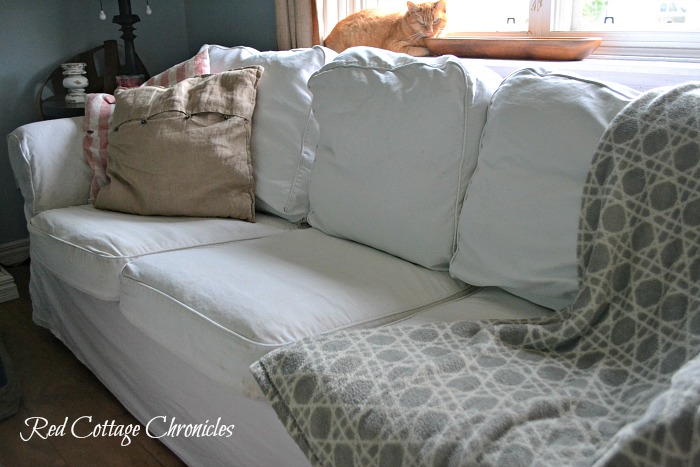 Our whites are much brighter than they have been in years and even though our slip covers are almost 10 years old and had been looking a bit gray, they come much brighter and whiter with our new top loader! Plus, I have washed several sweaters recently and they did not come out stretching, snagged or misshaped at all, which was a worry going back to an agitator.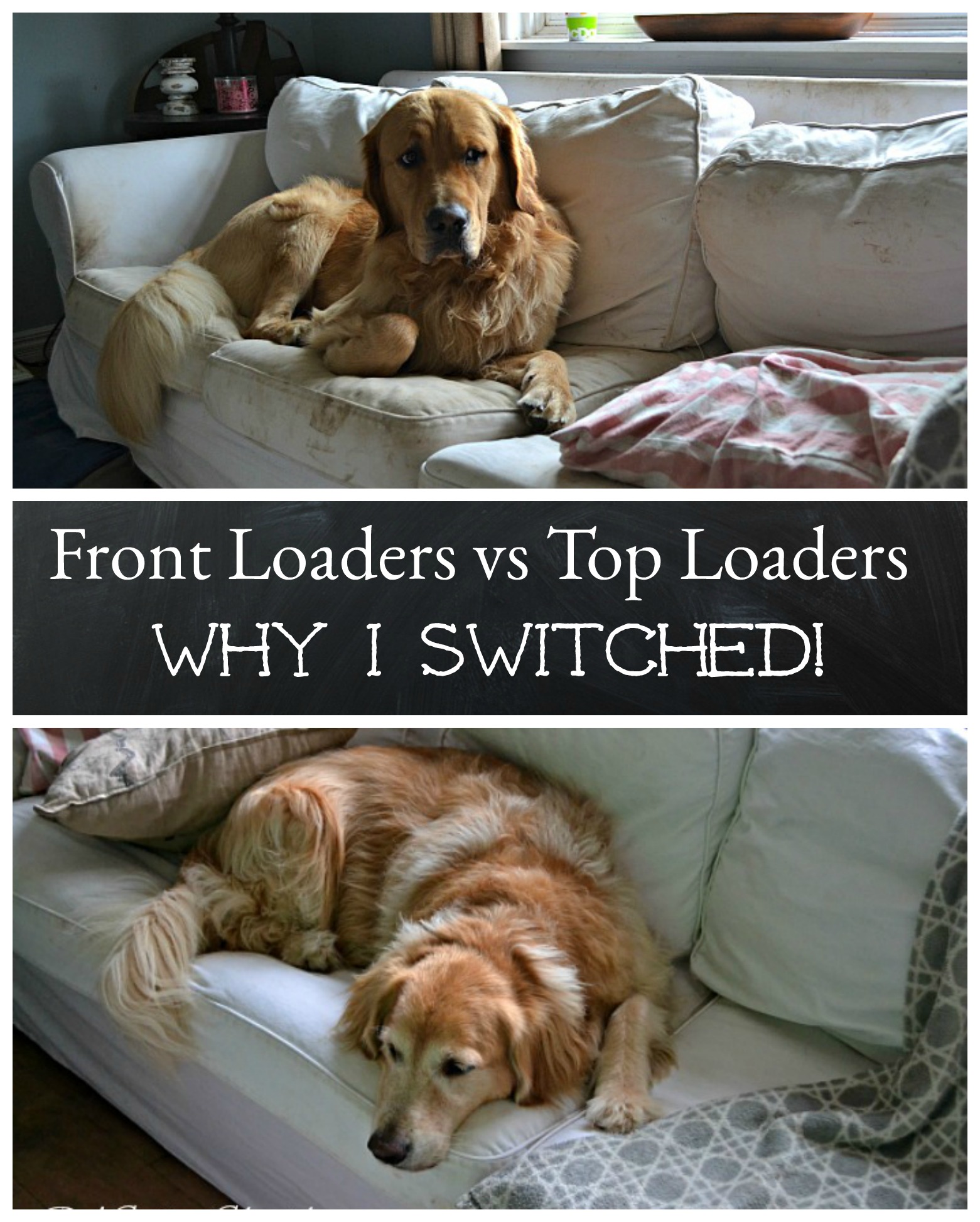 While I realize there are many who love their front loaders, for our family when it comes to front loader vs top loader, the top loader is the winner by a long shot!