We had a fairly relaxing weekend for a change!  We decided at the last minute to head to the park for a picnic on Friday evening.  Nothing fancy, just a chance to relax a bit, eat, enjoy the gorgeous weather and walk the dog!
When I got home from work I whipped up these veggie cream cheese squares.  I think the original recipe came from a Pampered Chef party I went to many years ago, and it became a favorite.  I hadn't made in in a while but had some veggies I wanted to use up and something that was easy to transport!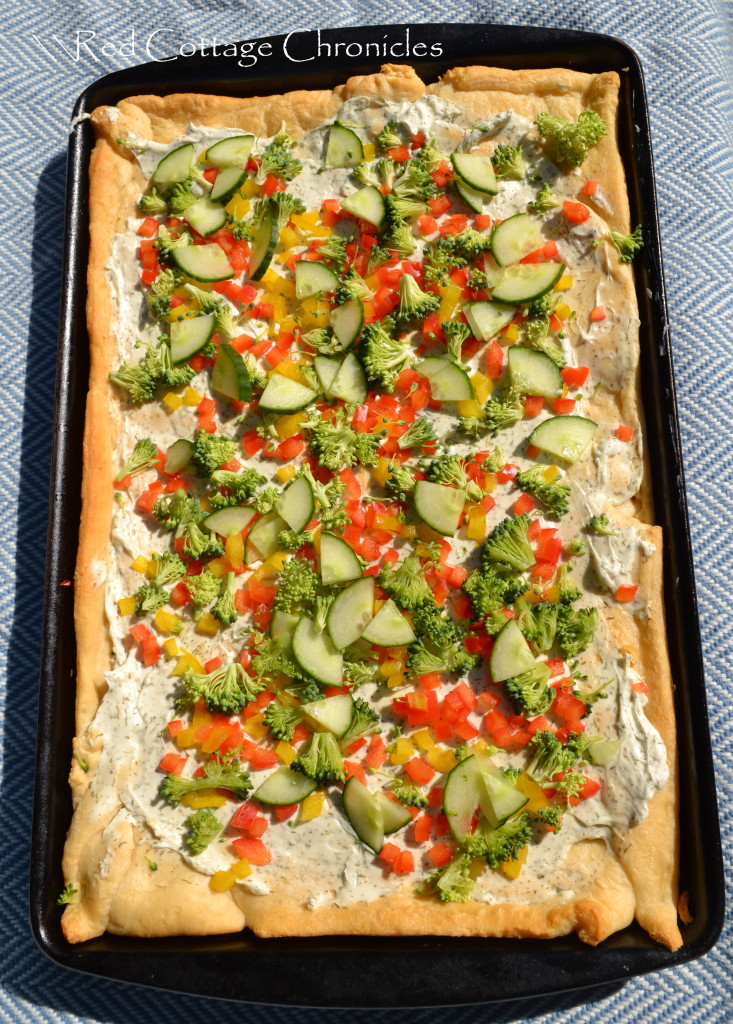 I just covered the tray with foil after it cooled, and brought the whole thing!
I even served them on fancy schmancy Chinet paper plates!  No cutlery required.  Just a heap of napkins!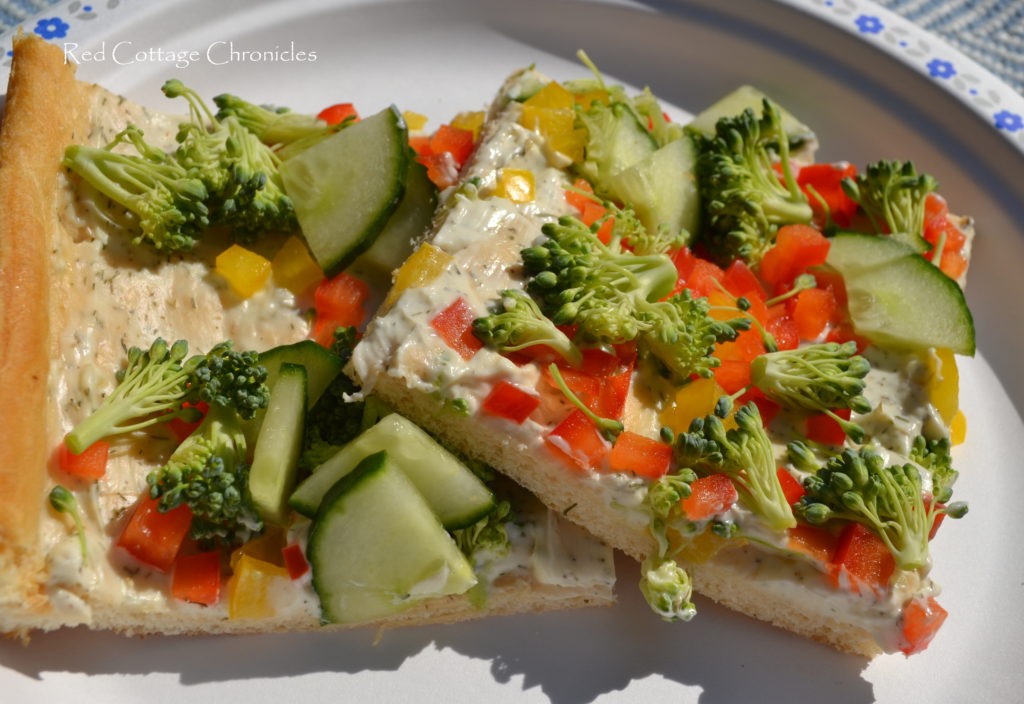 Between the four of us, there wasn't much left over!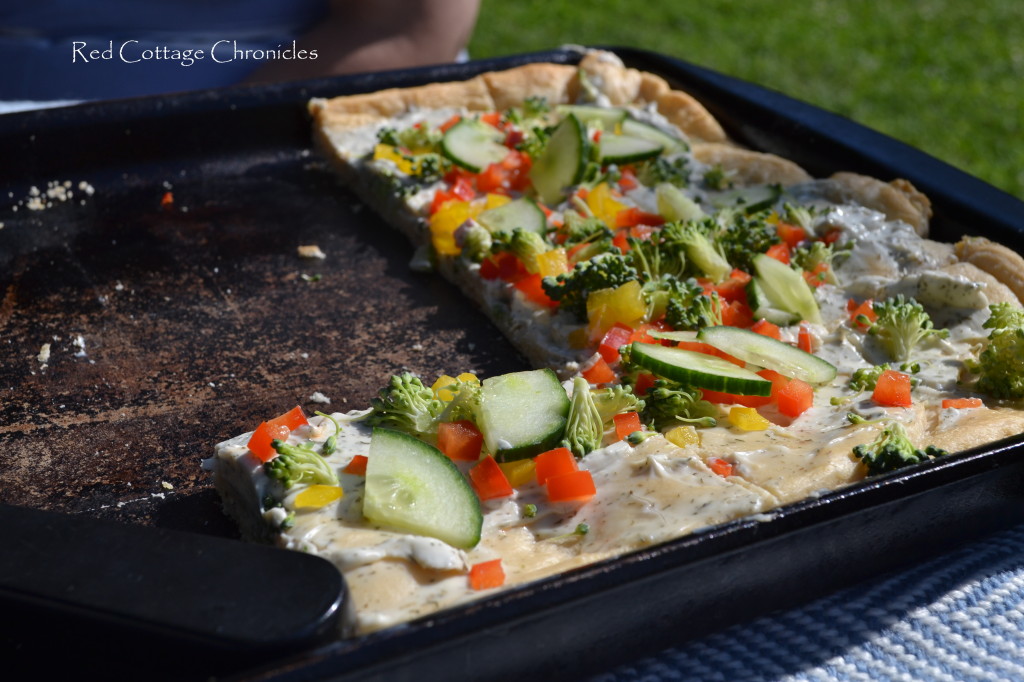 It was such a crystal clear day!  I could have sat and watched the sail boats for hours.  But, the dog had other plans, and with a new game a Washers waiting to be played we pulled ourselves away!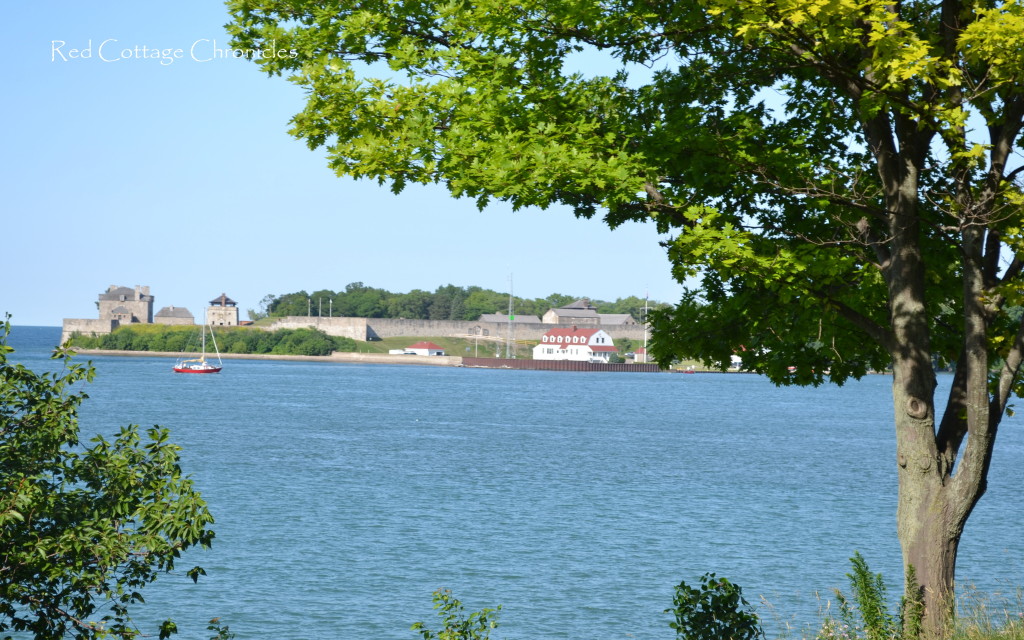 This is how close we are to the US!  That is Fort Niagara in Youngstown, NY right across the river!
Tripper loves to walk through the town.  While he is stocking the squirrels, I never get tired of the gorgeous flower displays that are plentiful and gives this wanna-be gardener serious garden envy!  These angel trumphets are one of my favorites planted throughout the town!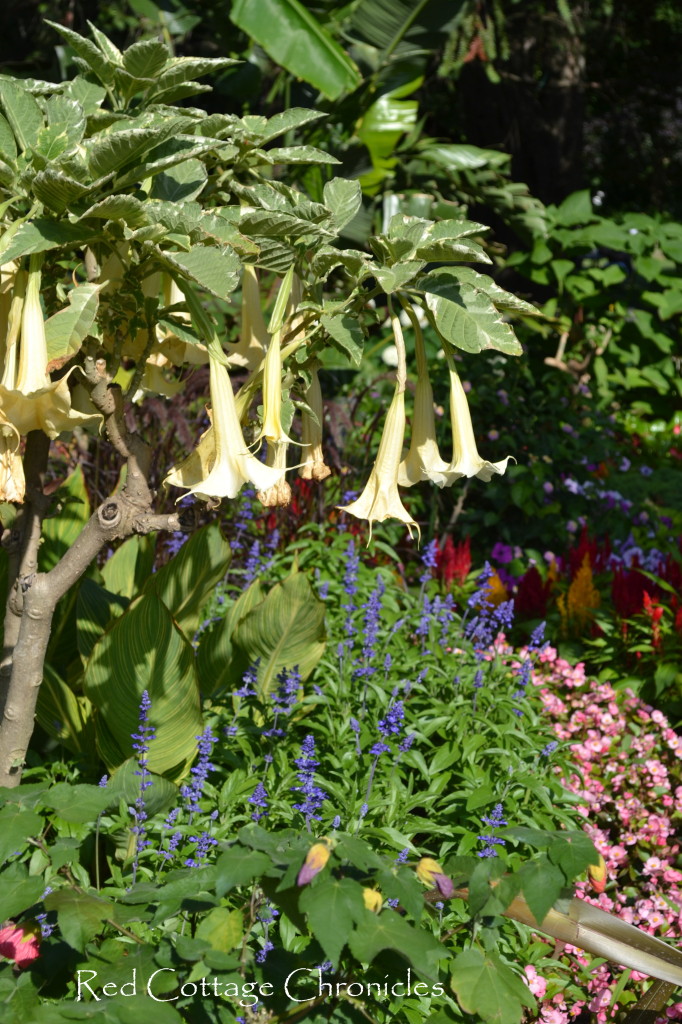 Saturday we hit the farmers market.  I just love all colorful fruit and veggies in season right now!  And almost all of it is local!  We have to wait a while before  we get local grapes.  Everything else is local grown right here in Niagara.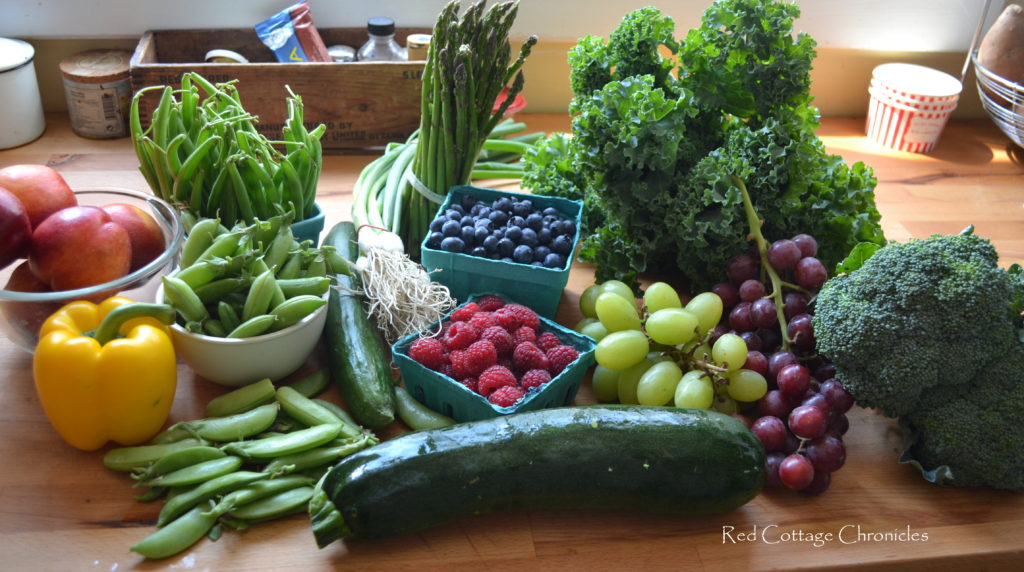 And, while I was growing increasingly frustrated at a lemon pie that would not set, my daughter and Tripper were taking relaxing to a whole new level!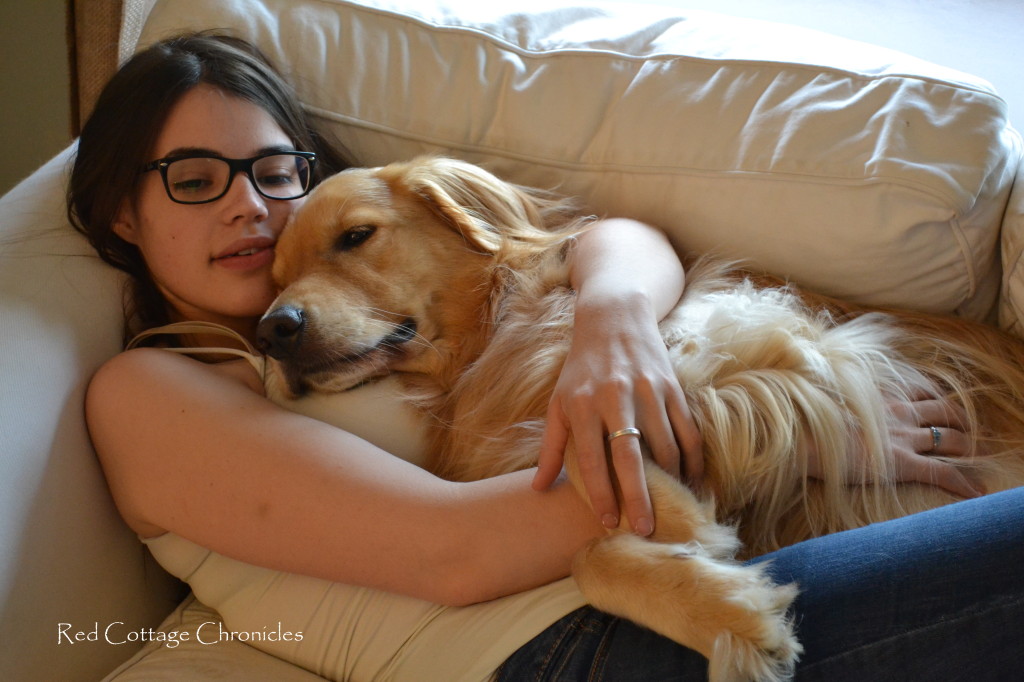 We ended the weekend with dinner on the deck with friends!  The day threatened to be a stormy one, but after a brief shower around lunch time, the skies cleared and it was another beautiful day!  I think we on weekend 10 of gorgeous weather!
With all the veggies and fruit I ate this weekend, you would think I was a really health eater!
Well, tonight I will be eating lemon meringue pudding in a pie crust for desert tonight.  Not pretty, but very tasty!
ENJOY!
Veggie Cream Cheese Squares
Author:
Prep time:
Cook time:
Total time:
Ingredients
2 rolls low fat pilsbury crescent rolls
8 oz light cream cheese, softened
2 tsp light mayo
1 tbsp. minced garlic
1 tbsp. dried dill
2 tsp grated lemon zest
2 cups mixed chopped vegetables such as cucumber, broccoli, bell peppers, onion
Instructions
Preheat oven to 350 degrees. Unroll crescent rolls and arrange on a large ( I used a15 x 11) baking sheet. Roll to seal seems and to cover baking sheet. Bake for 15-18 minutes, until lightly browned. Allow to cool slightly.
In a medium bowl, mix together cream cheese, mayonnaise, garlic, dill and lemon zest until well combined and smooth. Using an offset spatula spread cream cheese mixture over the crust.
Sprinkle chopped veggies over top and lightly press them down with your fingertips.
Cut into squares any size you like. I cut into 16 squares, but you could go smaller for appetizer size.