Copper Leaf Autumn Tablescape
Raise your hand if you are ready for fall!! From a look around some of my own favorite blogs, it would appear that I am not alone in starting to add some fall decor in my home. I am thrilled to be participating in this years autumn tablescape blog hop hosted by the talented Chloe from Celebrate and Decorate!
You will find all the awesome links down below, but first…….
Since Thanksgiving in Canada is just a little more than a month away, I like to keep my this autumn tablescape simple, and then go "all in" with the fall decor in October.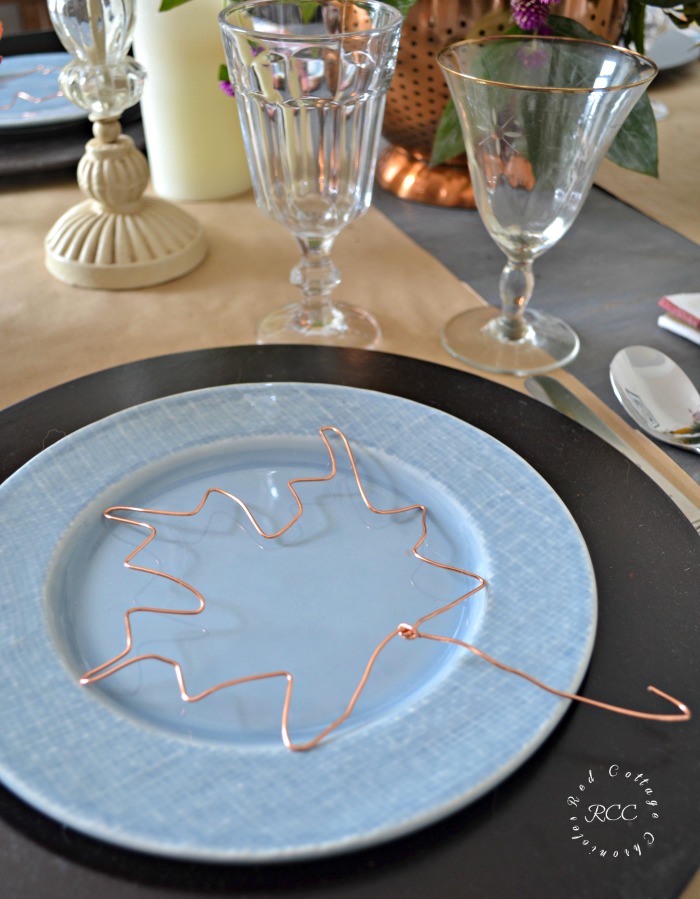 My inspiration for this table was these abstract copper maple leaves that I saw a couple of years ago in an issue of Country Living. They were very easy and inexpensive to make, and I love the contrast of he copper against the slate blue plates.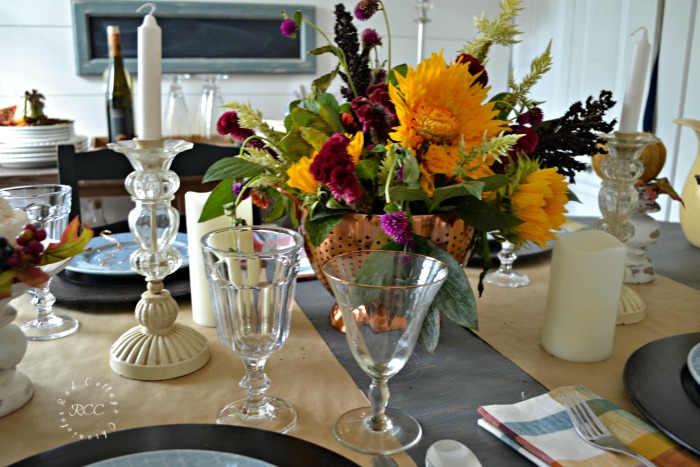 To accent the copper leaves, I found a copper colander at Home Sense for under $10. I set a clear glass bowl inside and then using a $12 autumn bouquet from he grocery store, I created a pretty centrepiece to add a pop of colour.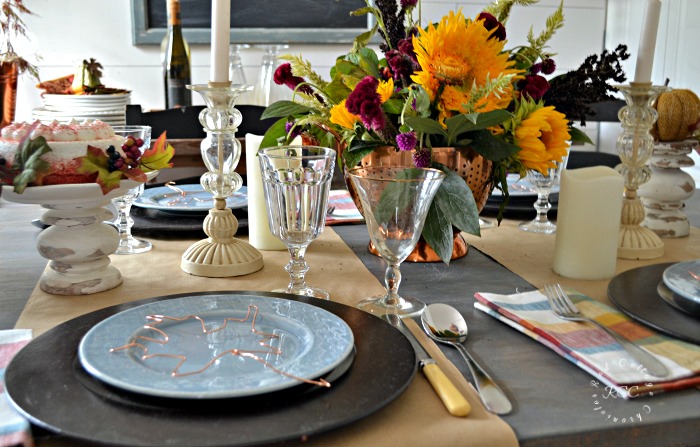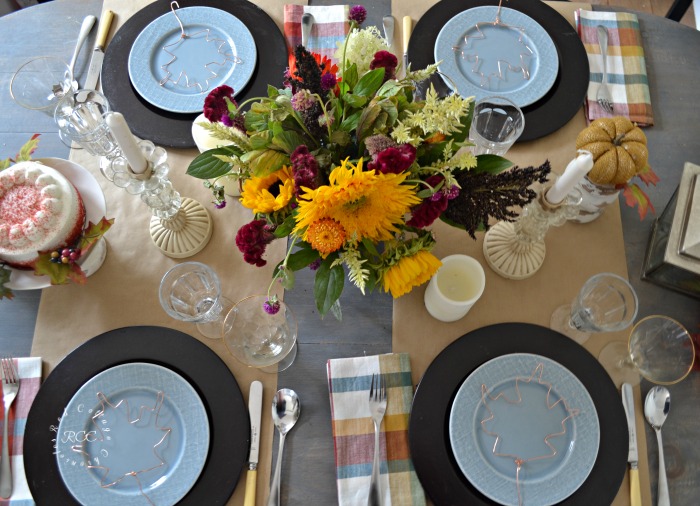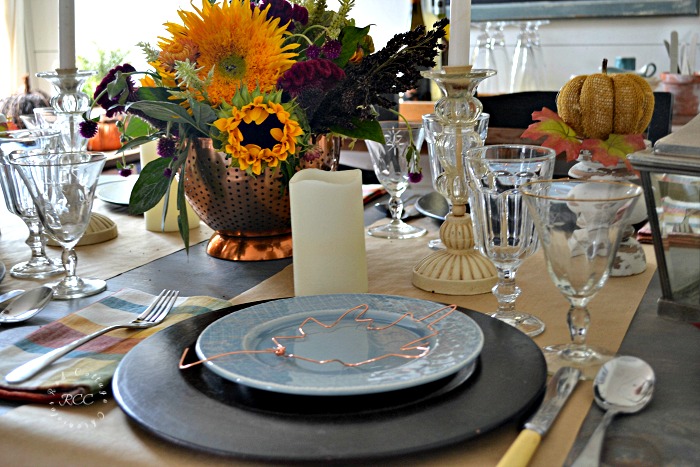 A red velvet cake is the perfect cake to accompany an autumn tablescape, and to save time I bought this one for a whopping $5.00!! It saved me time and I probably couldn't have made it for less than that.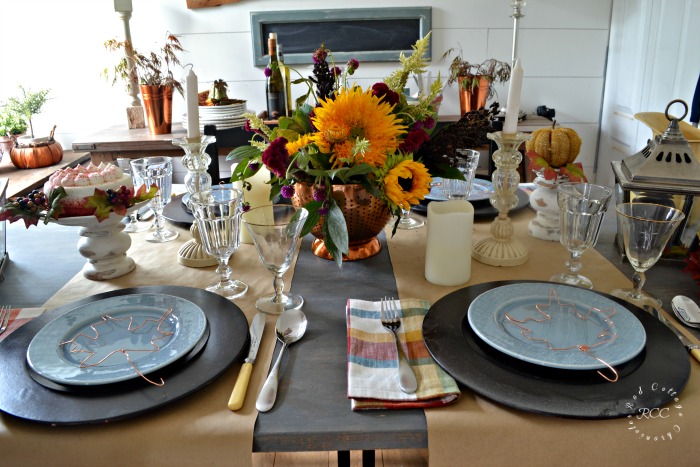 I set the cake on top of one of the candlestick turned mini cake plate I made for a thrift store upcycle project a while back.
Inexpensive Ikea wine goblets are paired with crystal wine goblets with gold rims.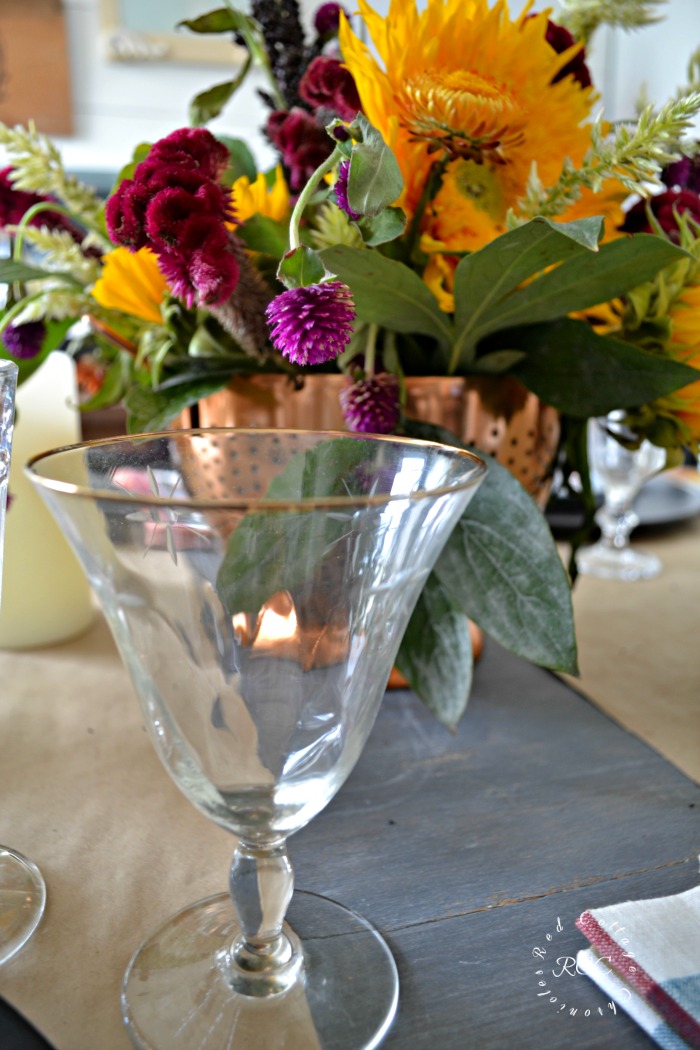 I opted for craft paper instead of place mats or a table runner. I like how they had a natural element that reminds me of autumn.
I admit it. I have a problem. Napkins. I cannot resist pretty napkins. These ones are no exception. I choose this pretty plaid with all the colours found on this simple autumn tablescape. Red, that light demin/slate blue, yellow and an orange/copper all make them perfect not only for this table, but also for fall!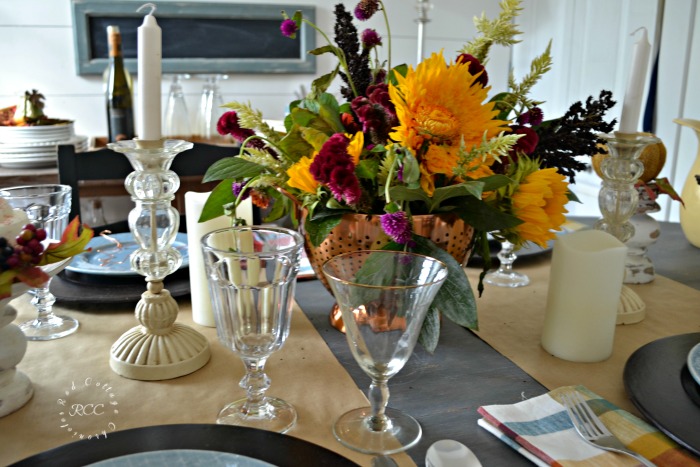 Lots of candles will give a warm glow to any autumn meal as the sun is setting earlier and earlier this time of year! I have a love/hate relationship with the arrival of shorter days. On one hand I love that the evenings are cozier. One the other by January I am ready for more sunshine!!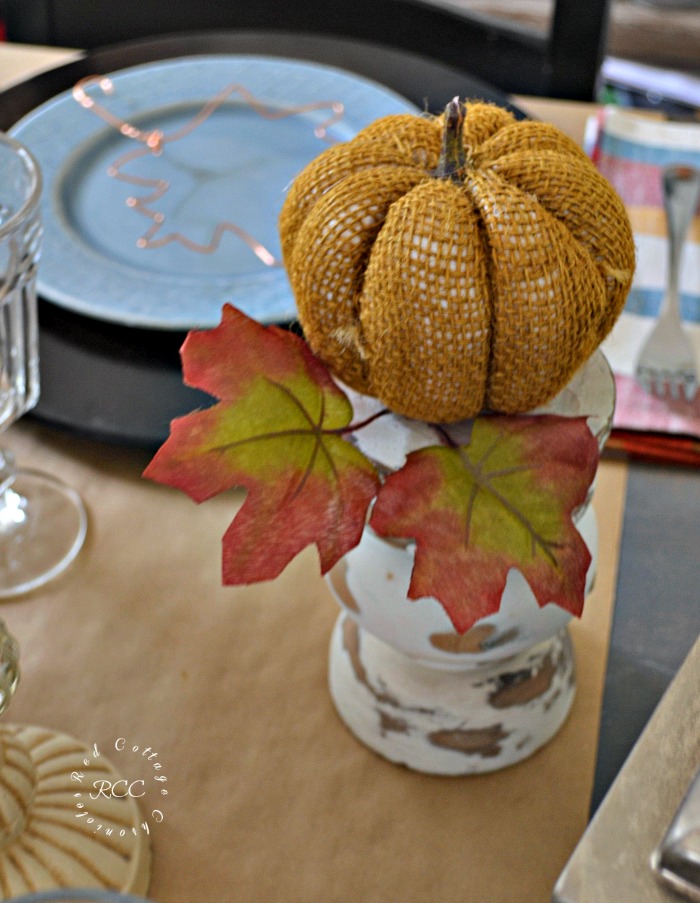 I picked up a couple of cute little pumpkins from the dollar store. One of the table and one for the buffet. The dollar stores in our area are just barely getting autumn decor on the shelves, so there wasn't a lot to choose from yet, but like the paper runners, I think the burlap speaks to the natural feel of autumn.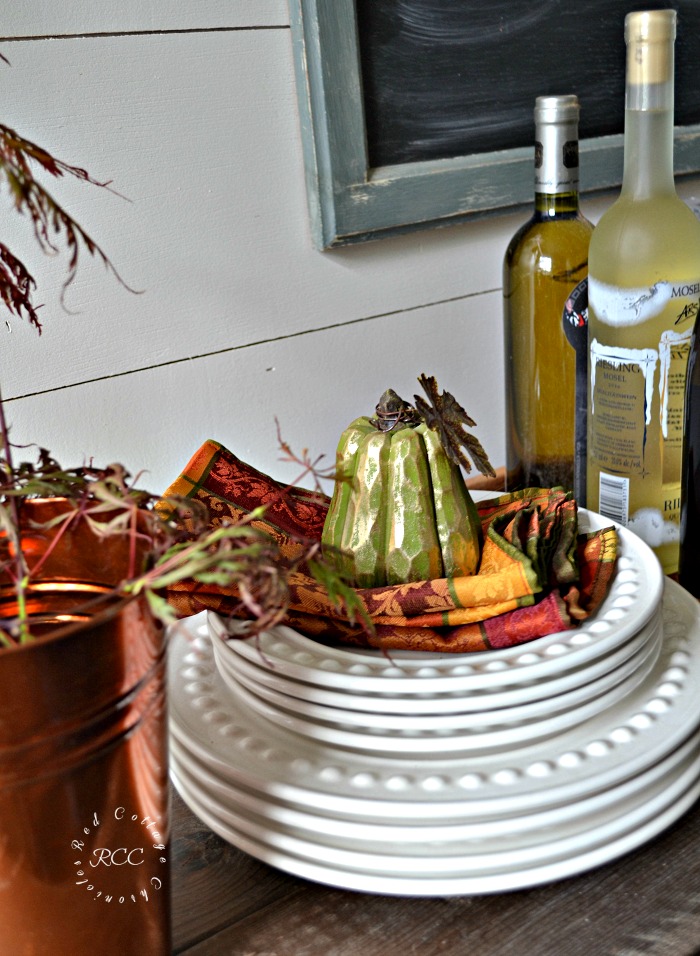 Now that I have shared my autumn tablescape, won't you stop by my very talented tablescape loving friends who are sharing their own table top designs! But first, another picture pretty picture of the pretty grocery store flowers!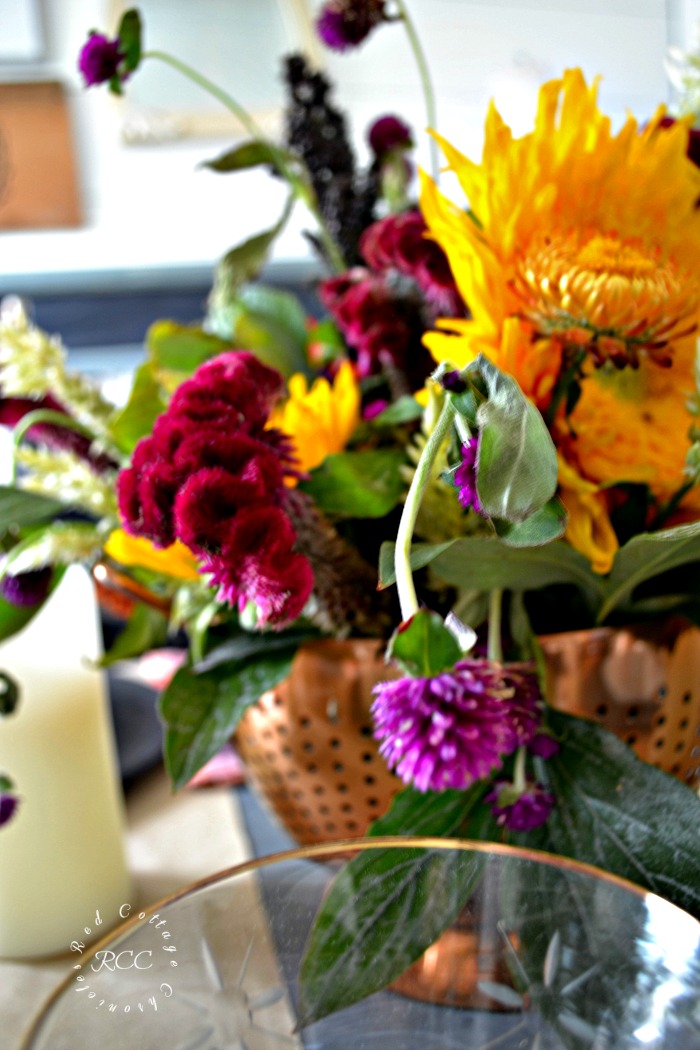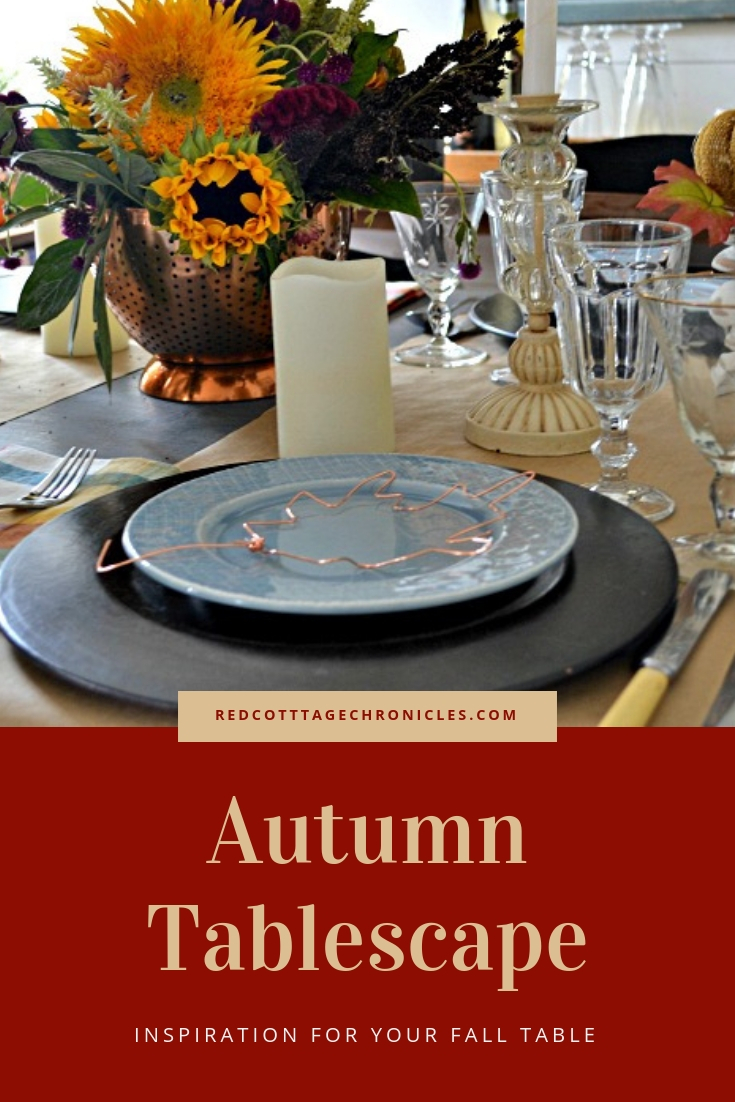 You can also view all of my tablescapes right here!
Until next time……