Christmas Tablescape Blog Hop
If you are looking for some gorgeous Christmas tablescape ideas, you came to the right place. You might already have figured out that no matter what the season, I love to style our dining table! Christmas is no exception.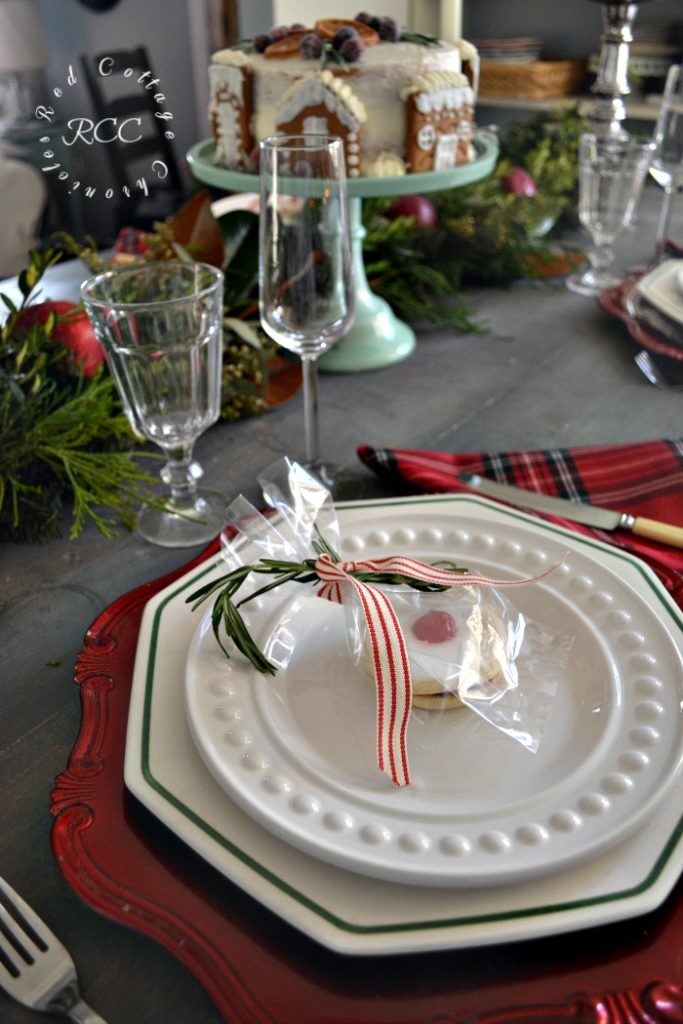 I am delighted once again to be joining Chloe from Celebrate and Decorate as she hosts a Christmas blog hop just bursting with Christmas tablescape ideas to inspire you as you set your own table for a holiday meal with family and friends.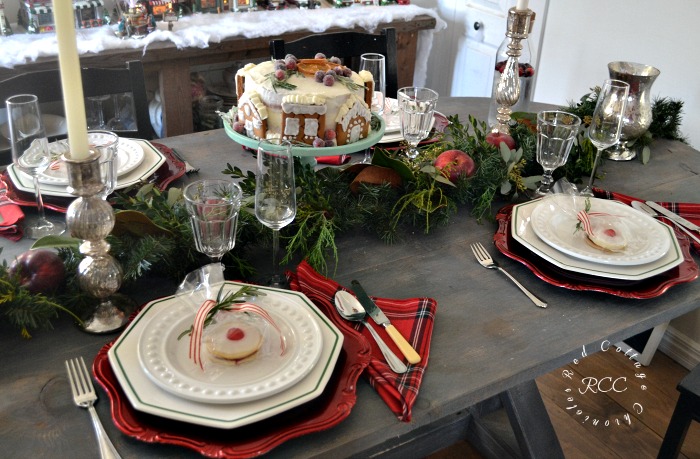 I really didn't know what direction I was going to go this year when it came to our own Christmas table. Had you asked me a few days ago what I had planned, I couldn't have told you. When I got to thinking about it, my mind kept wondering back to Christmas dinner at my Nana and Poppa's house. The more I thought about, the more I am convinced that the reason I love setting a pretty table so much can be traced back to those Christmas dinners.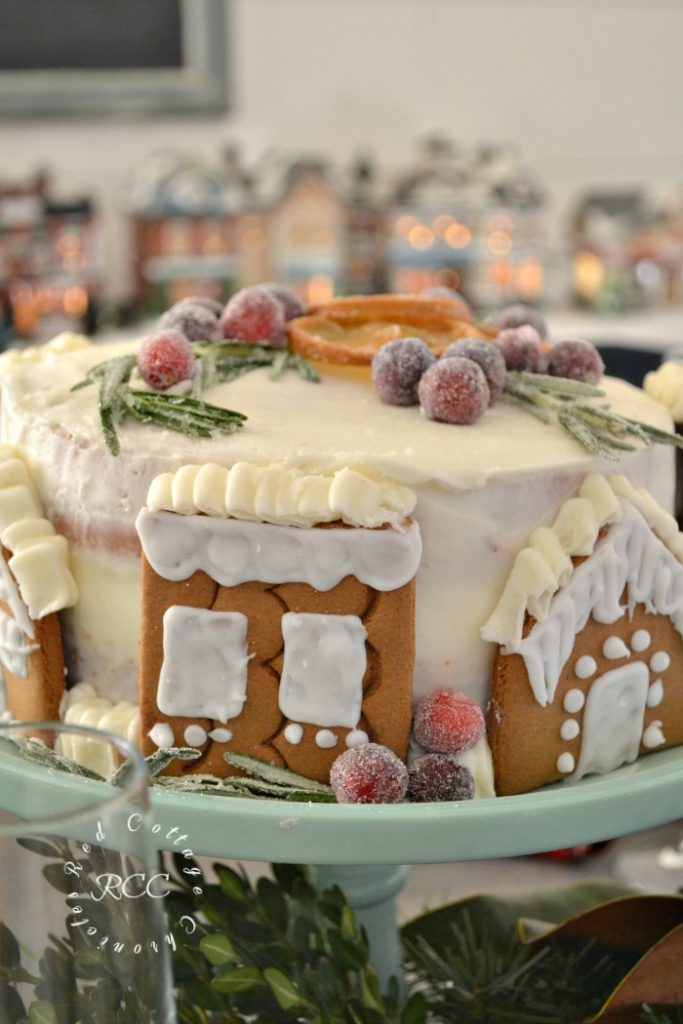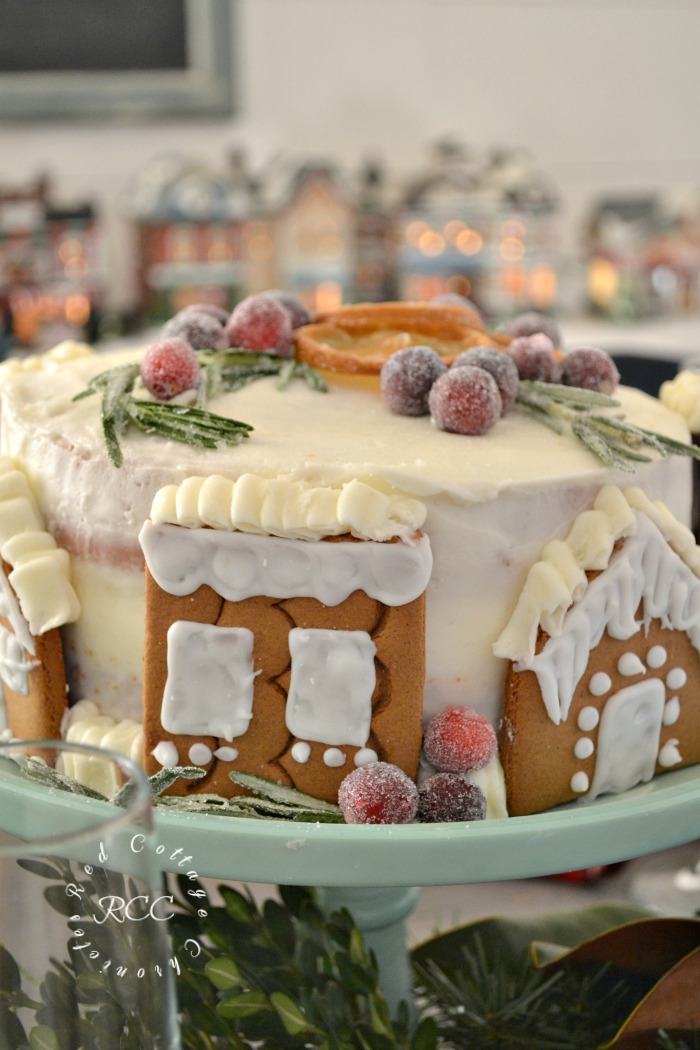 Have you seen the movie "27 Dresses"? The scene at the beginning where Jane is having a flashback to her very first wedding that sets the stage for her love of weddings?
Well, that is the flashback I had while planning this table!
I remember like it was yesterday being excited to set the table, even if I did have to ask my Nana a dozen times whether the knife and spoon went together or the fork and knife. When I finally got it right (the knife goes with the spoon), I also could not for the life of me remember which side of the plate they went on.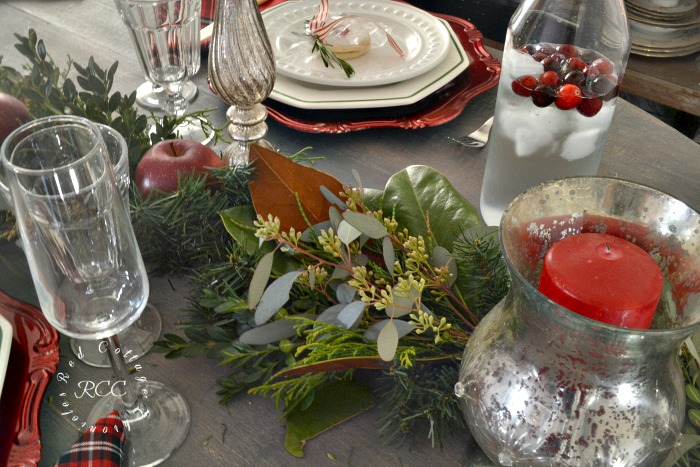 To this day I will never forget again. I finally realized it was so difficult to remember because it made no sense to me that the fork went on the left side of the plate when most people are right handed. No sense at all. Still doesn't. But I am not one to break the rules!!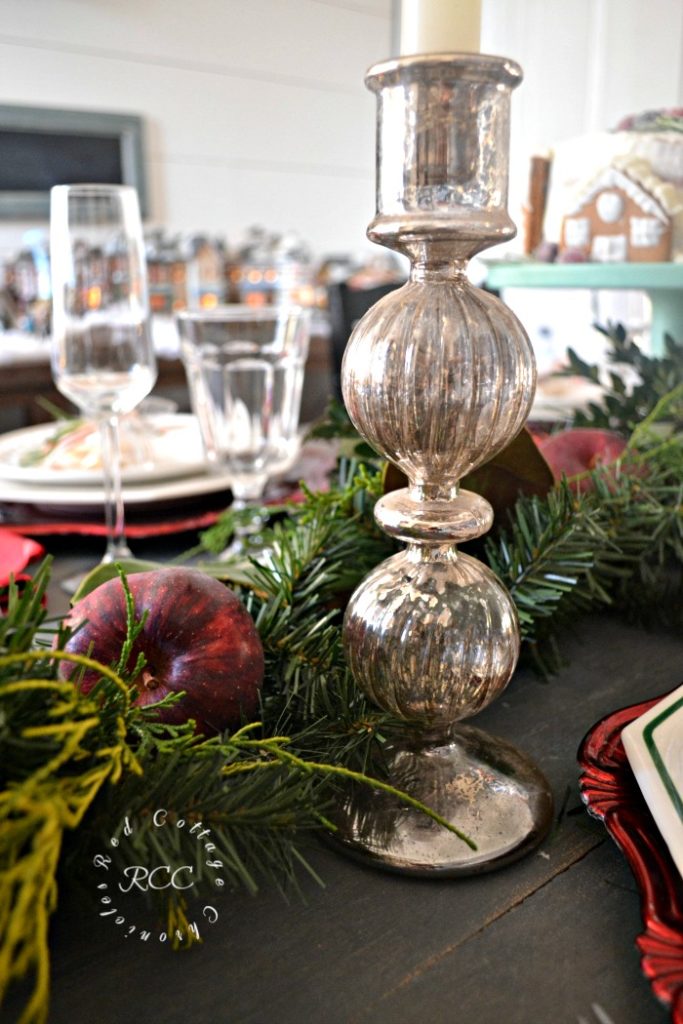 Another thing I remember is getting to use the really "lux" paper napkins. Big, white squares that came in a box instead of wrapped in plastic. They were thick and soft and folded perfectly into a triangle to be placed under the knife and spoon.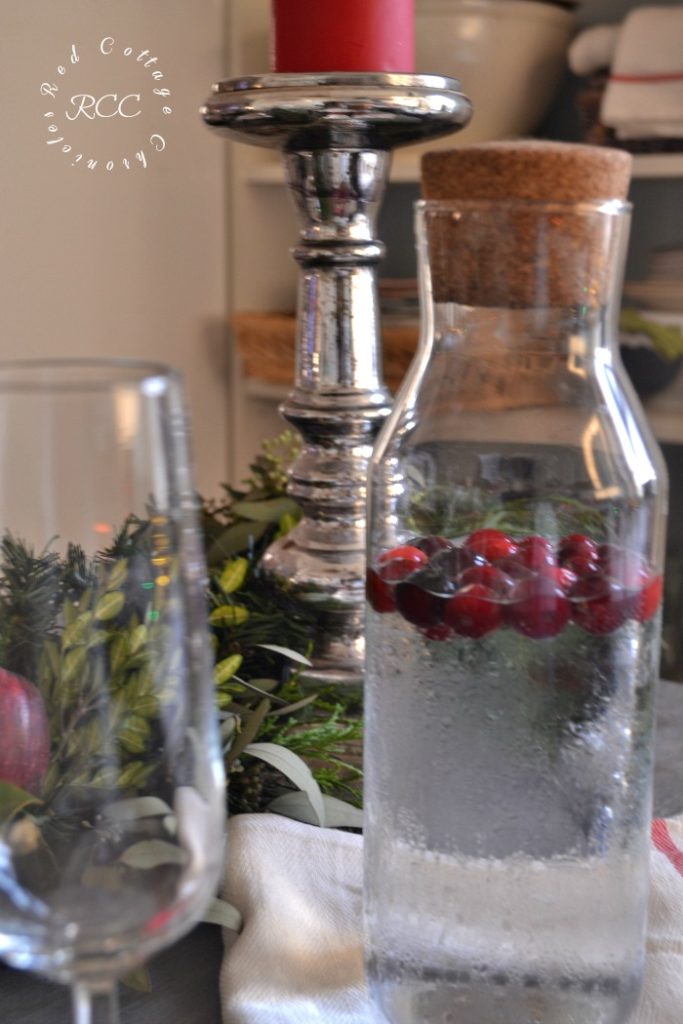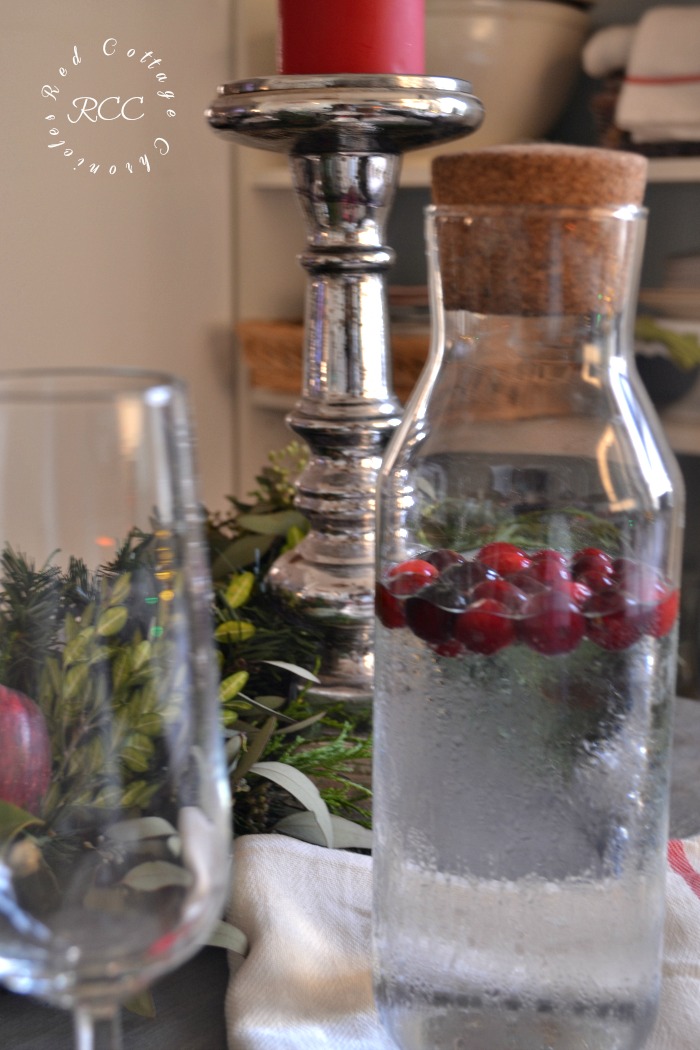 I have long abandoned paper napkins in favour of reusable cloth, but it felt very comfortable to fold them into that simple triangle I remember.
My Nana's crystal candle sticks always made an appearance on the table, complete with simple taper candles or rolled beeswax candles in festive colours. I dug out my little collection of mercury glass candles sticks, which I haven't used in several years. They are simple, yet provide a bit of holiday sparkle.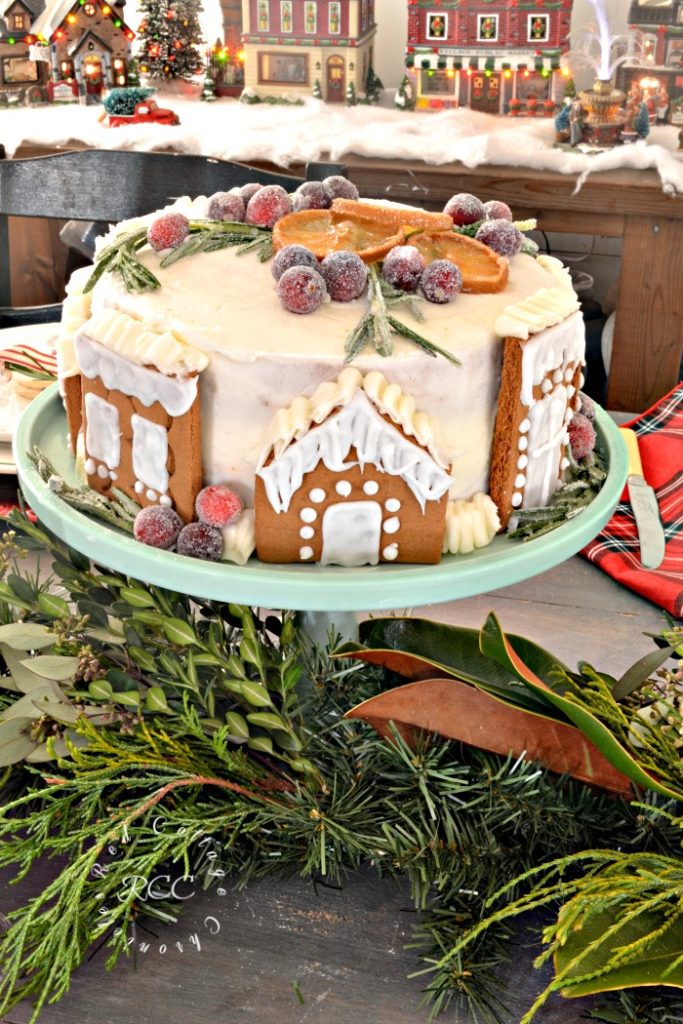 I have to admit, back in those days (my goodness I sound old!), there was very little else on the dining table at Christmas time. The "centrepiece" was usually a colourful pickle dish. A fancy crystal platter filled with crispy dill pickles, olives, sweet pickles and ruby red homemade cranberry sauce. My sister and I would hover around the table and try to casually help ourselves to the dills, carefully rearranging everything to make it look like we hadn't touched it!
By the time everyone sat down to eat, the table was full of food! Turkey and all the fixings including the best butternut squash dish, which was mostly brown sugar and butter which caramelized to a crispy crust.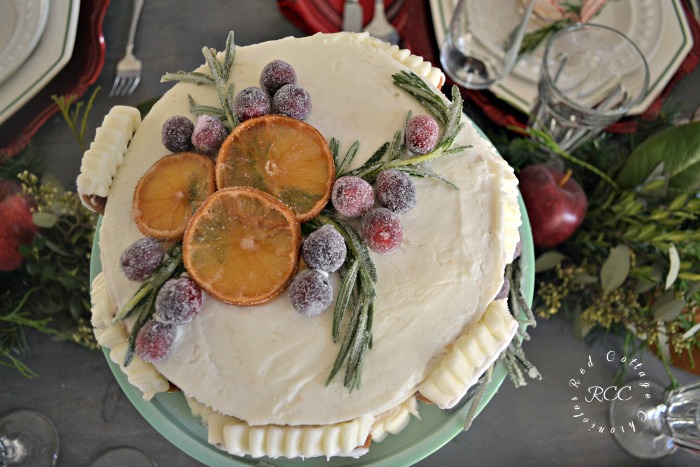 Maybe the fond memories of the pickle dishes are the reason I always decorate the table with food. This year I made a simple white cake adorned with ginger bread houses from a kit, sugared fruit and rosemary. I think it makes the perfect centrepiece!
After dinner a huge plate of Christmas cakes and cookies made the best ever dessert! Since I had just made Empire Cookies I wrapped some in cellophane to add a little treat to each plate.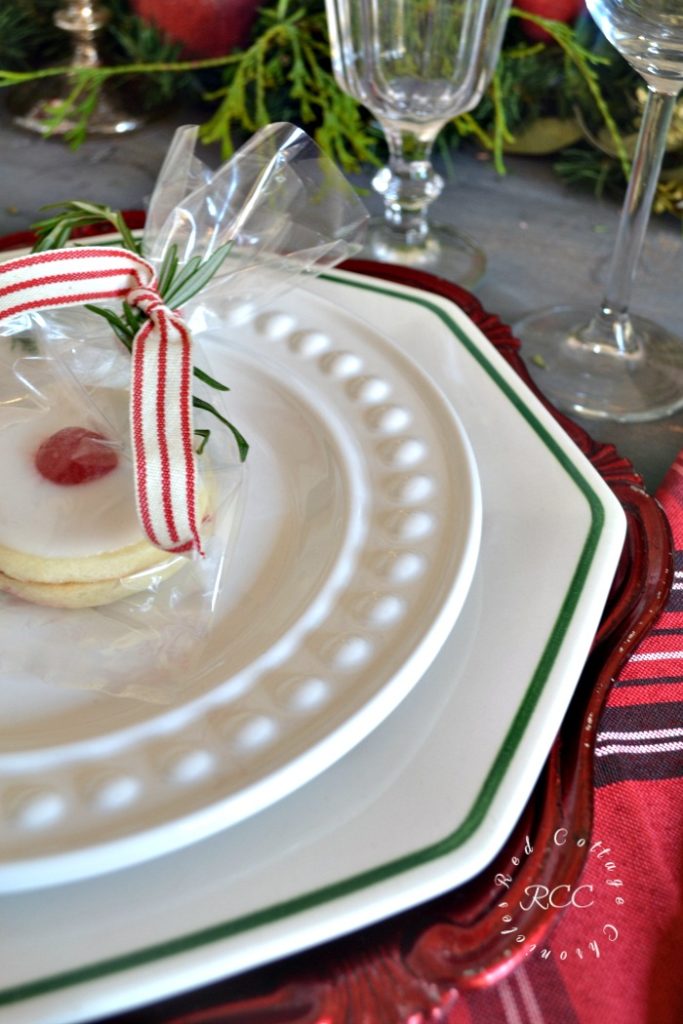 I left lots of room on our own table for all the Christmas fixings this year. I did want to add some seasonal greens to the table (and not spend a fortune). I used a faux garland I had on hand and embellished it with fresh greens clipped from my back yard and some eucalyptus I had left over from last weeks trip to the market!
And that, my friends, is our 2017 Christmas Table! I hope you didn't mind the walk down memory lane. It is as clear as a bell now why I have such a love of setting the table!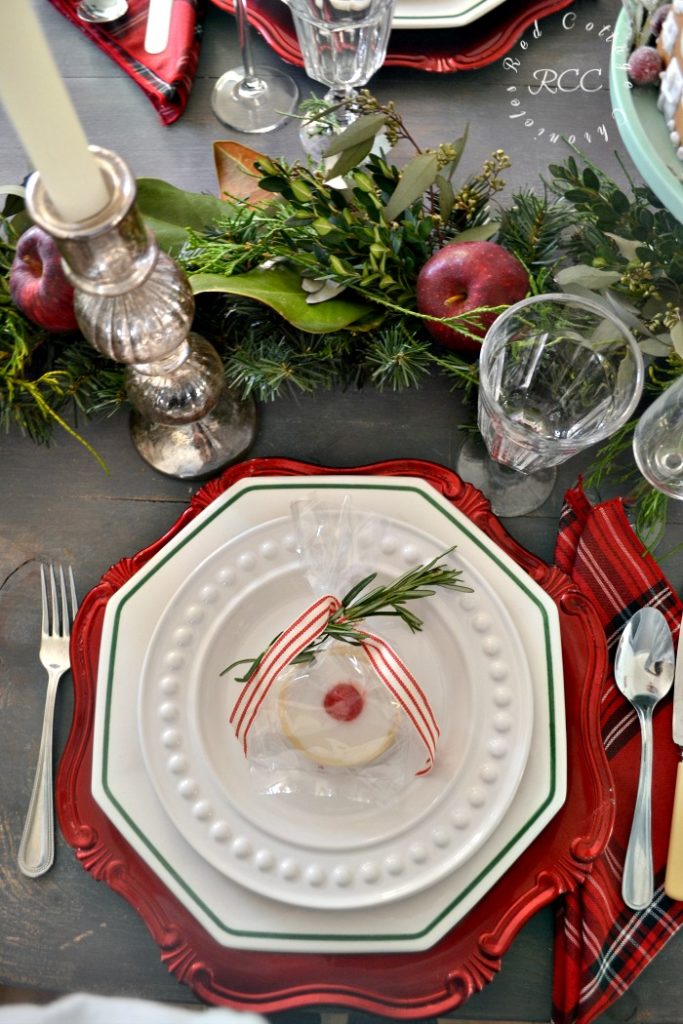 It doesn't stop here though. Scroll down to check out the links for tons more Christmas tablescape ideas. Links will be updated daily as the unroll so check back all week!
Until next time…..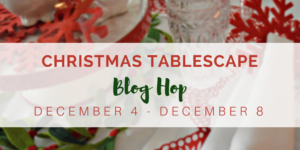 Monday
Everyday Living | Belle Bleu Interiors | Home is Where the Boat Is
The Little Yellow Corner Store | Bluesky at Home
Tuesday
Red Cottage Chronicles | My Kentucky Living | Savvy Apron
Rattlebridge Farm | The Red Painted Cottage | Knock it Off Kim
Wednesday
The Painted Apron | A casa di Bianca | Hey Fitzy
Dining Delight | Corner of Plaid and Paisley | From My Carolina Home
Thursday
Life and Linda | B. Lovely Events | Rosemary & Thyme
Sweet Sensations | Panoply | Our Crafty Mom
Friday
My French Twist | Me and My Captain | Celebrate & Decorate
Nourish and Nestle | PMQ for Two