Before I get to the giveaway….
…..Let me start my saying how much I have appreciated the opportunity to participate in the One Room Challenge, and even more so for all the positive comments and encouragement along the way. If you had time to look around the blog at all beyond the challenge, you will likely notice my focus has mostly been sweet treats! I am in no way a designer, but I know what I like and know that it is time I started giving my home more love! As a matter of fact, this book could not have arrived at a better time!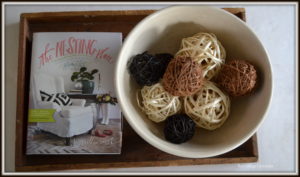 I have thoroughly enjoyed following so many of the other link participants and am in awe at all the talent!
All in all things went very smoothly. I was happy to learn a few new skills, learned to love a power tool and did not divorce my husband in the process! I have to admit I surprised myself how well the floors turned out given I had never stained or varathaned anything in my life. There was some serious holding of the breath during that step!
To wrap things up, here is the budget breakdown and a giveaway!
When I started the One Room Challenge, I set a budget of $500 to complete the room. That included new floors. Hence the reason we DIY's plywood plank! We had originally been given an estimate of $4000 for hand scraped engineered wood floors, and while that was a reasonable estimate for that type of floor, it was way out of our budget.
I am happy to report I (almost) kept on budget! Now I am all for full disclosure and will admit I did purchase an area rug for the room, that did put me over budget, but I really didn't love it and it was a bit too small, so I returned it.
Here is the breakdown…..
10 sheets good one side plywood $305.00 Rona
1 gallon stain $30.00 Rona
2 gallons varathane $60.00 (still have over 1/2 of one gallon left we will use in kitchen) Rona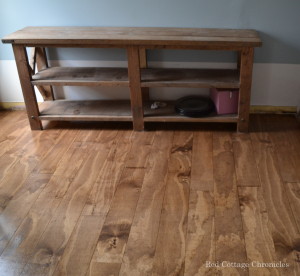 2 curtain panels from Target (Canada) on sale @ $22.00 each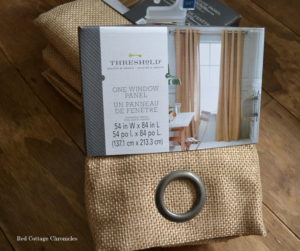 Wicker basket $10 Vase $4.00 Target (Canada) on clearance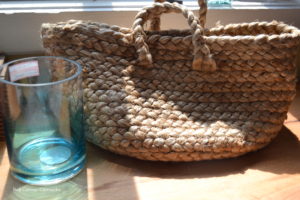 Pillows 2 @ 9.99 and 1 @ 7.99 Faux Fur "rug" 2 @ 12.99 for chairs Ikea (Canada)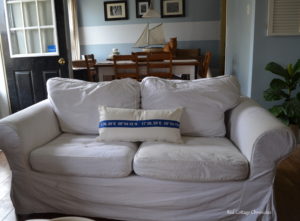 2 Foto lamps @ $14.99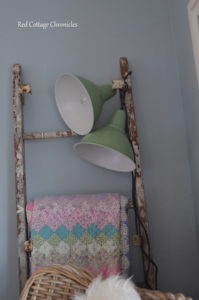 Grand total…..$514.00
If you count for the more than 1/2 gallon of Varathane we have left over then we came in at $499!!!
I really shopped the house for other design elements and here is what I gathered….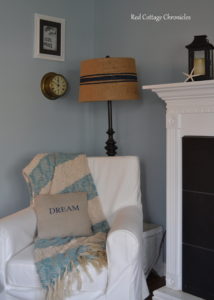 DIY buoys made from scrap 4 x 4's and some craft paint I had on hand.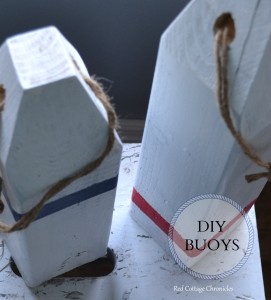 Wicker chairs taken from the screen porch. Byholma Ikea (Canada)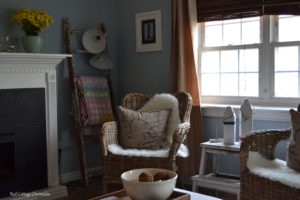 Various artwork that had previously been in the dining room when we had a "gallery wall"
This mirror was a Christmas gift from my daughter a couple of years ago and used to reside above the fireplace. It is from Lowe's (Canada) $59.98
A DIY oar that I have had around for a while but never got to hanging up. It was purchased at Canadian Tire and looked like this…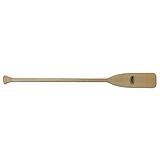 and I just sanded off the varnish lightly, painted with old bits of paint and then sanded it out to look like this….(can you see it there above the couch!)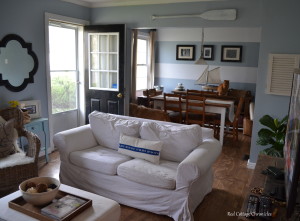 Here is a closer look!

Other things I used, such as the old chippy ladder and quilt were gifts from my friend and were already being used in the room in one way or another. After many years I found the perfect (safe) place to display my grandfathers clock. Seeing it every day makes me smile, and I love the loud tick, tick, tick!
So, that pretty much sums up my One Room Challenge experience. Maybe it will be our bedroom for the next go round!
In the meantime I am moving on to an outdoor space. An old garden shed I cannot bear to tear down. But, alas I will be replacing it with a neck deck and pergola!