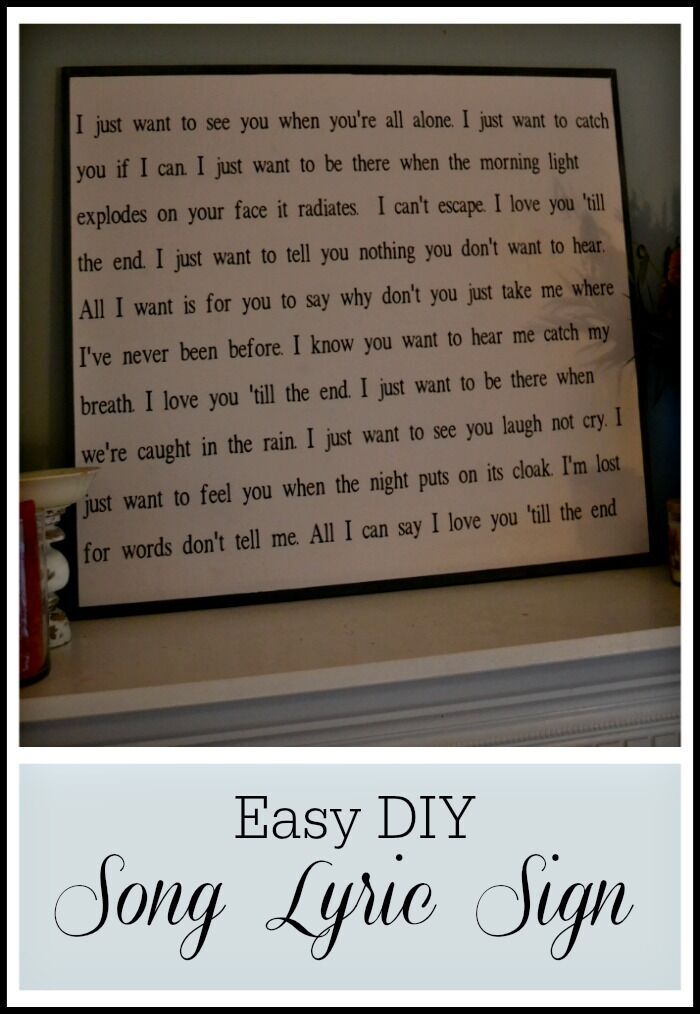 Today I am excited to share with you my easy DIY song lyrics sign! The best part is you don't have to have any sign painting skills what-so-ever.
(UPDATE: I did not want to completely remove this post for those who want to try this method, however I do want to disclose that I have had some issues with a couple recent signs bubbling, one I can attribute to using the wrong Almyrs adhesive, but the others I have used the right one and it has bubbled 😞. I am working on a solution to that problem and will update this post when I have tweaked the proces. Keeping this in mind feel free to try this original method if you wish, to see how it works for you!)
It has been almost a month since my nephew married his beautiful bride at my sister's summer property in Prince Edward Island. It was a small private family affair. If you missed it, you can read all about it here. We haven't had a chance to see them since we all got back, but this past weekend my sister hosted a reception back here at home for extended family and friends. They really didn't want any wedding gifts, but I knew right away I wanted to make them a sign with the lyrics to the song from their first dance.
There were just two tiny problems with my gift idea. One, I didn't know what their song was going to be. My nephew chose it, and kept it a secret until their first dance at the wedding in PEI so I couldn't give it to them at their wedding.
The second problem, and this is a big one. I have not exactly honed my sign painting skills to the point that I felt confident it would turn out well enough that they could actually read the words!!
The first problem was solved when I found out there was going to be a reception held at home 3 weeks after their wedding. This gave me the opportunity to find out what song Zach had chosen and an extra 3 weeks to complete my project.
The second problem was solved after spending much time searching tutorials on how to hand paint signs. I almost gave up on the idea, but after racking my grain as to how I could make it work, I came to the decision to make the sign without painting it at all!
Thanks to the beauty of Canva, a new font downloaded from Creative Market, engineering prints, and edge glued pine I am thrilled with the outcome! And, I am happy to share the process here with you today.
Easy DIY Song Lyrics Sign Tutorial
(This tutorial contains affiliate links for your convenience in finding the products I used for this project)
Step 1 – Designing

In Canva choose a "use custom dimensions" and set the dimensions to 36″ by 24″ (or whatever size you want your finished sign) and click design. Then choose "Text" from the left hand menu. Click on "add a little body of text" which will open a new text box on your document. Choose the font from the drop down menu at the top left of your document. I downloaded the Tigerlily font from Creative Market and start typing your chosen song lyrics. The text box will automatically expand to fit as you type. When you have it all typed out, then go back up to the font size and play around until you get the right size to fill the page as you like it. I think I used 33 for mine. Download as a PDF.
Upload your pdf to a memory stick and take to your local Staples or other printing outlet that prints Engineer Prints to have it printed to the size you had designed.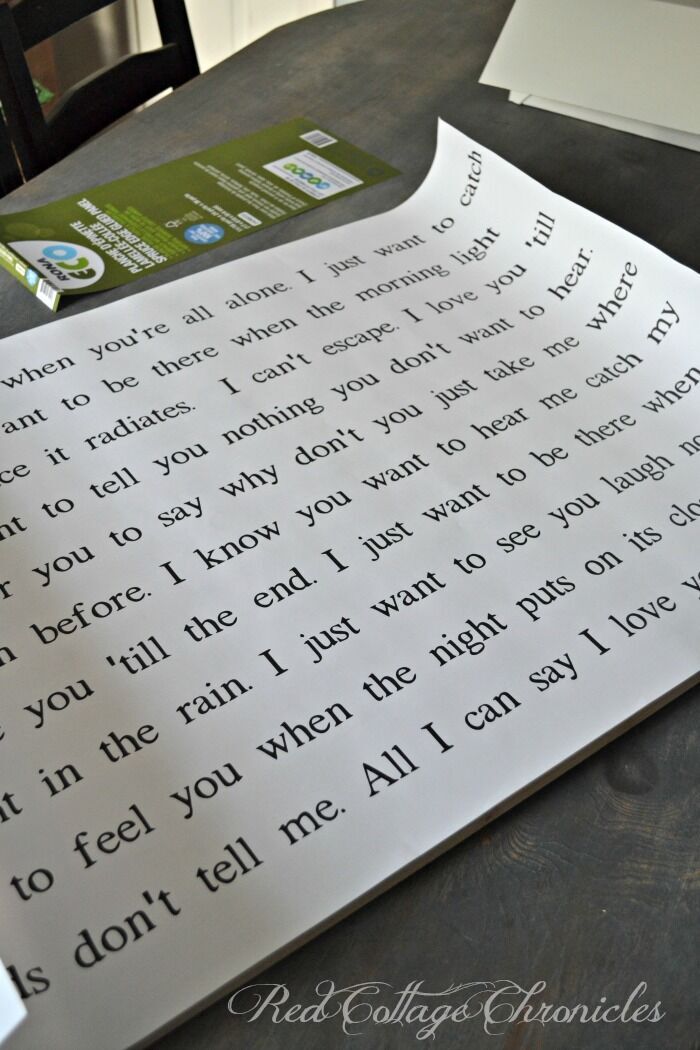 Step 2 – Mounting
All the tutorials that I read about mounting engineering prints suggested using foam board, however I wanted something more substantial. I headed to Rona and found this edge glued pine board sized exactly to 24 by 36 inches. It is solid pine, sanded smooth and ready to go! Just give it a quick wipe with a clean cloth.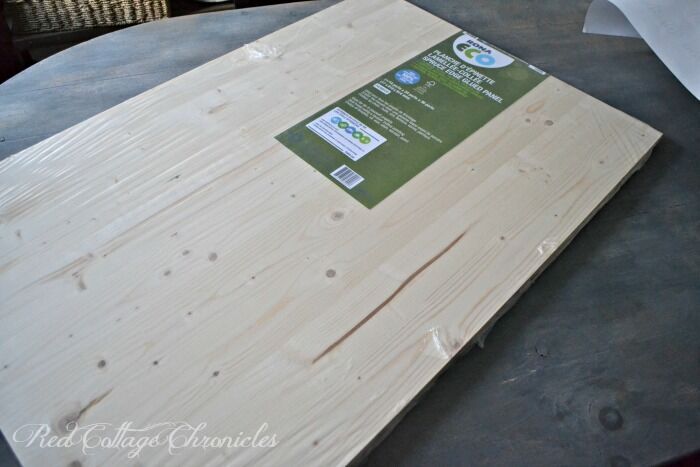 Protect your work surface with paper or drop cloth and work in a well ventilated area!
Position print on the board and have someone hold firmly to one end while keeping it aligned. Gently fold back the opposite end and thoroughly spray the pine board evenly with adhesive spray, making sure you get it to all the way to the edges. Carefully position that side of the print back over the adhesive and smooth out. I first used my clean hand to smooth it over the glued surface making sure their were no air bubbles or wrinkles.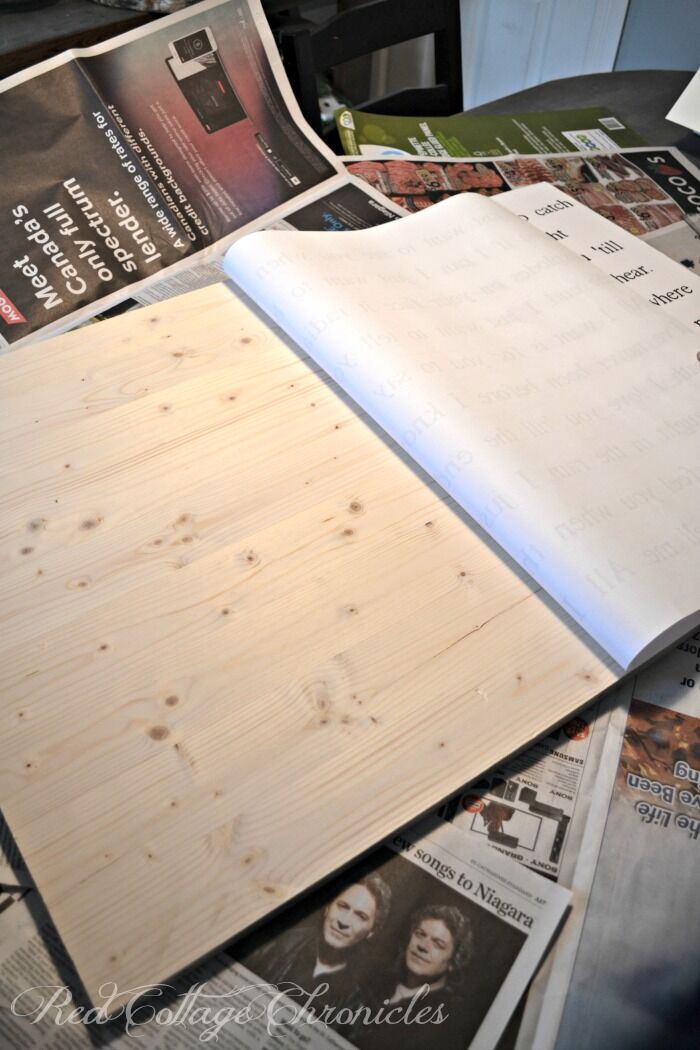 Once firmly in place, repeat with the other side, and again using your hand press the print smoothly into place. I then used an old credit card with the edge covered in a clean tea towel to further press the image down. Pay special attention to the edges to make sure they are firmly adhered. Let it sit over night to completely bond.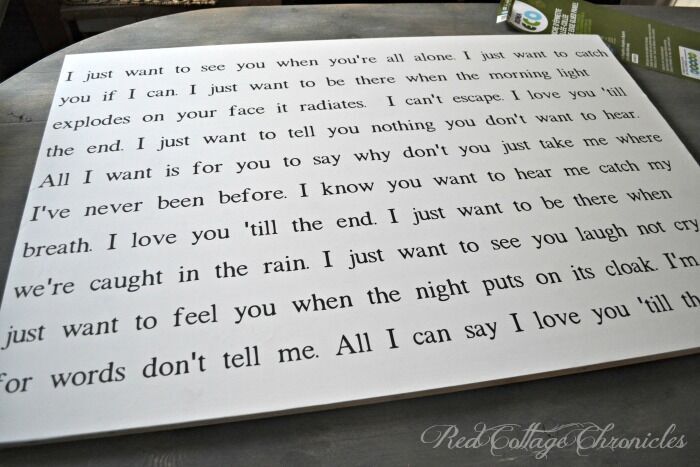 Again, many of the tutorials I read suggested trouble with wrinkling and bubbling with certain brands of spray adhesion, some of which didn't occur until a day or two after adhesion. I used this one from Alymer pictured below and had no problem what-so-ever. It is acid free, no bleed through and non-yellowing. You can find it here.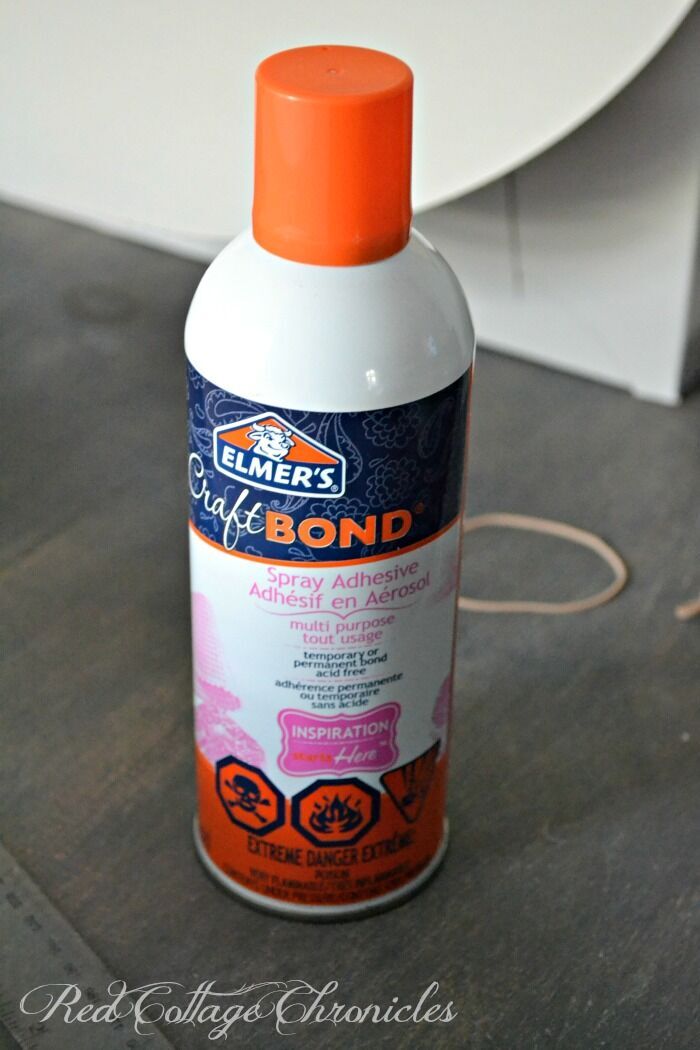 I did have to re-spray one corner a bit the next morning with a bit of extra adhesive as it hadn't completely bonded, but that was user error!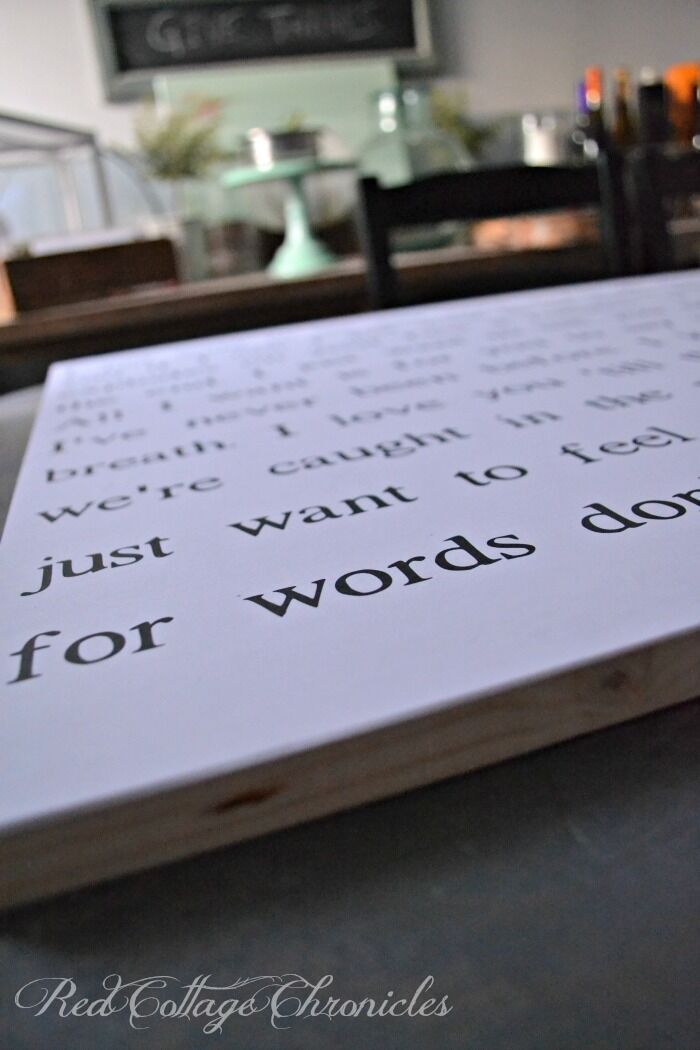 Step 3 – Framing
I wanted to frame this song lyrics sign in a narrow wood trim in a weathered gray colour. I think the trim we used is considered a "door stop" trim and again we picked it up at Rona. Tim cut the corners at 45 degrees with his mitre saw before I stained it.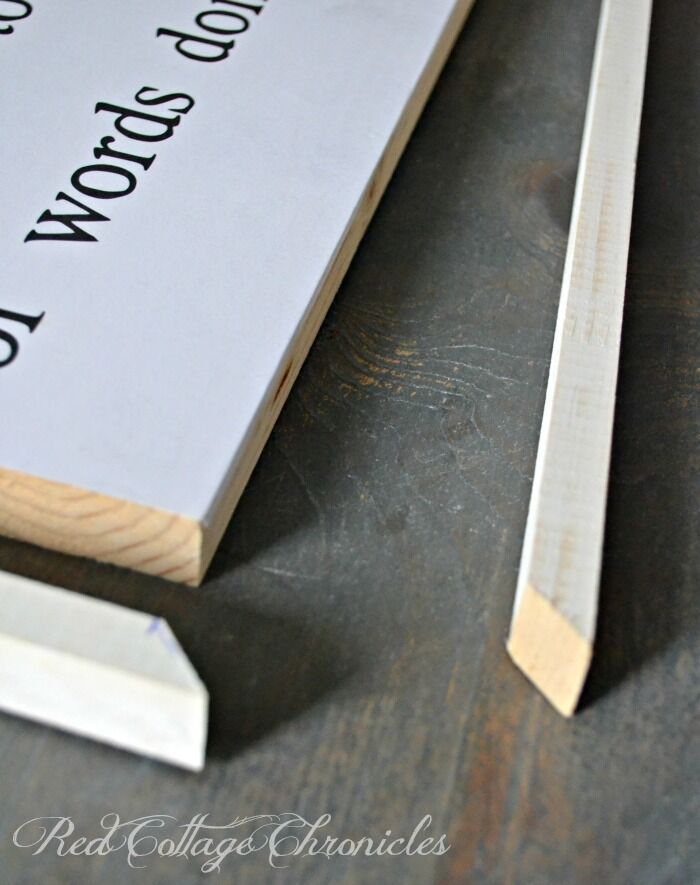 I then painted it with two coats of Amy Howard's One Step Paint in A Good Man is Hard To Find. It is my favourite shade of gray!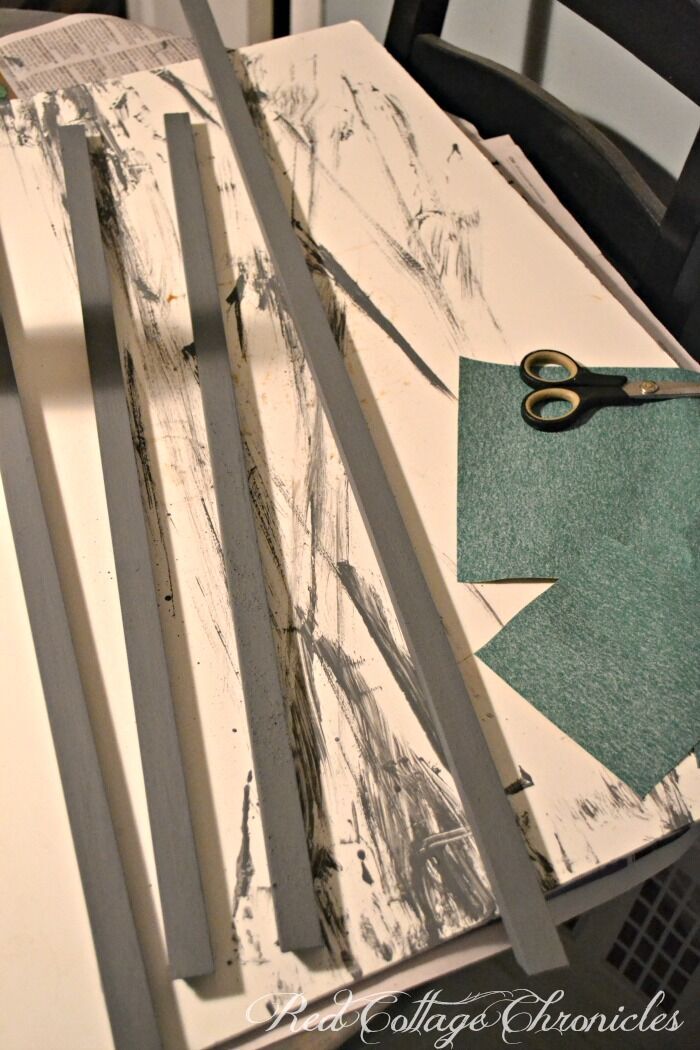 After drying overnight I sanded it lightly and then gave it a good coat of Amy Howard's Liming Wax to give it an aged, worn patina.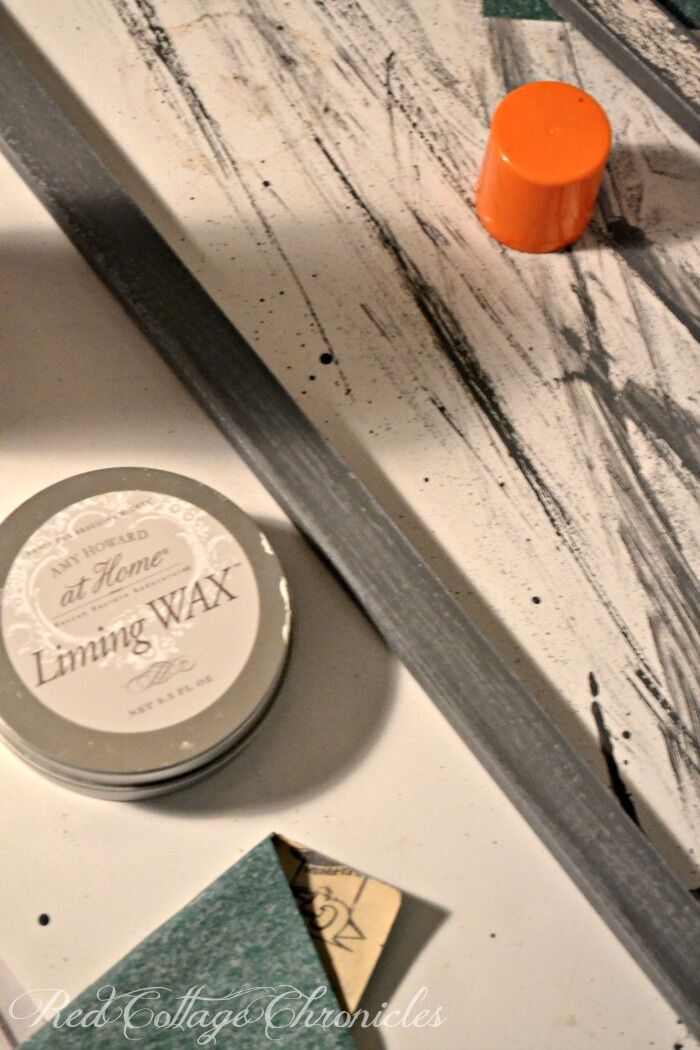 Finally, Tim glued it into place using a wee bit of carpenters glue before adding a couple of brad nails with is air nailer. He was sure to dry fit it before the final assembly and the corners fit perfectly.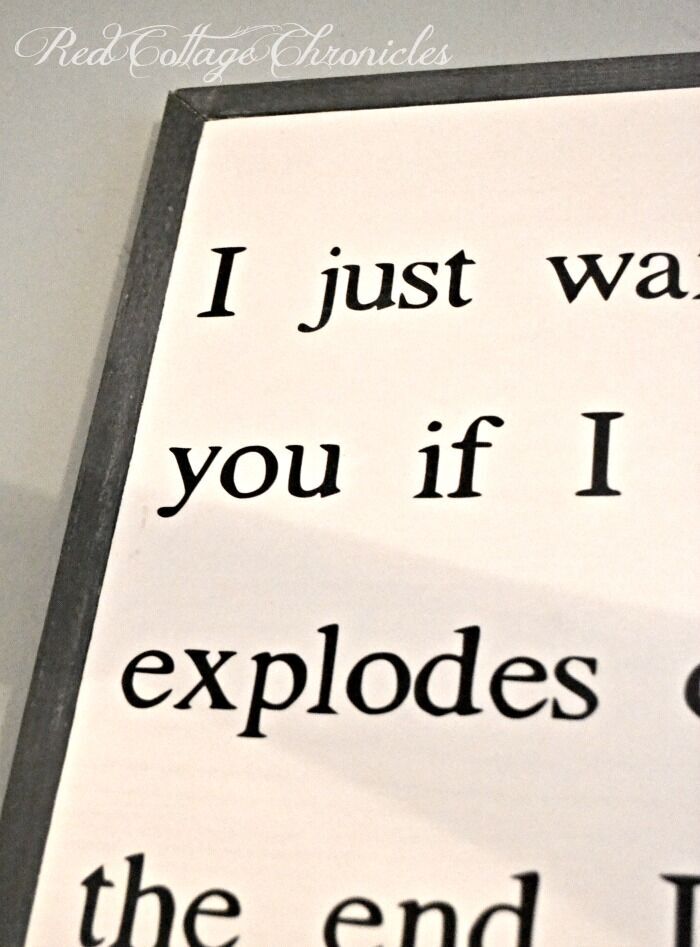 (sorry about the grainy photo- it is getting dark early here in the north making lighting a bit challenging!)
Step 4 (Optional) Sealing
My goodness did I stress about this final step! Like, lying awake for an hour thinking about how to do it stressed! I really didn't know whether to seal it or not. I didn't want to risk any yellowing, or bubbling or other "disaster", so I really thought about leaving it alone. I didn't really need to seal it as it looked great just the way it was. However I had a nagging feeling I just needed to give it a bit of protection given it was going to be wrapped, unwrapped, and then transported to my nephews home.
So, after ruling out any spray varathane type products, I decided to give the liming wax a try. I first tested it out on an old computer printed paper I had hanging around, and it seemed to work just fine without smudging or discolouring. In fact I really liked how it kind of faded some areas of the letters a little bit.
So, I held my breath and just went for it. Using a soft cloth and a light touch I applied the liming wax to the entire print, buffing gently. The result was a very smooth surface with no extra shine. Only time will tell though!
And that, my friends, is my easy DIY song lyrics sign! I couldn't wait to give it to them, and the bride and groom really seemed to love it. I am so happy I could give them a little piece of their wedding day as a keepsake. A pretty cool keepsake if I do say so myself!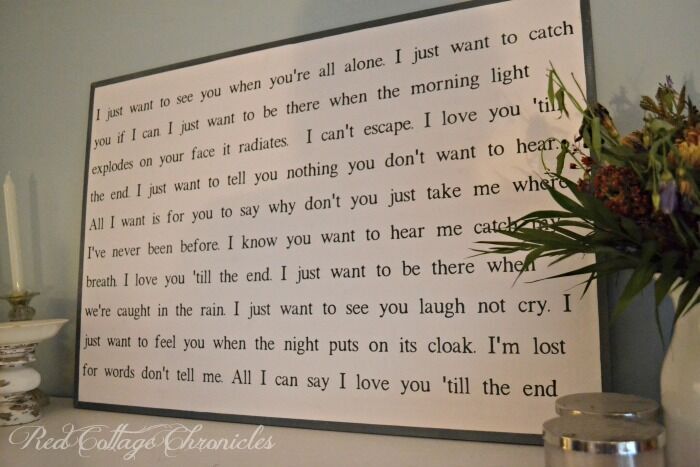 Oh, by the way. Did anybody guess the song Zach picked for their first dance as husband and wife? It is called Love You 'Till The End and it is by The Pogues. Love!
Until next time…..