DIY White and Green Flower Arrangement
Welcome to another Market Flower Monday! Every two weeks I head out to our local market (or grocery store) and purchase some inexpensive flowers and put together a DIY flower arrangement. I am by no means an expert, but my hope is that I inspire you to do the same!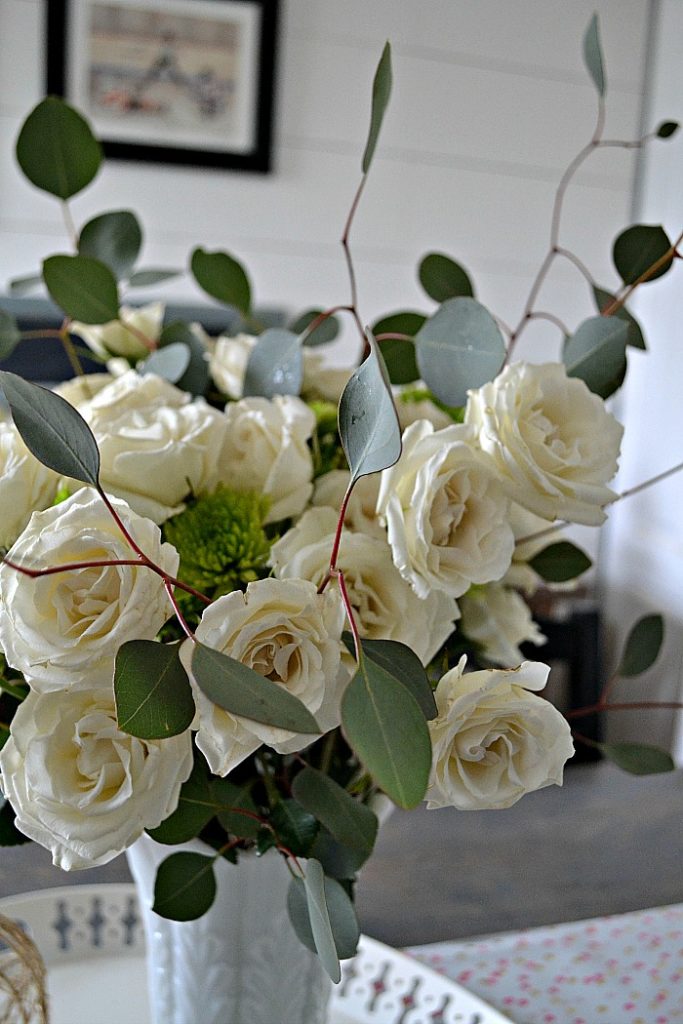 After the weather roller coaster we have been on the last couple of weeks, I needed a fresh white and green flower arrangement to brighten things up!
It started with a snow storm with the polar vortex right on its' heels. Then a big warm up that saw temperatures reach 16 degrees celcius for two days. Followed by two days dropping temps, freezing rain, ice pellet and high winds! Come on, already!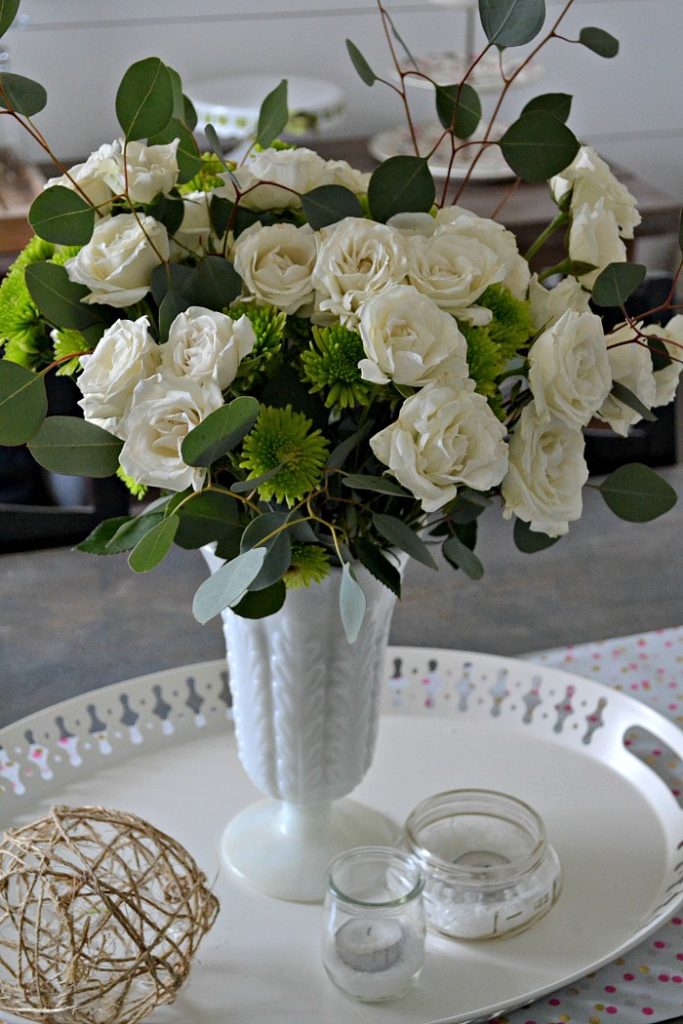 And, as I was putting this arrangement together I get yet another weather alert for a system that could bring ice and/or snow! Fun times.
Since I added a little St.Patrick's day vignette in the dining room, when I headed out to the market to buy flowers I went with a white and green flower arrangement in mind. I was met with a sea of red and pink! With Valentine's Day just a few days away that was the theme of the day. I did manage to find some white spray roses and lime green chrysanthemums. I was amazed to find they even had silver dollar eucalyptus.
I used a milk glass vase with ruffled edges. After cleaning all the leaves from the rose stems and trimming them to size, I arranged them in the vase the same way I did this rose arrangement crisscrossing the stems to help them support each other.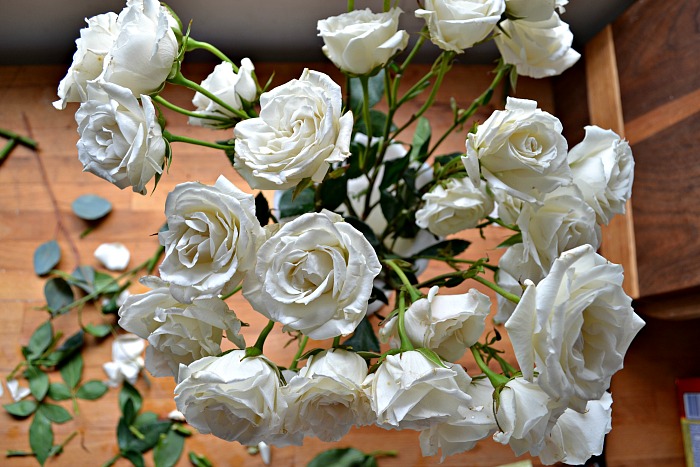 The lime green mums where cut to length and nestled in among the rose, filling the empty spaces. I added in a few springs of the eucalyptus to add a bit of height and another shade of green.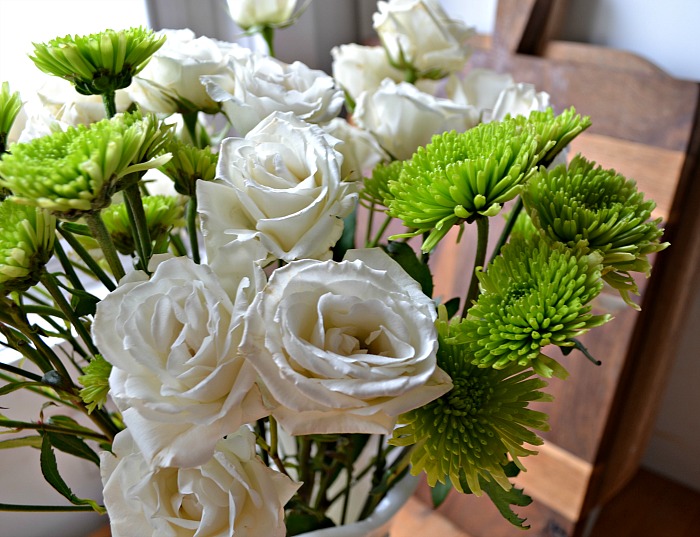 And, that my friends is all there is to it! Only two types of blooms, a tiny bit of greens and I am feeling more like spring already!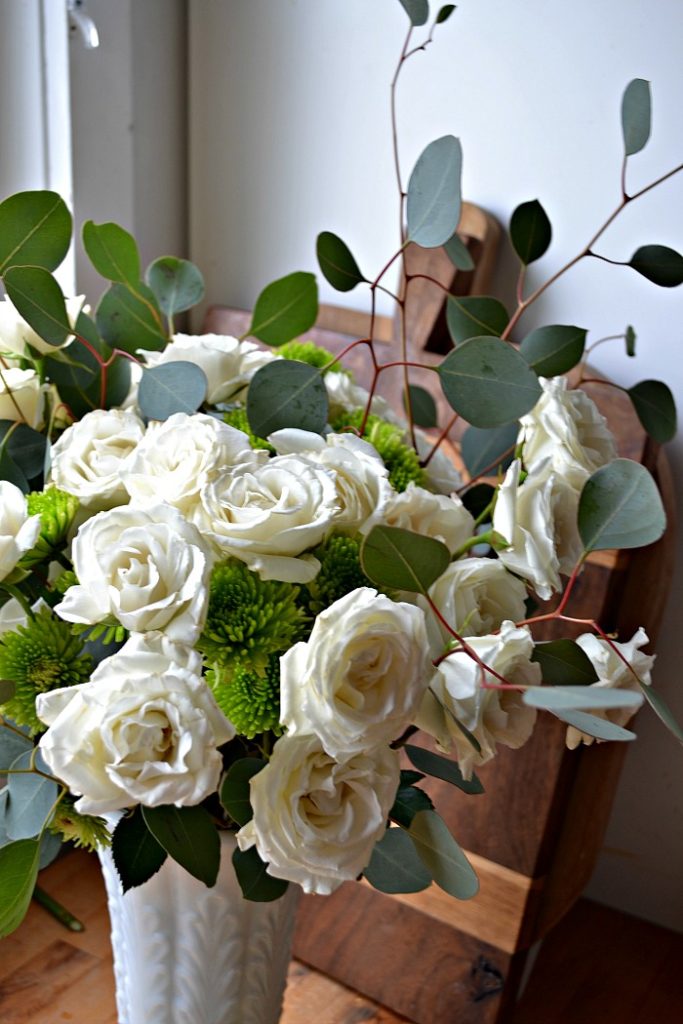 I love the contrast of the bright green against the white. And, they way the edges of the roses kind of curl giving them a soft ruffled appearance.
I am glad I resisted all the red and pink at the market this week, and went with this fresh white and green flower arrangement instead!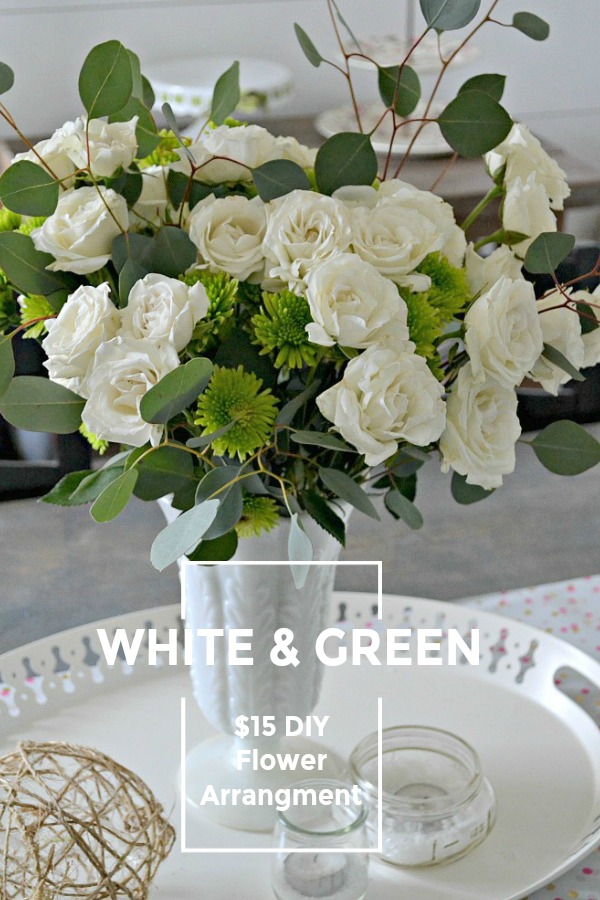 While I await another day of snow, ice and sleet my thoughts are already drifting to the next Market Flower Monday, when I am really hoping the ranunculus will start appearing at the market!! Fingers crossed.
Until next time…..