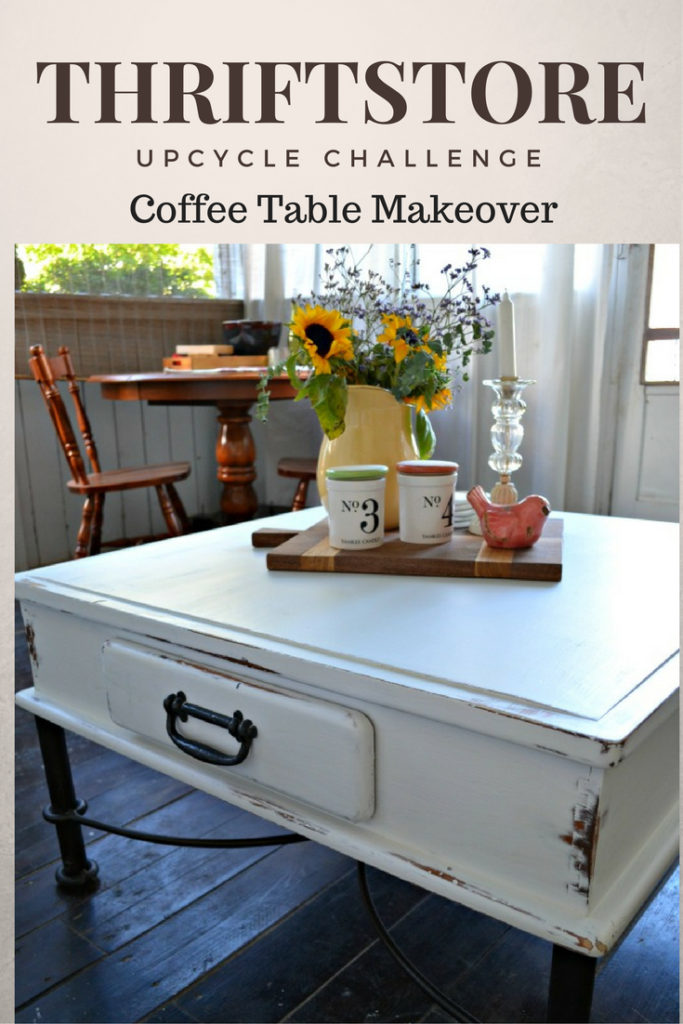 I've paired up with a group of talented ladies to bring you a monthly Thrift Store Decor Upcycle Challenge. Each month we will create a new home decor piece from an item(s) we've found at a thrift store, yard sale, resale shop etc. There is no budget or specific theme so we are free to let our creativity run wild!
Amanda | The Kolb Corner Chelc | Inside the Fox Den Erlene | My Pinterventures
Kim | Made in a Day Sara | Twelve on Main Debra | Shoppe No. 5
Shirley | Intelligent Domestications Marie | DIY Adulation Lindsay | Crazy Organized
Michelle | Our Crafty Mom Julie | Live From Julie's House Colleen | Life on Kaydeross Creek
Maureen | Red Cottage Chronicles Pili | Sweet Things Sherry | Savvy Apron
Ann | Duct Tape and Denim Dru | Polka Dot Poplars
Megan | C'mon Get Crafty Jennifer | Hydrangea Hippo
You can also follow our board on Pinterest for more upcycled decor inspiration!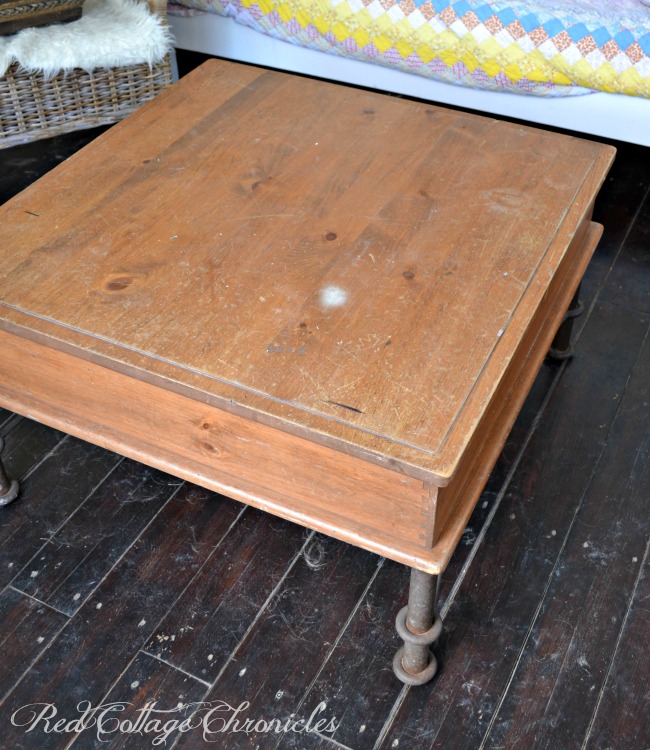 This month for our Thrift Store Decor Upcycle Challenge I partnered with Rust-Oleum Canada to give a worn and tired coffee table a new lease on life!
I picked up this coffee table at a yard sale for the bargain price of $20! It was one of those pieces that as soon as I got out of the car it caught my eye. I sped up a little all while trying to look casual and uninterested, but wanting to stake my claim before anyone else saw this beauty. As I got closer I realized it was going to need some TLC to bring it back to life, but nothing a little paint couldn't fix.
It's solid wood with dove tailed corners, a drawer, and a pretty iron base. Given the little knicks, scratches and glitter nail polish I knew it was well used, yet was still standing strong and sturdy.
My friend Leslie and I hauled it home and I couldn't be more pleased at how it has turned out.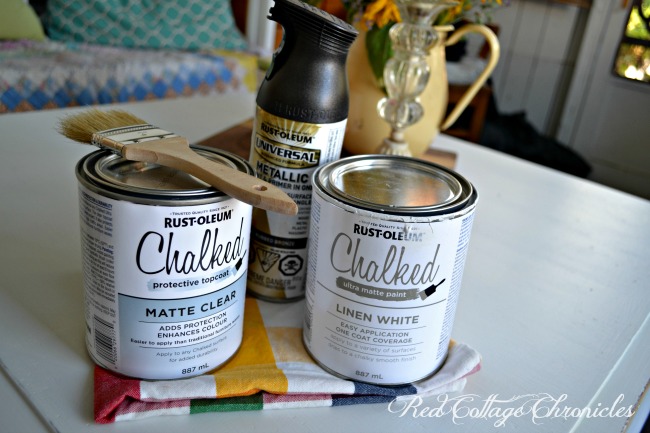 I started by removing the iron base and gave it a good cleaning. Using Rust-Oleum Universal Metallic spray paint in Oil Rubbed Bronze, it now has a darker more up-do-date rod iron look. I removed the drawer pull and painted it the same.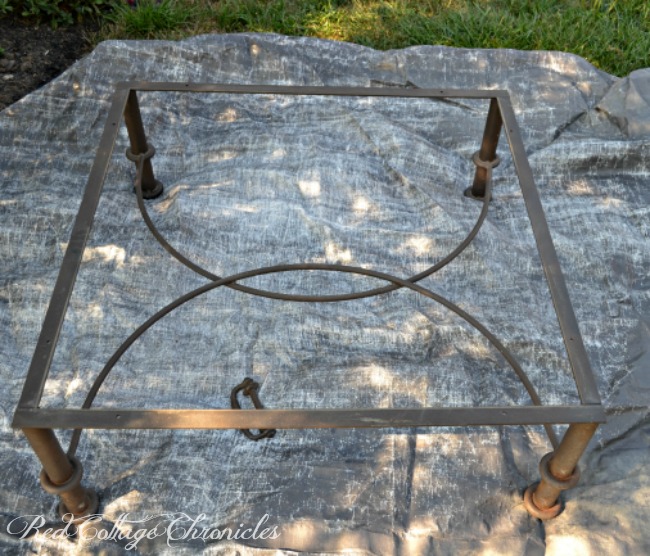 For the table itself I used my new favourite chalk paint, Rust-Oleum Chalked Ultra Mat Paint in Linen White.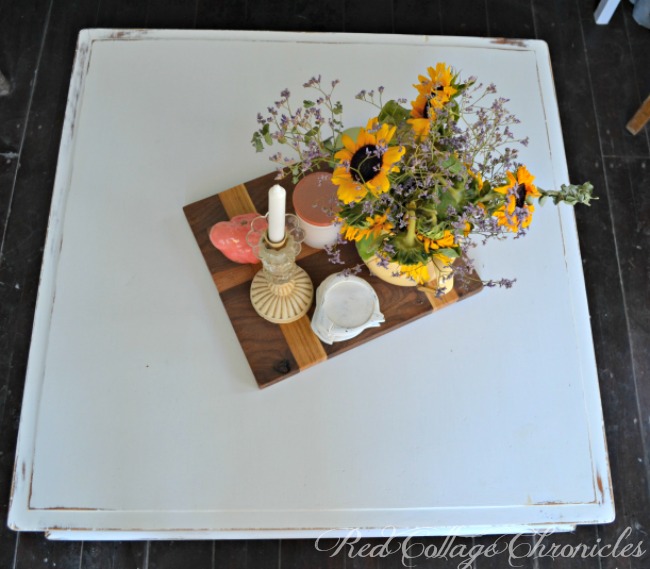 You may remember I used this chalky paint for the first time on this kitchen cart makeover and was hooked! I like the consistency of this chalk paint compared to others I have tried. It goes on smooth and easy, and doesn't need to be thinned.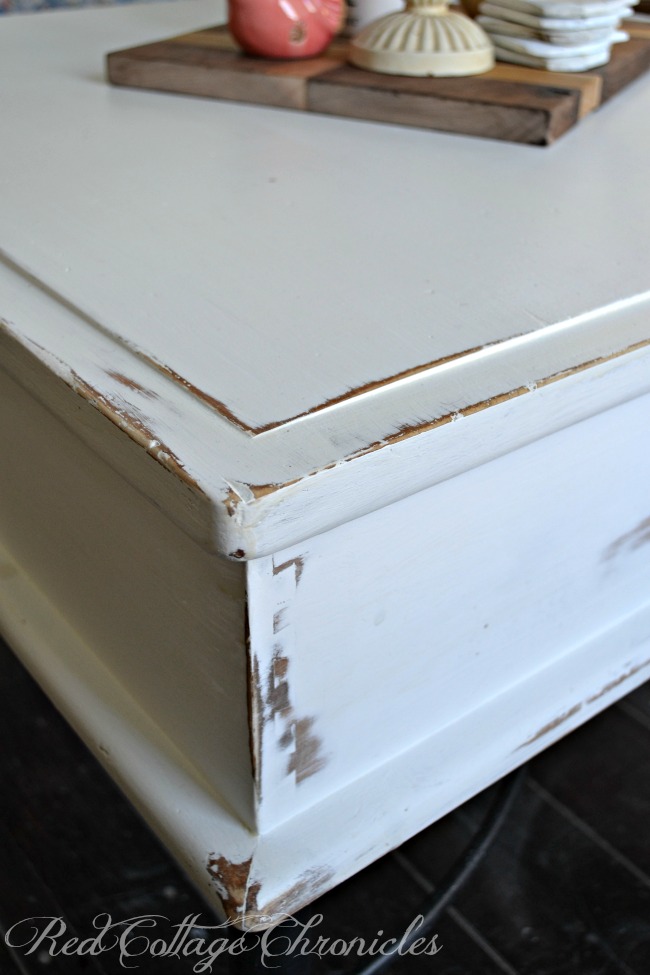 I sanded some areas almost back to the wood to give it a little character. I especially loved the look of the dovetailed corners, so I sanded those areas right back to expose them.
This table is going to get a lot of use. Our screen porch is a gathering place for three seasons, which means lots of glasses, bottles, food, games, and even the odd crafts will grace the tabletop. Not to mention a resting place for tired feet!
I needed a really durable, and easy clean finish. I used Rust-Oleum's Chalked Protective Topcoat instead of paste wax to seal the chalky paint and give it an easy to clean, durable surface.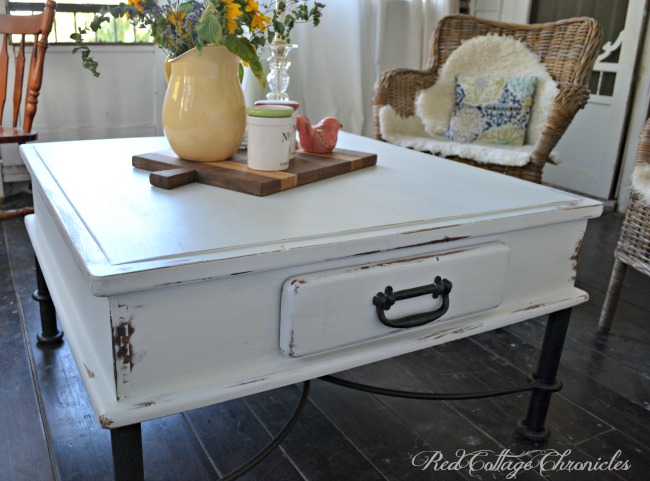 I am very pleased with how the Chalky paint filled in the minor scratches and now they pretty much disappear.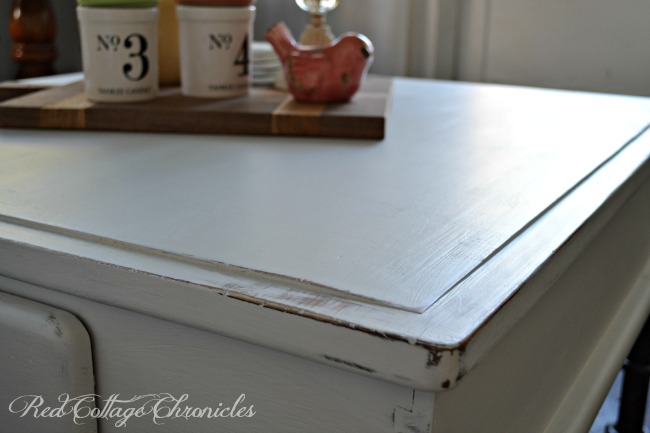 I swear the table really came alive when it was all done. It went from worn and damaged to fresh and bright, and is now the centrepiece of the screen porch!
Until next time…

Rust-Oleum Canada kindly provided me with paint samples for this project, however my thoughts and opinions of their products are completely my own!
---
Be sure to check out all of the other creative upcycle projects my fellow bloggers have come up with!