Thanksgiving Tablescape Bloghop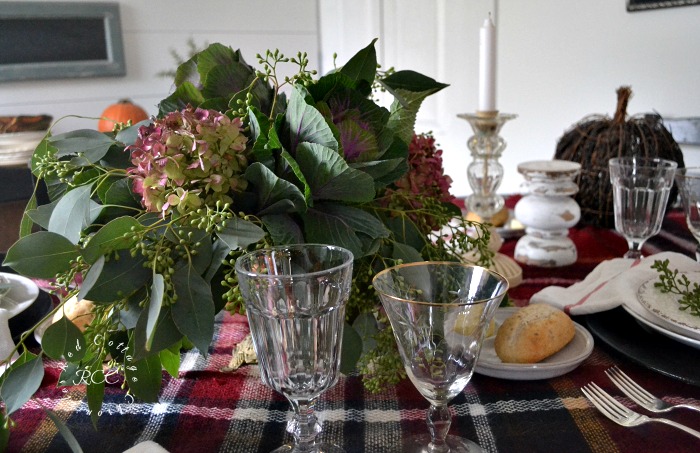 If you are looking for Thanksgiving table setting ideas, look no further! I am joining a group of talented tablescape loving blog friends who are sharing loads of ideas for setting a festive table all week long!
I have to admit that Thanksgiving is long since over for us here in Canada, and I am kind of glad that we get a bit of breathing space before diving head first into the Christmas season.
However just like our American friends, Thanksgiving is a time spent with family, and eating way too much food! The only thing missing is football!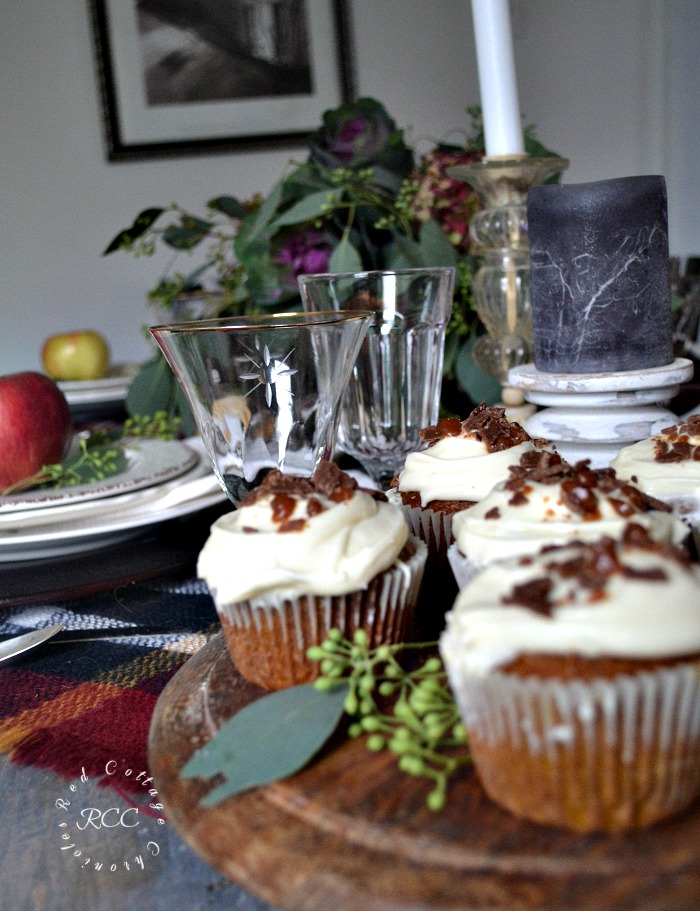 We have had an unusually warm autumn, and we probably could have had thanksgiving outdoors this year, but we resisted and enjoyed our meal inside.
I don't know what it is like in your family, but we have several different eating styles to consider. Vegetarian, vegan and gluten free, but I find this just gives me an opportunity to try food I normally may never have. My nephew's girlfriend brought a delicious squash dish this year, which I will be making over and over again during these cold winter months! There is no shortage of turkey and stuffing though!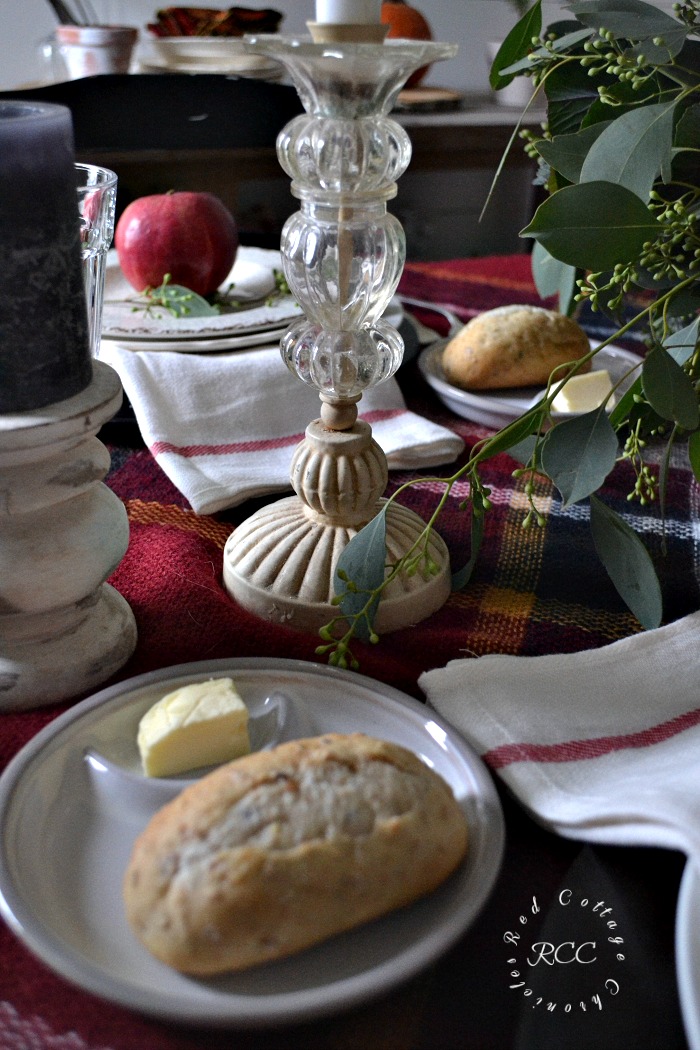 Since my sister and her husband were embarking on a 4 week vacation the day before Thanksgiving, we celebrated at their home the day before they left. Our family has grown to 14 people, plus one brand new baby boy and I really enjoy spending that time around the table with each and every one of them.
Since my sister hosted, I didn't need to set my able this year. Since I love the challenge of setting a pretty table with little to no budget, I really wanted to come up with some Thanksgiving table setting ideas to share with all of you, as you celebrate Thanksgiving in a few short weeks.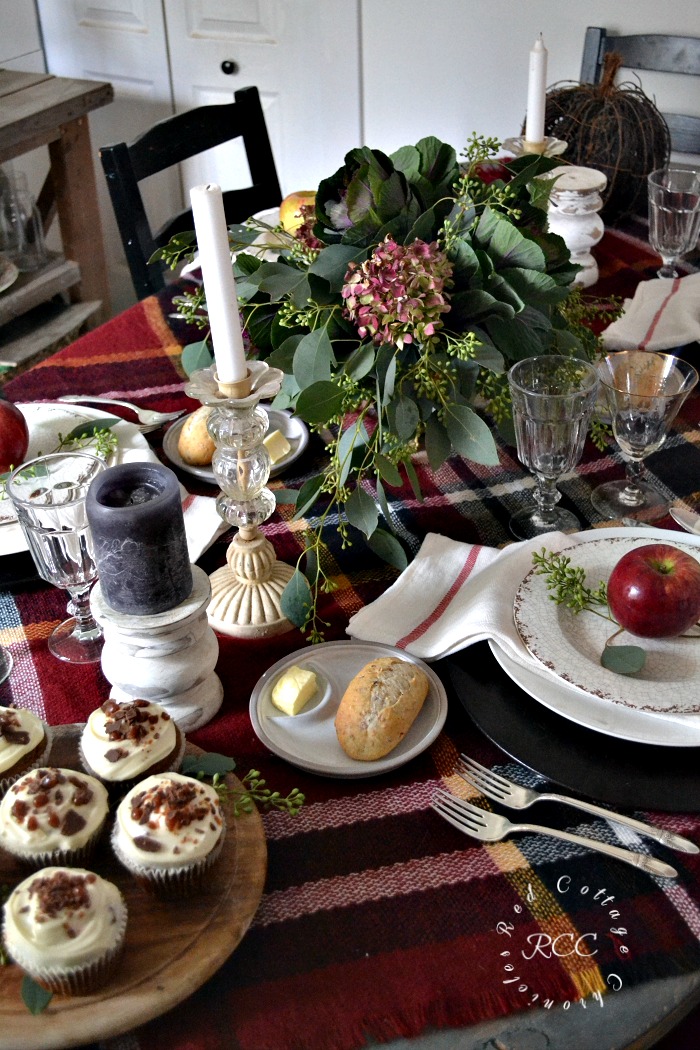 I started with a huge plaid winter scarf (that I actually wear all winter!). The deep burgundy, navy and beige make the perfect base for a Thanksgiving feast. Plus, it is machine washable.
I borrowed a copper bowl from Leslie and filled it with the last few Hydrangeas from the garden, and some seeded euculyptus and ornamental cabbage from the Farmers Market.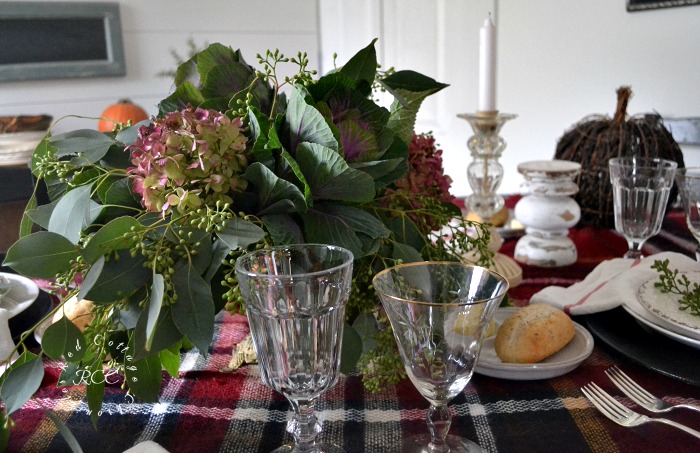 I already had the dark brown wooden charger plates. Our everyday white dinner plates are layered with "napkins" that are just inexpensive tea towels from Ikea (which also make cute cafe curtains), scalloped edged plates found at an estate sale, and melamine salad plates. I borrowed my nana's good silverware from my mom.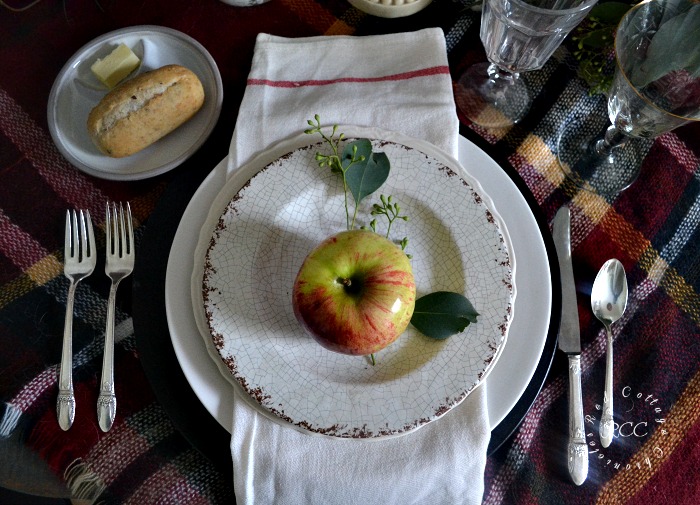 French bread and butter plates hold a multi-grain dinner roll and a pat of butter. Stemmed water glasses from Ikea and gold rimmed wine goblets complete each place setting.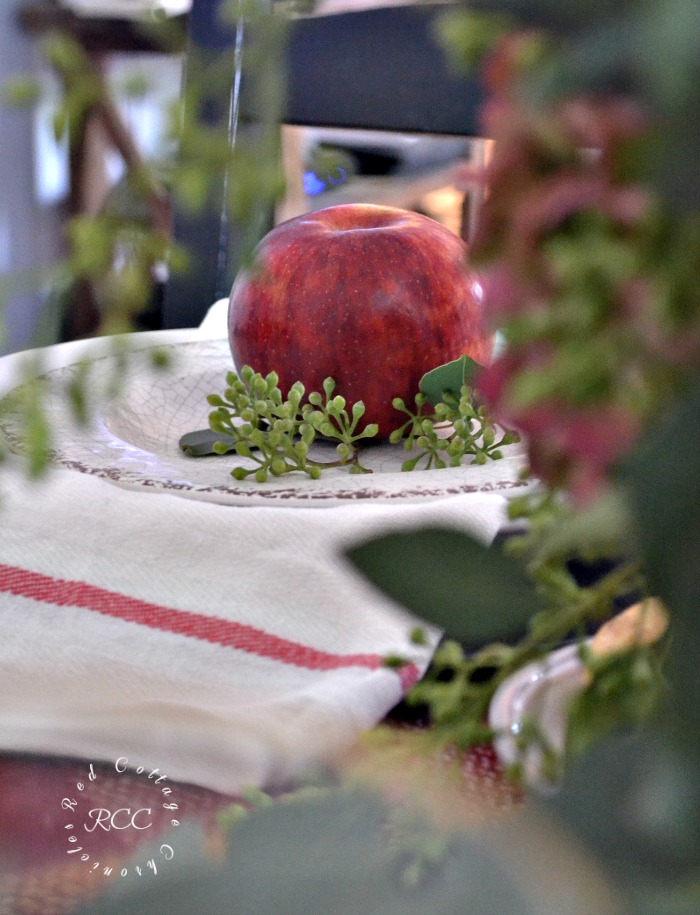 I love using food when creating a tablescape. This time I used apples with a tiny spring of eucalyptus to decorate and add a pop of color to each plate. Pumpkin Cupcakes with Maple Frosting do double duty as decor and dessert!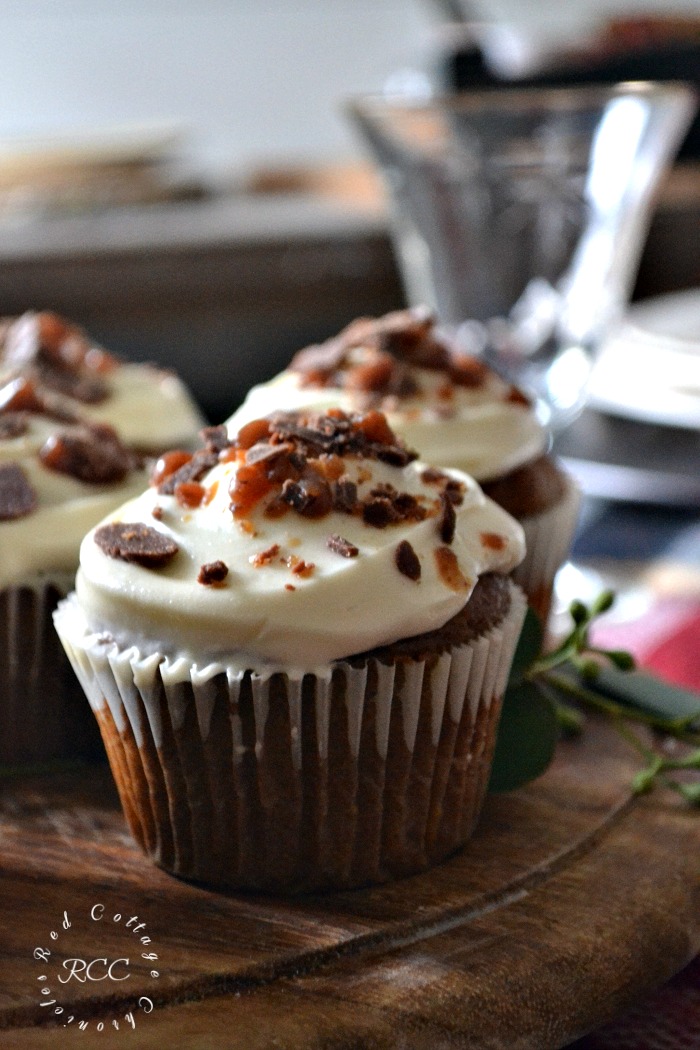 Those apples will be put to use in a caramel apple crisp later in the week.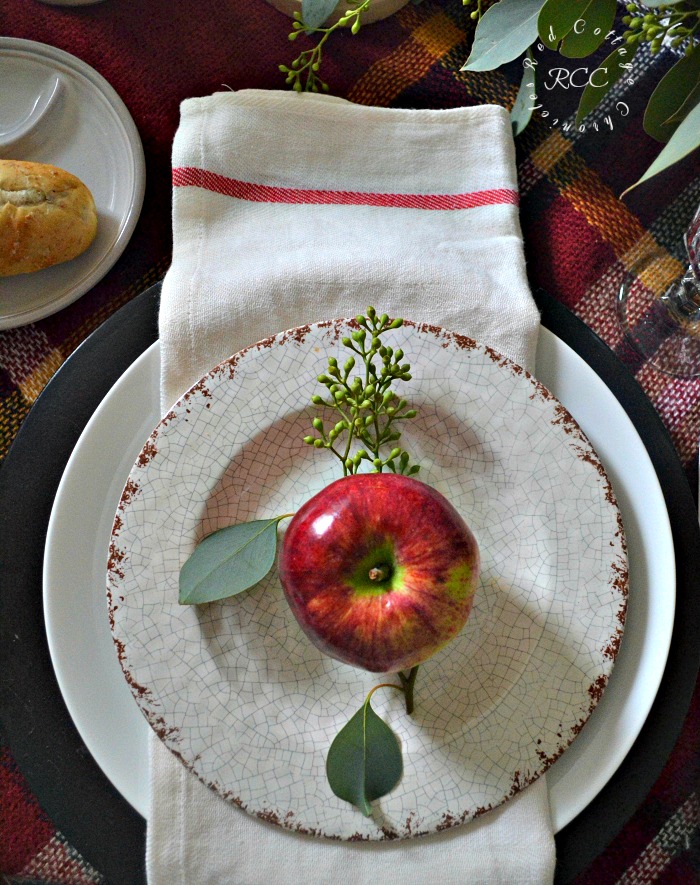 Every table needs a few candles. Just be sure to light them to create a warm, relaxed atmosphere.
A wicker pumpkin which I have had for years adds bit of whimsy and is easily relocated to the buffet when dinner is served!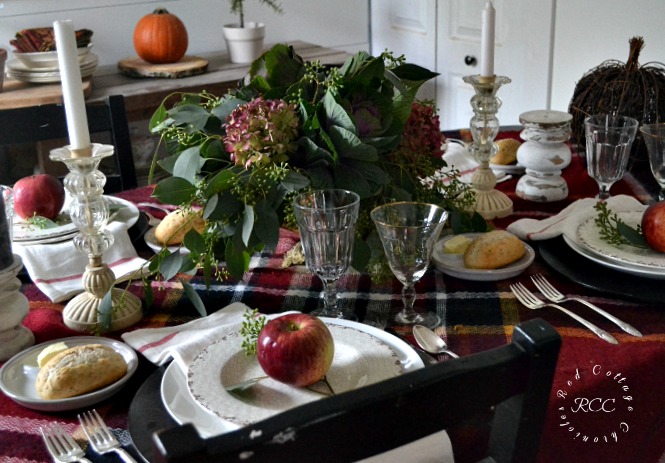 The only cost I incurred for this tablescape was the market flowers. Just $13.00! Everything else I already own or borrowed!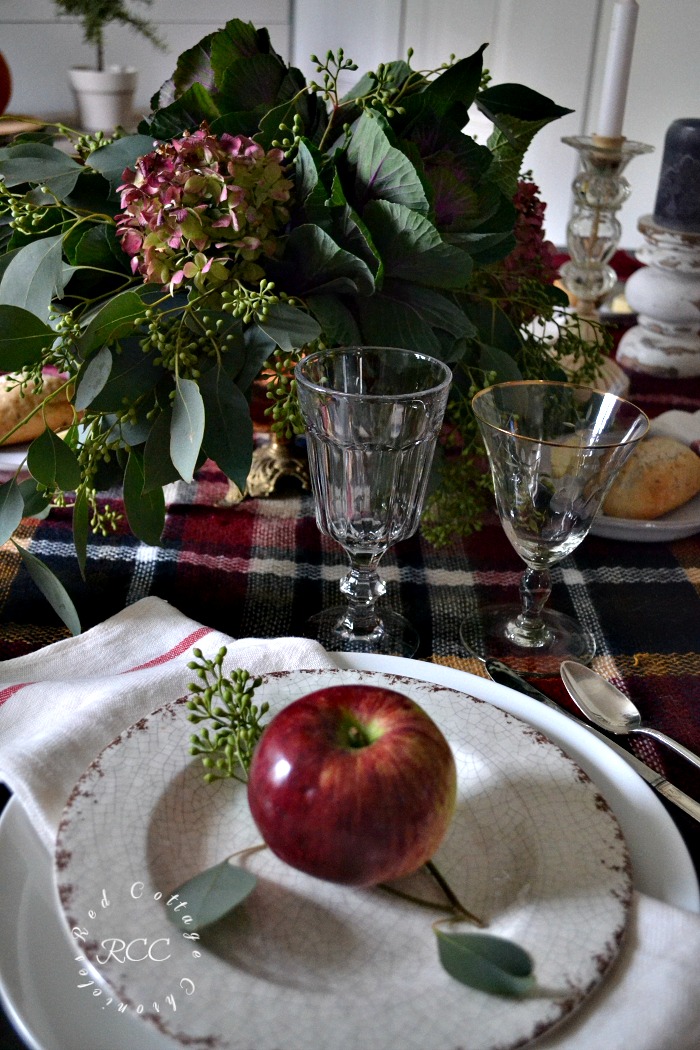 I hope I have given you some inspiration for putting together a pretty holiday table. The inspiration doesn't stop here. Thanks to Chloe from Celebrate and Decorate, every day this week bloggers who are just as passionate about creating gorgeous tablescapes will be sharing their Thanksgiving table setting ideas, so be sure to check back everyday to see what's new! Check out the list below and start with all of the Monday features!
Oh, don't forget to subscribe to Red Cottage Chronicles and get access to our VIP Printables Library! Just click here!
Until next time…….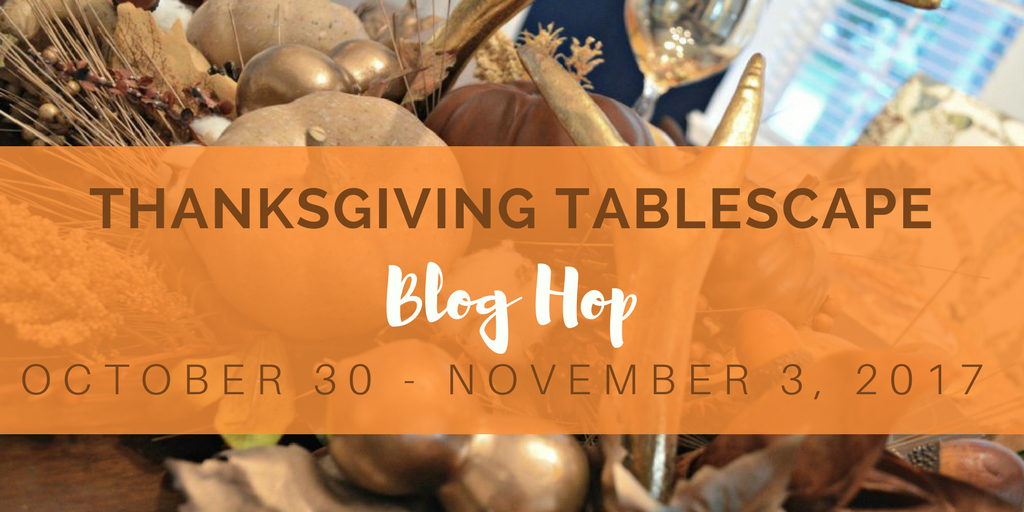 Monday
Everyday Living
Red Cottage Chronicles
Home is Where the Boat Is
Celebrate & Decorate
Tuesday
My Kentucky Living
Savvy Apron
Rattlebridge Farm
Living with Thanksgiving
Wednesday
Belle Blue Interiors
From My Carolina Home
Bluesky at Home
The Painted Apron
Corner of Plaid and Paisley
The Red Painted Cottage
Thursday
A casa di Bianca
Dining Delight
Sweet Sensations
Our Crafty Mom
Panoply
Friday
My French Twist
Hey Fitzy
B. Lovely Events
Me and My Captain
Life and Linda