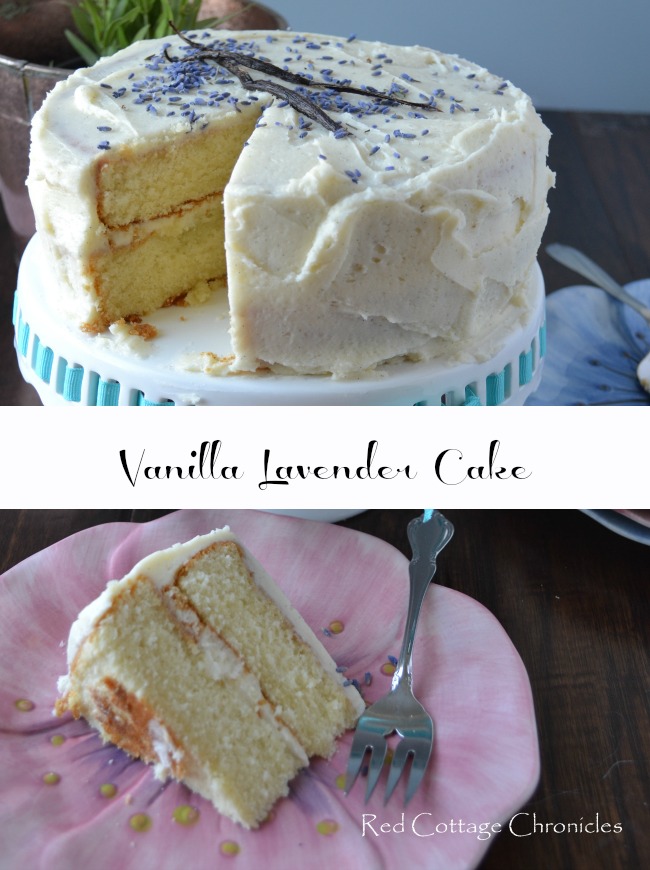 Sometimes my inspiration for baking comes from most surprising places! While I was reading some posts in the #FrenchKissLife facebook group page, someone mentioned they had treated themselves to a night out their favorite restaurant and had a picture of the Vanilla Lavender Cake they had for dessert. I knew I had to try and make it for myself.
If you are new to Red Cottage Chronicles you may not know how much I love baking with lavender. This honey lavender ice cream is a favorite, not to mention these lemon lavender squares!
Off to the kitchen I went to create my own version of a vanilla lavender cake. I am delighted with the results. And I have a feeling my daughter Sam enjoyed it since it kept disappearing off the cake stand little by little!! She didn't even bother to put away the fork. She took a bite every time she walked by!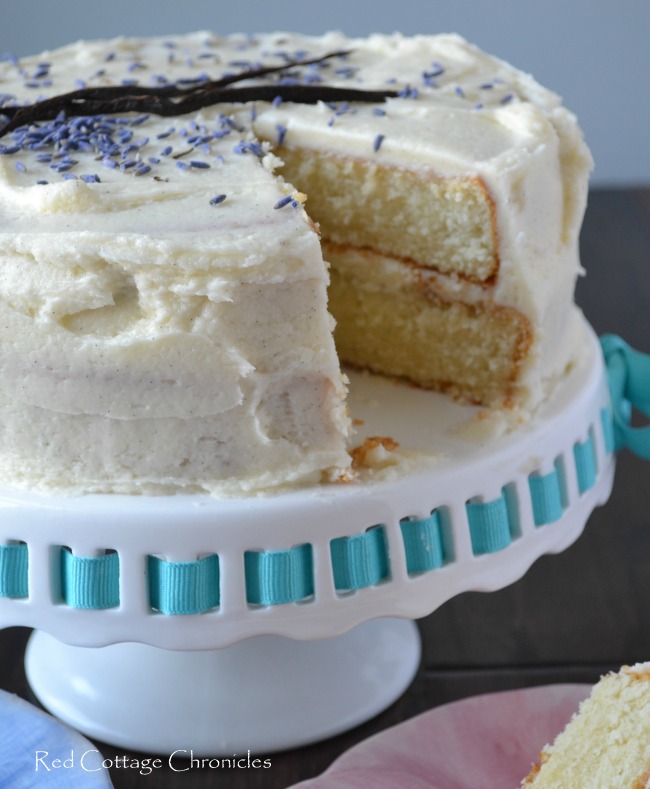 The cake has a bit of a spongy texture and a brushing of lavender simple syrup on each layer makes it moist and perfectly sweet. It is made with milk that has been steeped with lavender. The lavender flavour is subtle and balanced with the vanilla, and not over powering.
The buttercream frosting recipe that I use most often can be found here. For this cake I added the seeds scraped from one vanilla bean pod in place of vanilla extract.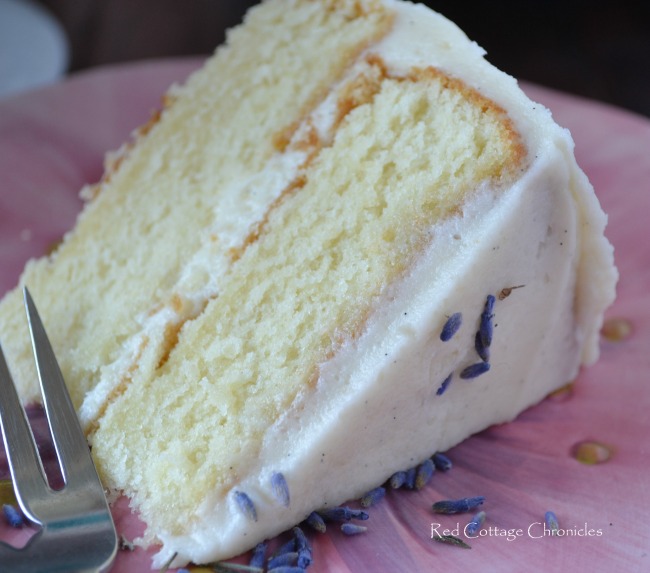 Who says you need a special occasion to bake a cake? I say indulge in the little things that make you happy. For me, that is baking my cake…..and eating it too!
Have a very happy day!
Until next time……
Maureen

Vanilla Lavender Cake
Prep time:
Cook time:
Total time:
Ingredients
Vanilla Cake
2 1/2 cups cake and pastry flour
1 1/2 cups sugar
1/2 teaspoon salt
1 tablespoon + 1 teaspoon baking powder
2 eggs
3 egg yolks
1 1/2 cups milk
3 tablespoons culinary lavender buds
2 teaspoons pure vanilla extract
3/4 cup + 2 tablespoons butter, sliced and softened
Lavender Syrup
1 cup sugar
1/2 cup water
1 tablespoon culinary lavender buds
Instructions
Vanilla Cake
Add milk and lavender to a saucepan and heat over medium until bubbles just start to form around the edge. Remove from heat and allow to steep for 15 minutes
Preheat oven to 350 degrees. Butter and flour 2 9″ round pans that are at least 3 inches deep.
In the bowl of stand mixer whisk the flour, sugar, salt and baking powder until well combined.
In a second bowl whisk together the eggs, yolks, 1/2 cup of the lavender milk and the vanilla and set aside.
Add the remaining lavender milk and the butter to the dry ingredients and mix using paddle attachment for about two minutes. Scrape down the sides.
Add the milk/egg mixture in 3 additions, mixing well and scraping sides of bowl between each addition. Mix well after last addition.
Divide batter equally between prepared pans and level with an offset spatula.
Bake for 25 to 30 minutes, until toothpick inserted in the centre comes out clean.
Let cool for about 5 minutes before turning out onto a cooling rack.
Lavender Syrup
Add all ingredients to a medium saucepan and bring to a boil, stirring to dissolve sugar.
Reduce heat and simmer for 2-3 minutes.
Allow to cool before pouring through a fine sieve.
Discard lavender and store syrup in the refrigerator.
Assembly
Place one layer of cake on a cake plate. Using a pastry brush, generously brush layer with lavender syrup.
Ice with a layer of vanilla butter cream (link in the post to my favorite)
Place second cake layer on top and brush generously with lavender syrup
Ice entire cake with vanilla buttercream
Decorate with lavender buds and vanilla bean pod.