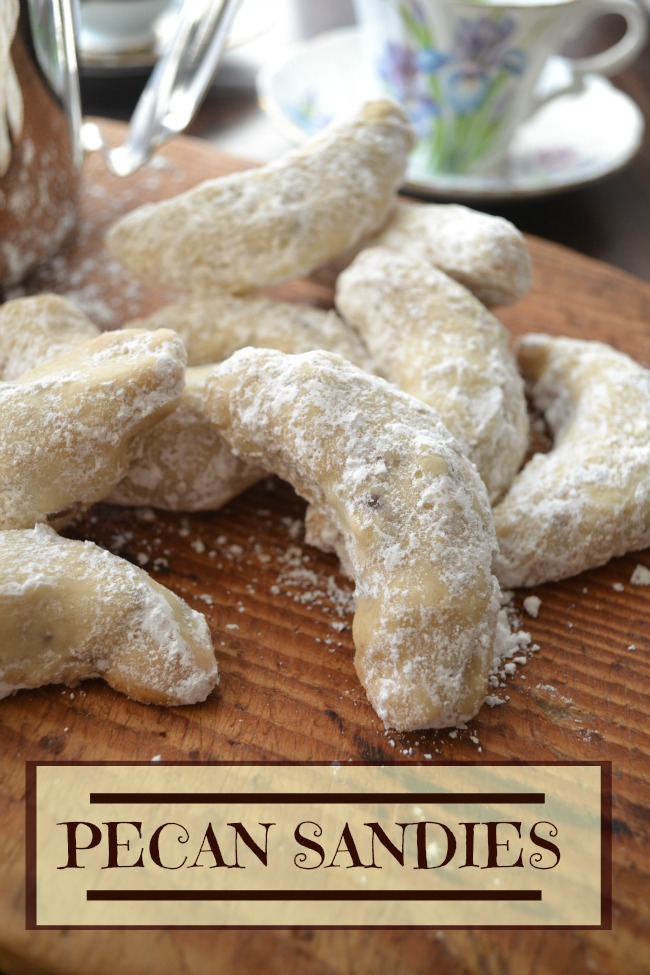 You know what I love about baking.  Ingredients can be extremely interchangeable!  When you really want to bake but are missing an ingredient chances are you can substitute something else instead.
Take these Pecan Sandies for example.  The recipe I set out to make was from a really old cookbook I have called  "Chocolate", and were supposed to be Chocolate Chip Sandies.  I had never made them before but they looked really good.
When I needed to make some cookies to pack in Tim's lunch I wanted to make these, but low and behold my pantry was completely empty of any chocolate what-so-ever.  Not even a chocolate bar I could chop up.  I am not sure how that even happened.
I did however have pecans so Pecan Sandies it is!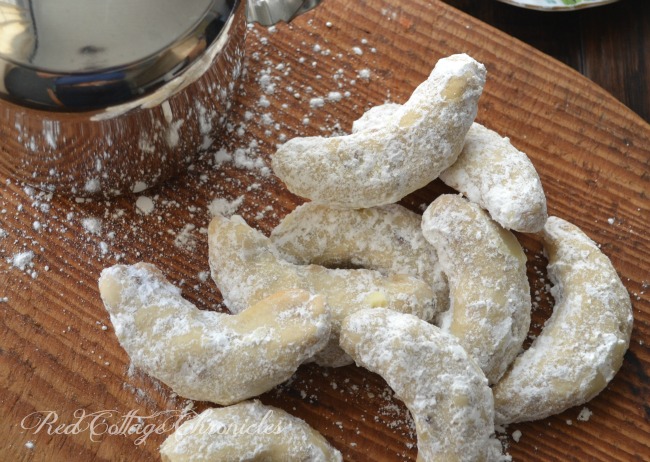 I even made enough to freeze some for the holidays.  They lasted about a day and a half!
Note to self:  Do not freeze Christmas cookies in kitchen freezer.  Take them down to the chest freezer and they may actually last until Christmas!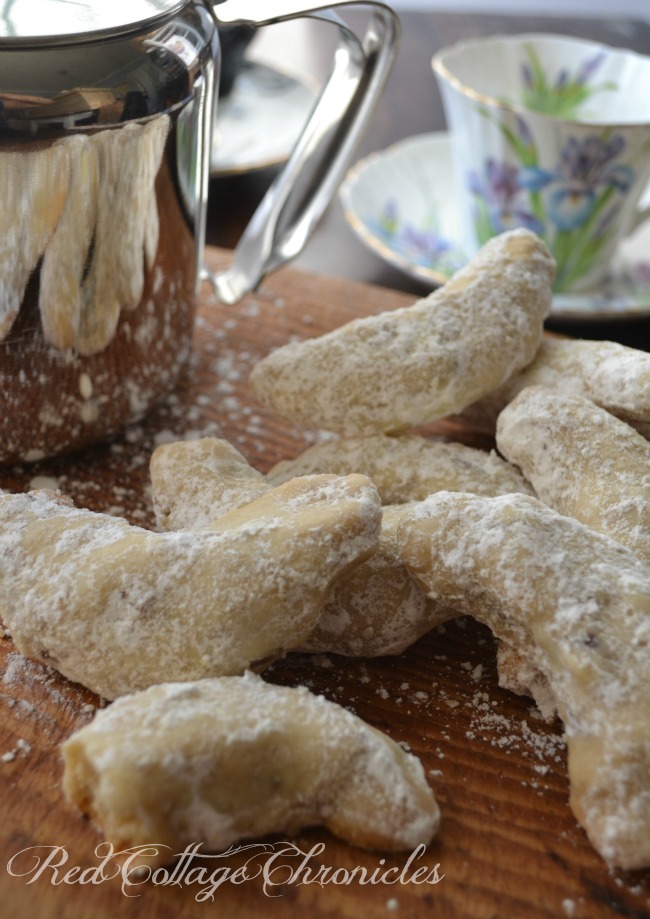 Ever since I first started baking my favorite part has been the hands on work with the dough.  I have said it before, just how therapeutic it can be.  I kind of get lost in all the mixing, kneading, shaping and rolling.
While I did use my KitchenAid stand mixer to mix the dough, by the time I was done rolling and shaping it into crescents I was completely relaxed.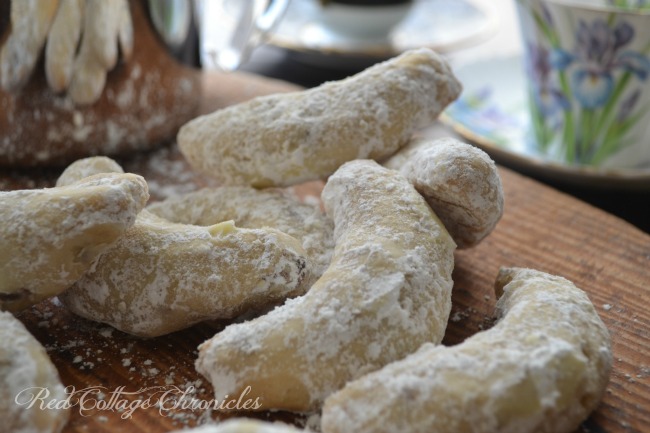 Funny thing about these cookies.  I remember when I was a kid and would see this type of cookie on a holiday cookie tray, I would always pass it over for something more colourful and gooey  like these Grampie's Favorite Squares that are still our family's favourite!  What was I thinking?  These cookies are buttery, melt in your mouth, with a yummy nutty crunch.  So good!
I have to admit I probably ate 1 (or 6) too many myself.  Give me a buttery cookie and a cup of tea and I am a happy camper!
Next time I will make two kinds.  Pecan Sandies and the Chocolate Chip Sandies they were supposed to be in the first place.
What was your favorite holiday cookie as a youngster?
Until next time….
Maureen
Pecan Sandies
Prep time:
Cook time:
Total time:
Ingredients
1 cup butter
1/3 cup sugar
2 teaspoons water
2 teaspoons vanilla
2 cups all purpose flour
3/4 cup finely chopped pecans
1/4 cup sifted confectioners sugar
Instructions
Preheat oven to 325 degrees. Line baking sheets with parchment paper.
In the bowl of electric mixer beat butter on medium speed for 30 seconds.
Add sugar and beat until fluffy.
Add water and vanilla extract, beat well.
Add flour and chopped pecans and mix on low speed until combined.
Shape the dough into crescents about 2 inches long by 3/4 inches wide.
Place on parchment lined baking sheets and bake for 20-25 minutes, until edges are lightly browned and cookies are firm.
Remove from oven and cool completely.
Add sifted confectioners sugar to a plastic bag. Gently shake a few cookies at a time in the bag until well coated with sugar.