Blueberry Oat Bran Muffins
I can hardly believe that we are already over a week into the new year! While I didn't make any diet resolutions this year, we are aiming to eat as healthy as we can. Lots of real, plant based whole foods, and as little refined sugar as possible. These yummy blueberry oat bran muffins fit the bill. While there is some all purpose flour and a bit of sugar, they also contain healthy oat flour, whole wheat flour and fresh blueberries. They are a far cry from my addiction to donuts!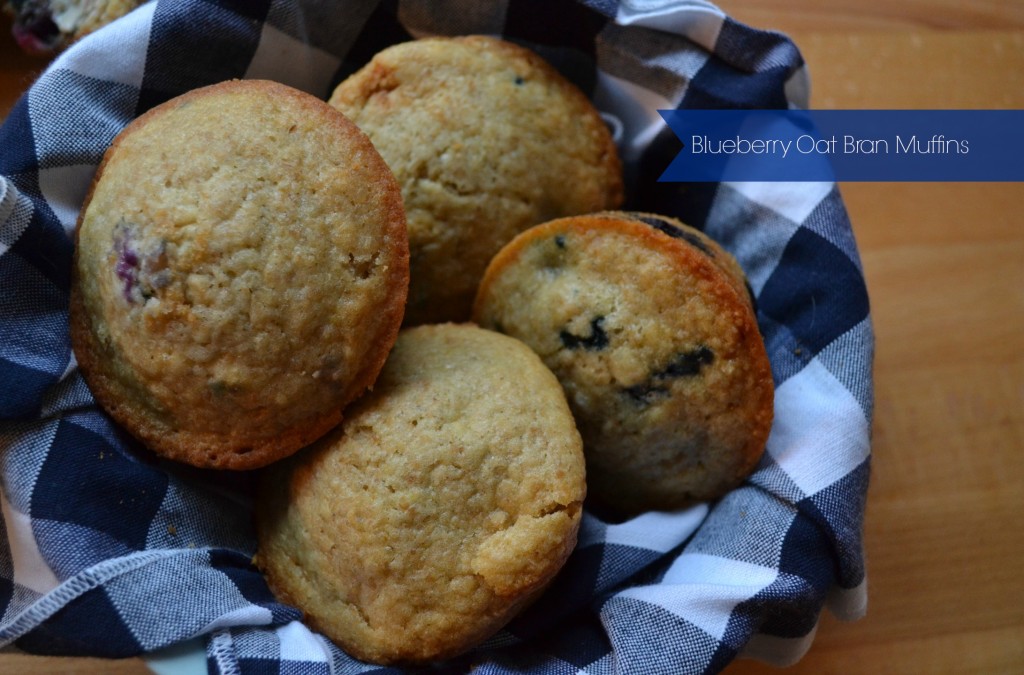 By the way, have I ever mentioned that I am a donut fanatic. I could eat a half dozen donuts if left alone in a room with them. Who am I kidding, I don't even have to be alone in the room! We have donut shops everywhere in our city. I mean everywhere! I pass two donut stores and two grocery stores with mouth watering donuts on my way to work every day. The struggle is real!
But, alas, I am kicking that habit and I am always on the lookout for healthier alternatives. And, I have to admit that making meals and snacks from scratch has been quite easy and Preparing food at home has become much easier since it is just the two of us now.
I love muffins for breakfast. A tall glass of cold milk and a warm muffin is a super easy way to get a healthful start to your day. These blueberry oat bran muffins are chocked full of plump organic blueberries, healthy natural oat bran, whole wheat flour and low fat buttermilk. Since I don't eat any animal products it is easy for me to switch out the buttermilk for plant based milk soured with some vinegar, and a flax egg in place of the regular egg.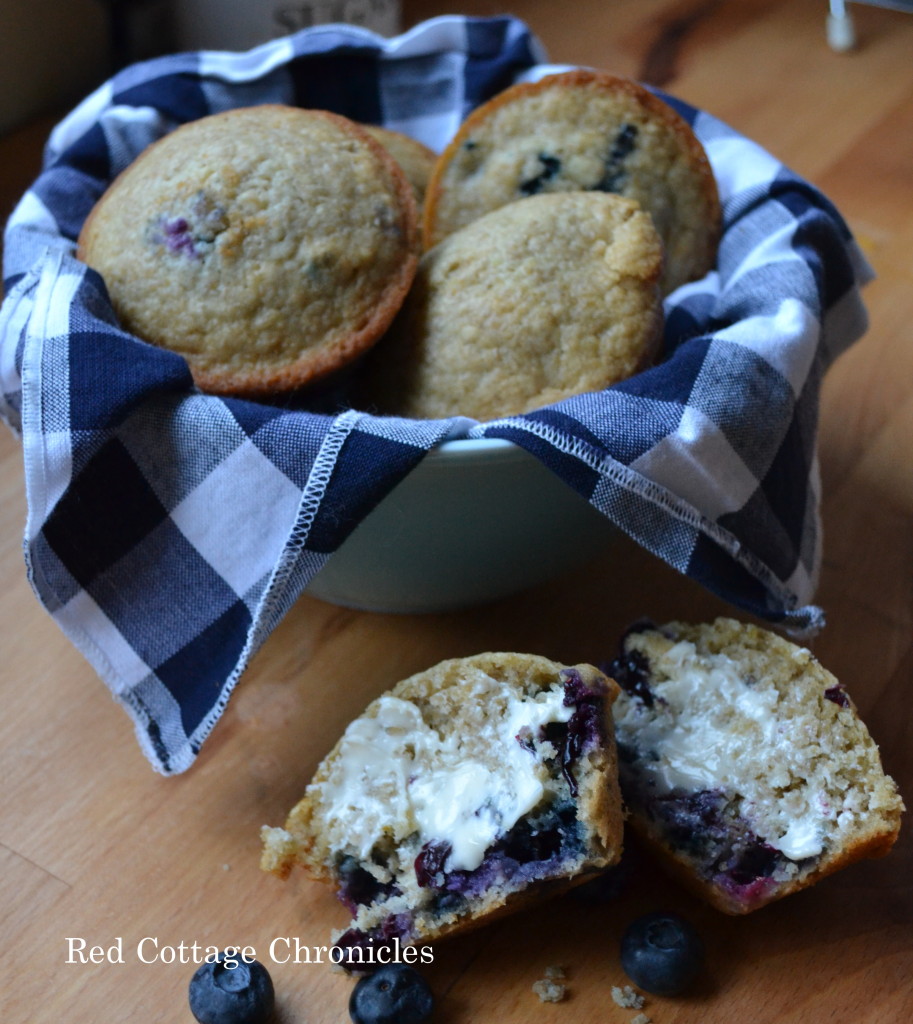 One other thing that muffins have going for them is that they are so cost effective. I have been very diligent so far this year to make every grocery dollar count. Lately organic blueberries have been on sale for less than the non-organic ones, making it even better. I find that the organic blueberries are a deeper blue and way more plump than the regular ones. Since they are not currently in season, organic blueberries just seem to taste fresher and are full of flavor!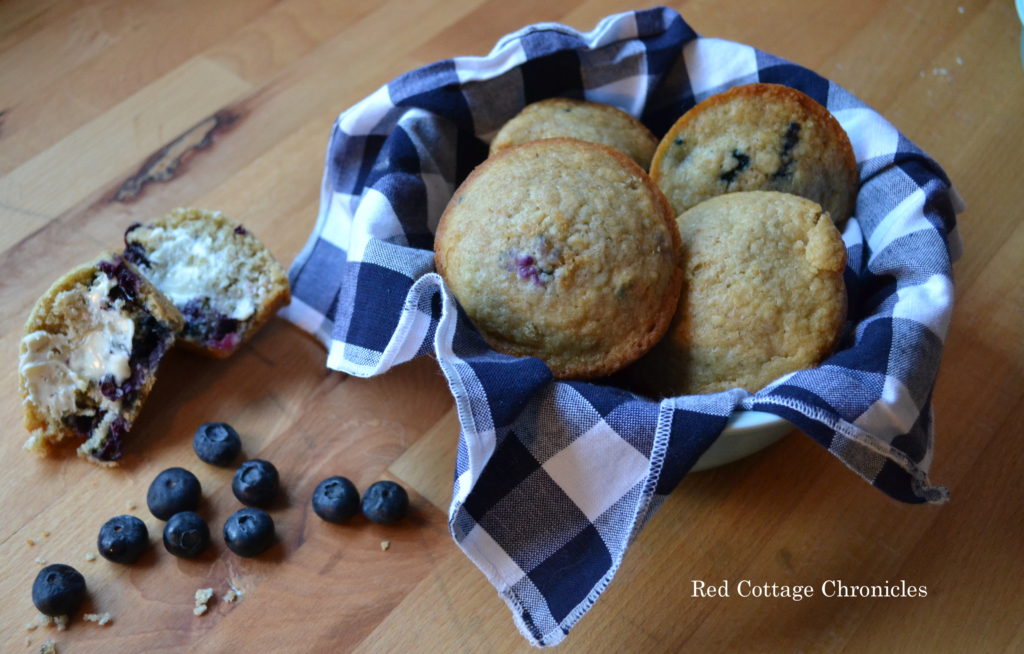 A batch of these muffins not only make for a good breakfast, but also a great lunchtime snack. Freezing them makes them last longer in my house! If I left them all out a dozen would be gone in a day!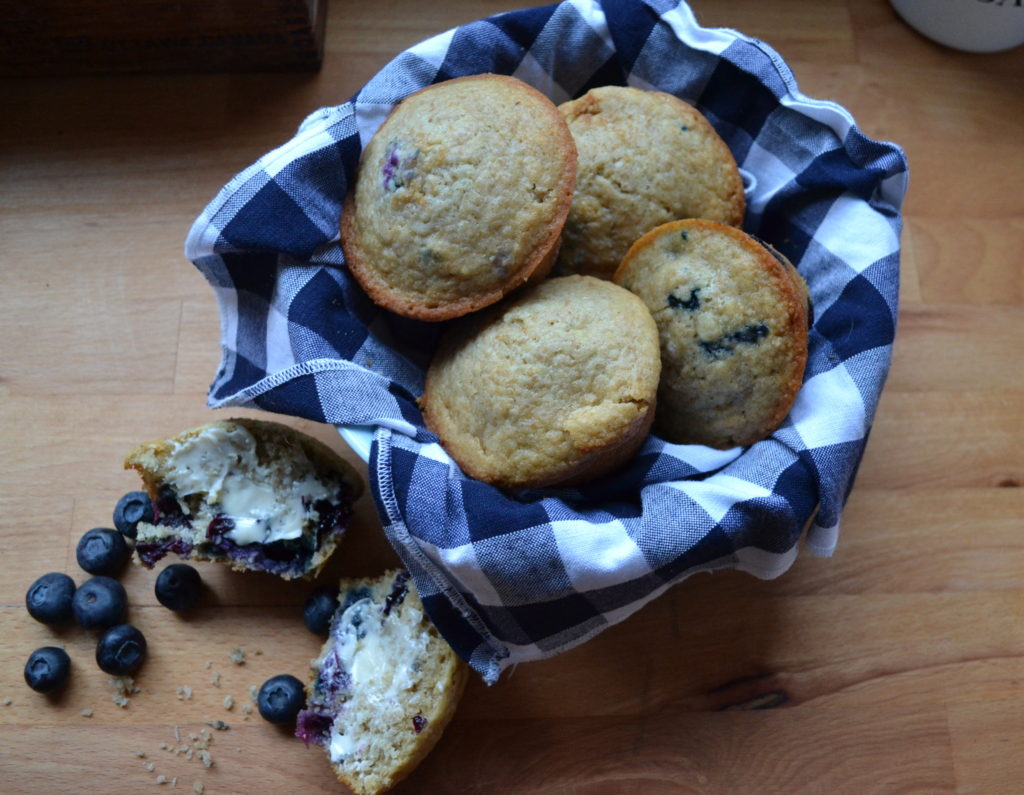 And don't feel guilty about the butter! With all the heart healthy grains and the antioxidant rich blueberries, it's all good!
ENJOY!
Don't miss a recipe! Subscribe and get an email whenever a new post is up!
Blueberry Oat Bran Muffins
Prep time:
Cook time:
Total time:
I found this recipe on the back of my bag of Rogers Oat Bran. Changed it up just a bit!
Ingredients
1 1/2 cups low fat buttermilk (or soured plant based milk)
1 1/2 cups oat bran
1/2 cup whole wheat flour
3/4 cup all purpose flour
1 teaspoon baking powder
1 teaspoon baking soda
1/2 teaspoon salt
1/3 cup olive oil
1 large egg (or flax egg for vegans)
1/2 cup sugar
1 teaspoon vanilla
1 cup fresh (organic) blueberries
Instructions
Preheat oven to 375 degrees. Spray 12 muffin tins with non-stick spray or use cupcake liners.
Combine the buttermilk and oat bran and allow to stand.
Whisk together flours, baking powder, baking soda, and salt in a bowl.
In a separate, large, bowl whisk olive oil, egg, sugar and vanilla together. Add oat bran/buttermilk mixture and stir to combine.
All at once add dry ingredients to wet and stir just until combined.
Gently fold in blueberries.
Spoon batter into prepared pan, filling almost to the top.
Bake for 20 to 25 minutes, until toothpick comes out clean.