Days of Wine and Chocolate Part I
Living in Niagara wine country offers such an array of events for both seasoned wine lovers and those of us who just take pleasure in finding a really great wine and pairing it with an equally fabulous dish! As a lover of all things sweet, February was a favourite!! Three Sundays of Days of Wine and Chocolate. What's a girl to do!
Until this month I was not a lover of red wine. Who knew Merlot would end up being a favorite!!
I will start by confessing that I am by no means a wine expert! I think, as is the average wine consumer, I like what I like, and therefore I buy what I like! I can't always tell you the different "notes" and "undertones" or "finishes" of a wine, but I can certainly give an honest evaluation of what I enjoy! I tend to gravitate to the sweet desert wines, but was pleasantly suprised by all the wonderful reds that paired so nicely with the dark chocolate treats!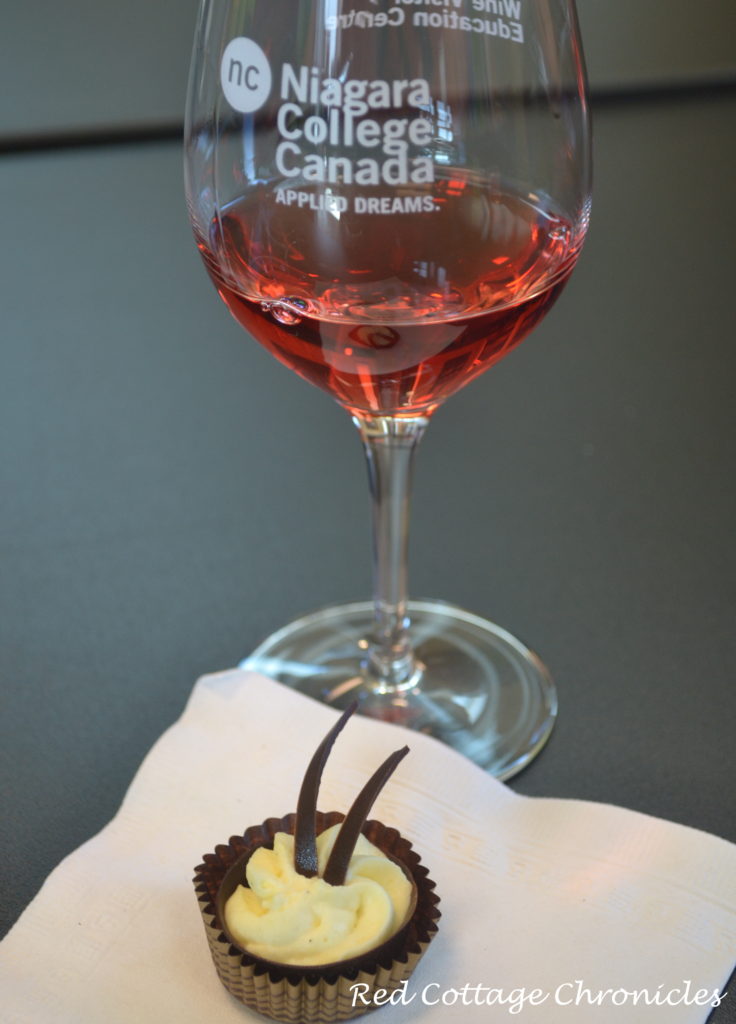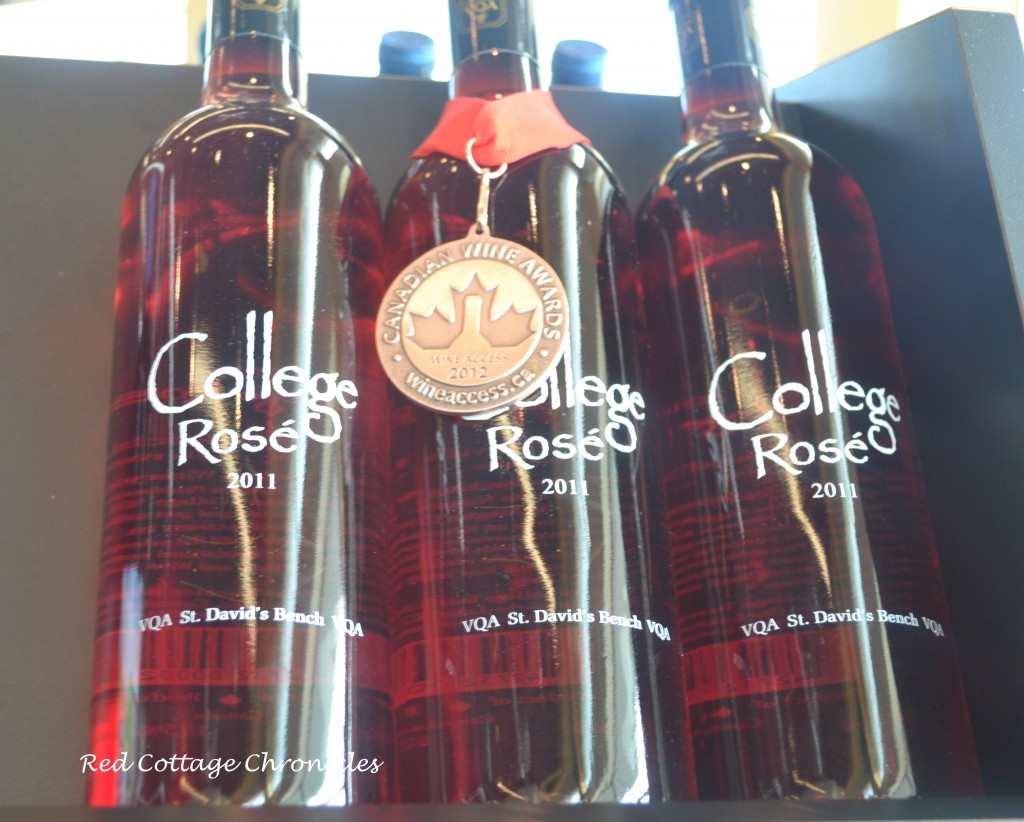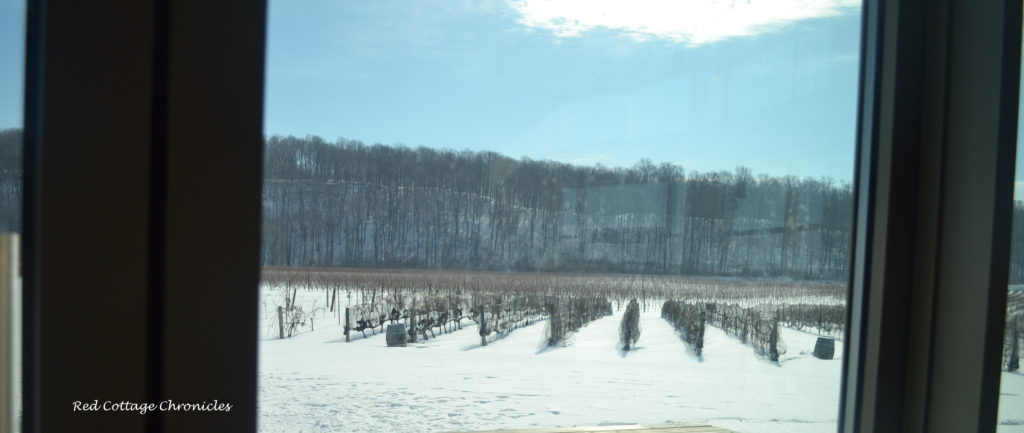 This is a view of the vineyards that are maintained and harvested by the Niagara College Students.
Next stop was Ravine Winery and I could have spent a very long time here! The pairing was a 2011 Cabernet Franc with a Chocolate Pecan Tart. I really enjoyed this hearty red complimented by the sweetness of the tart with dark chocolate drizzle.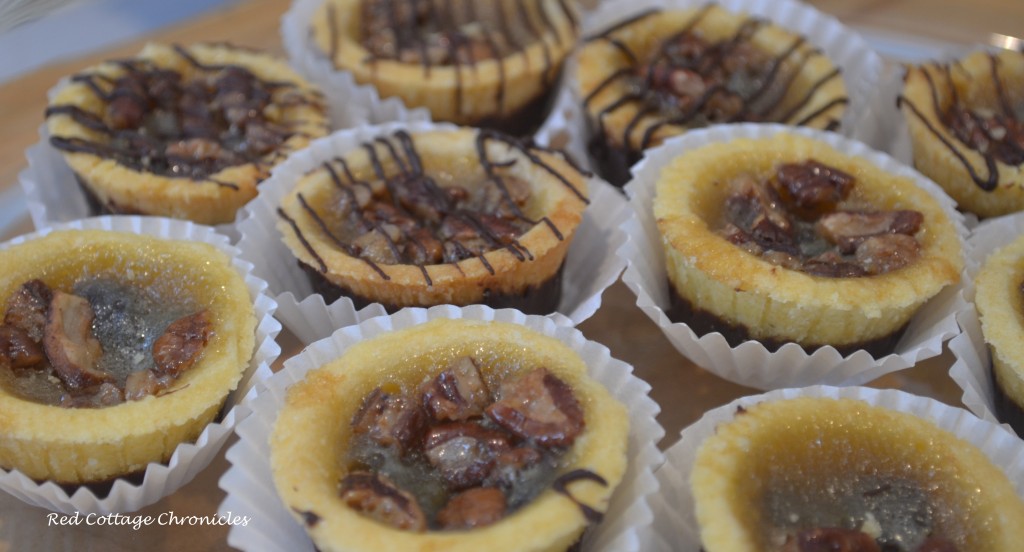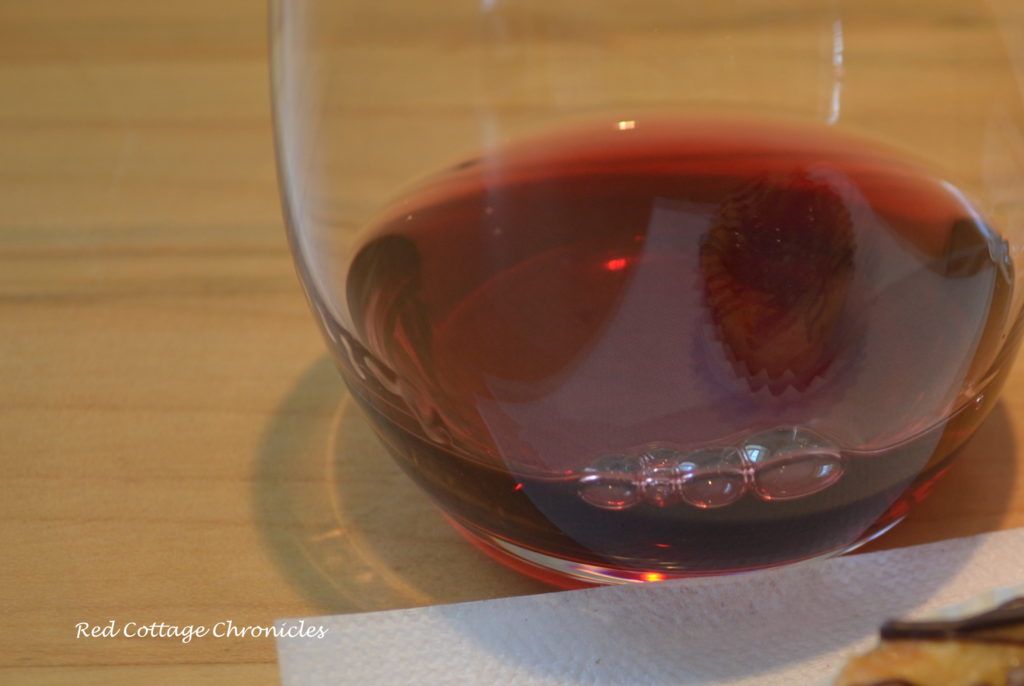 This winery has the cutest little "General Store" with all kinds of culinary delights. Flavored oils, fresh breads and baked goods, artisan cheeses and colorful kitchen tools!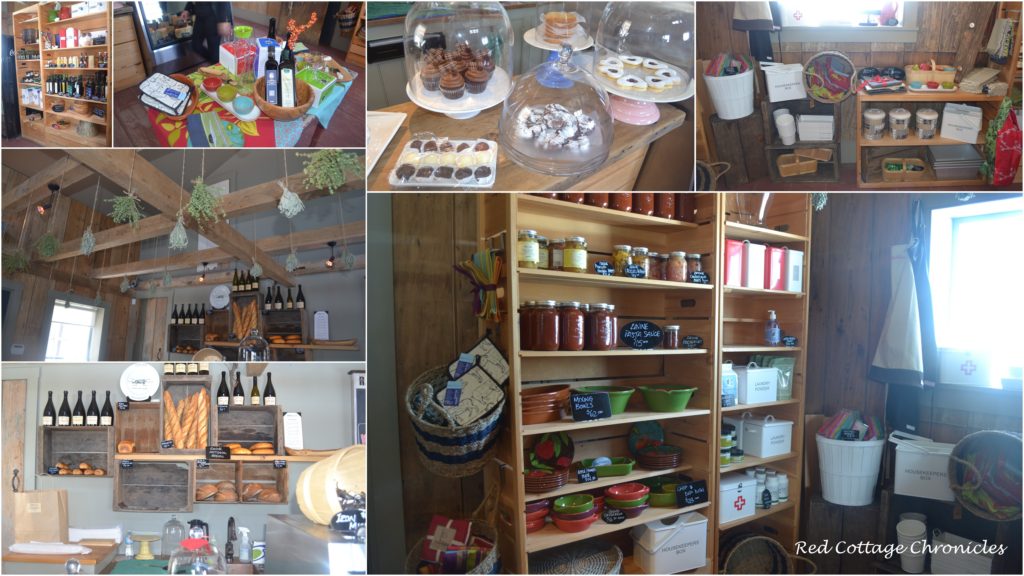 Between The Lines Winery is the cutest little place! Here we enjoyed a 2011 Rosé paired with white chocolate macadamia mousse. The Rosé was crisp and fruity and enhanced by flavor of the mild white chocolate mousse.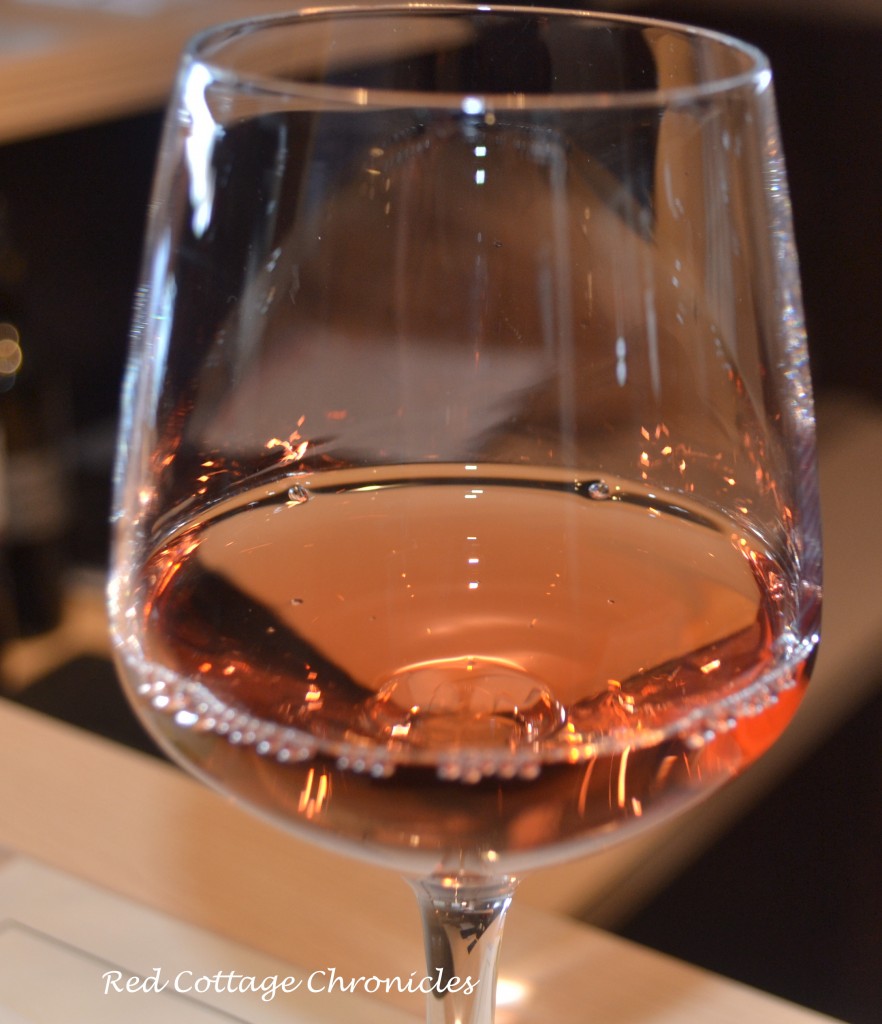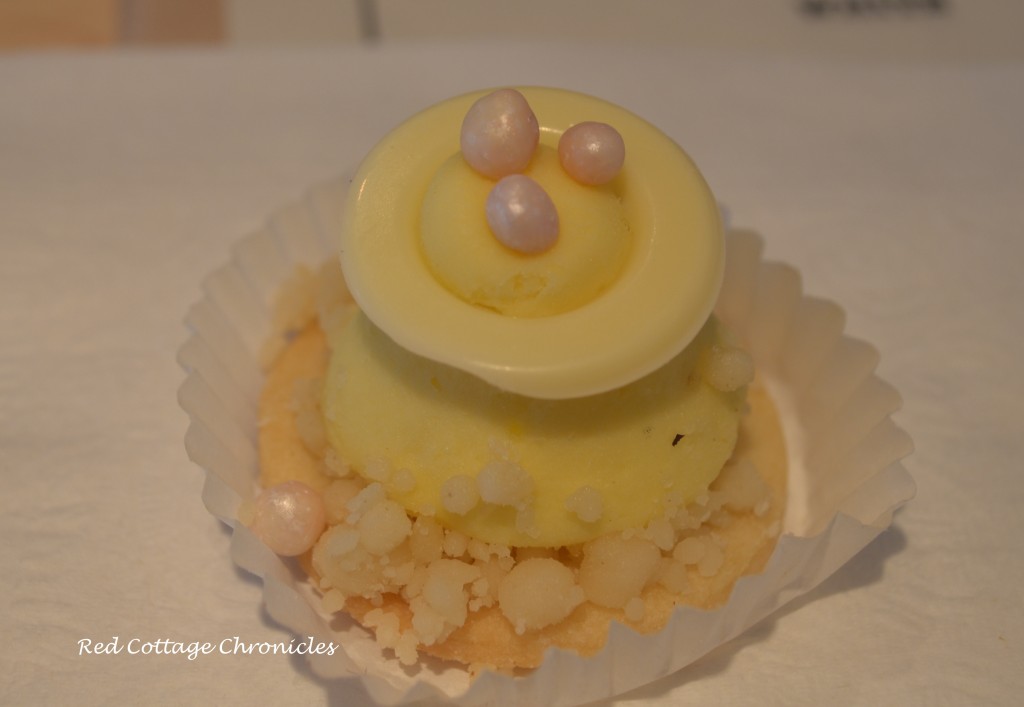 Inniskillin is known around the world for their award winning Icewine. We enjoyed a 2008 Vidal Icewine with a chocolate peanut butter ball. The Icewine was sweet and smooth and balanced perfectly with the dark, almost bitter chocolate with just a hint of peanut butter!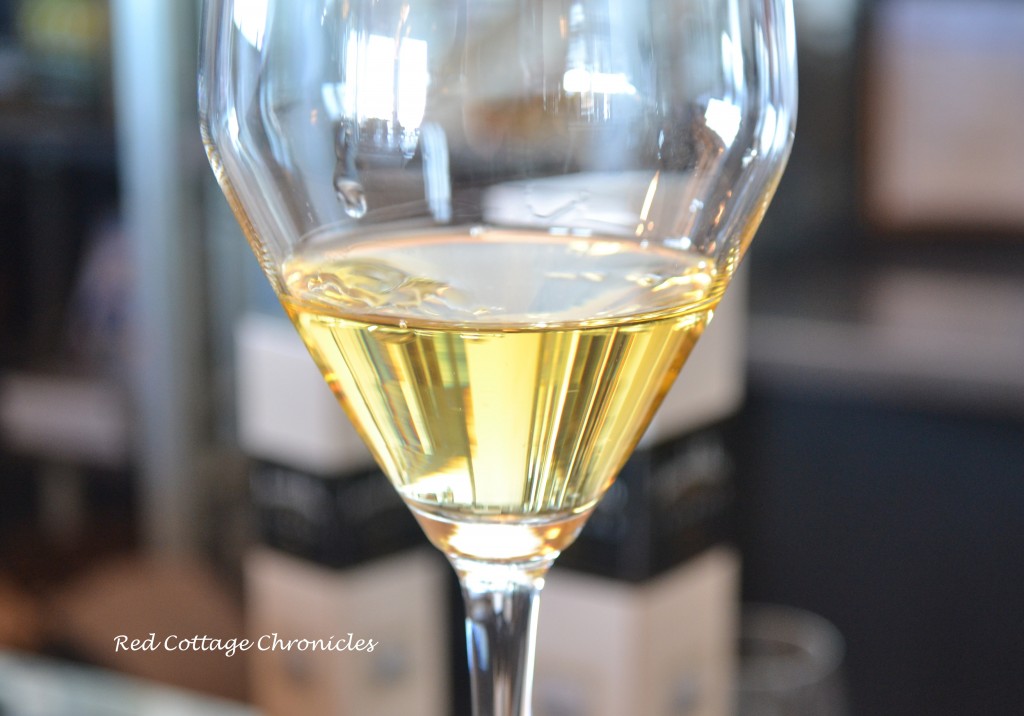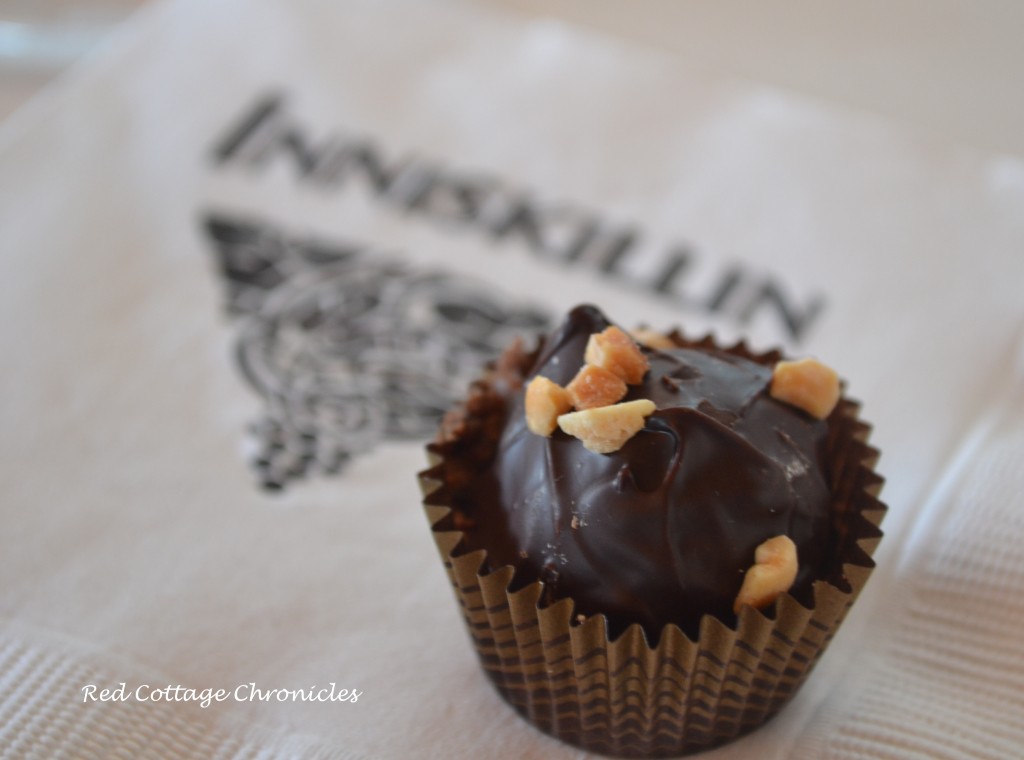 Icewine grapes on the vine!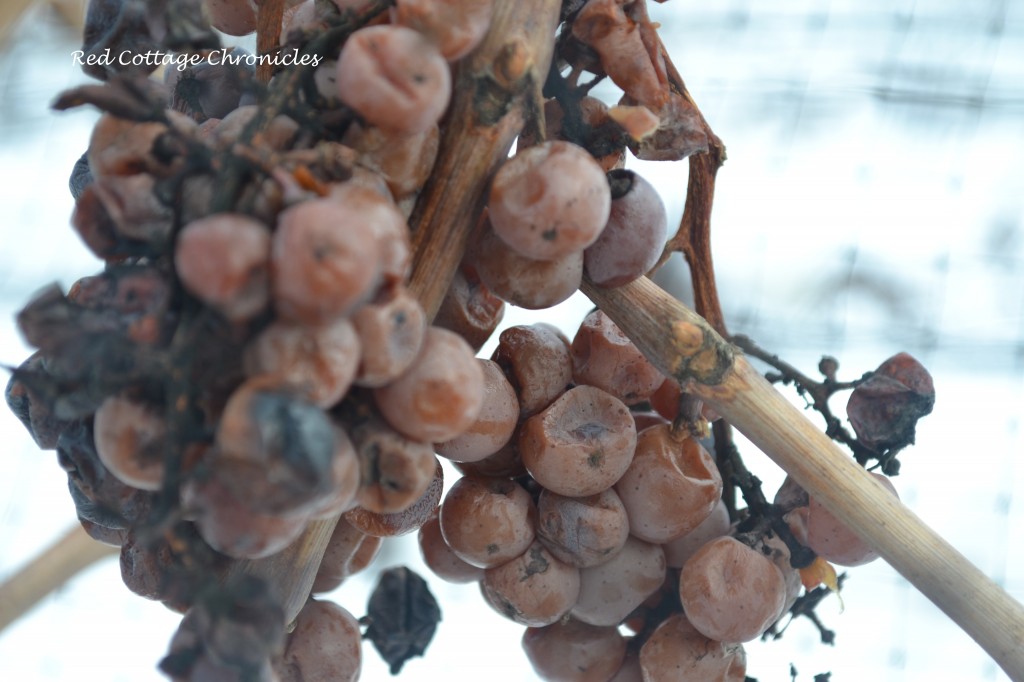 Pellar Estates is a stunning winery that pleases all the senses!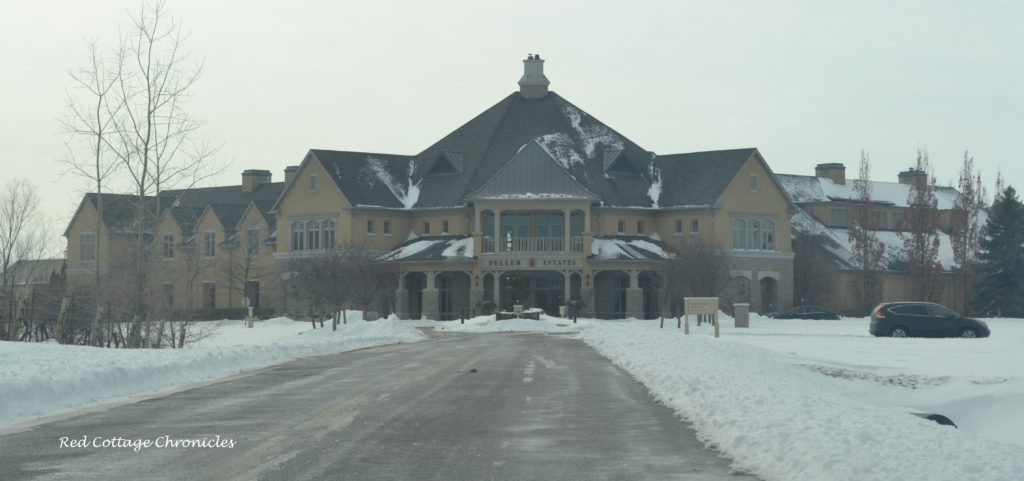 Here we enjoyed Andrew Peller Signature Series Ice Cuvee paired with a candied bacon and chocolate covered sponge toffee.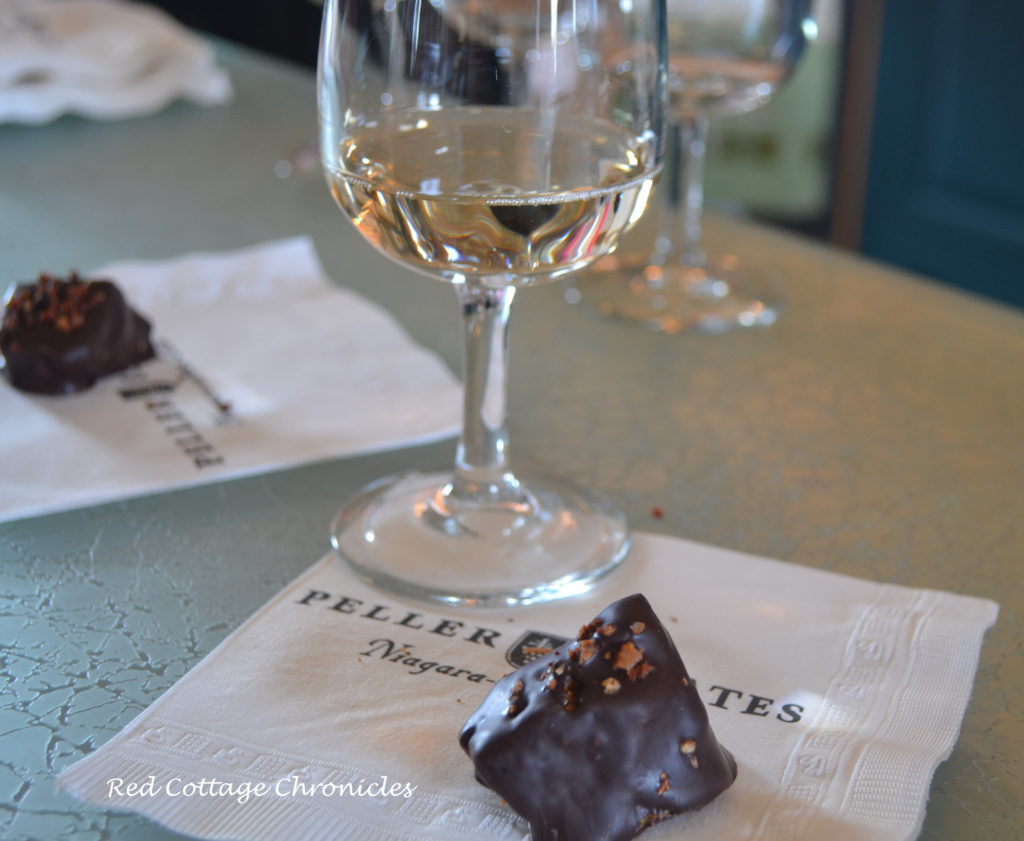 This was one of only a couple of sparkling wines we tasted and it was a surprise to the palette. It was not as sweet as I had anticipated given it was an ice cuvee. This one, for me was just okay. The chocolate covered sponge toffee however was a real winner here for me. The sponge toffee is made in house by the Chef. It was delicious and wished I could have brought home a whole bag!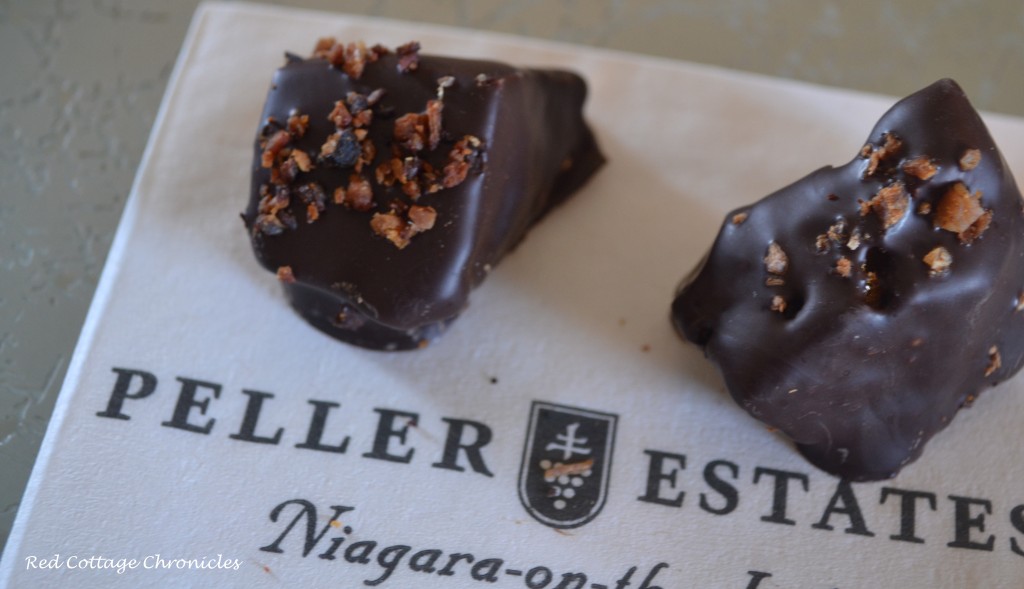 Pellar Estates Winery is massive and there was lots to explore while tasting, and they have tons of culinary delights. I did come home with a really cute serving bowl!
At Marynissen Estates Winery we met the loveliest two ladies who introduced me to how wonderful Merlot went with a dark rich chocolate dessert! Here we tasted their 2007 Merlot with a triple chocolate fudge brownie.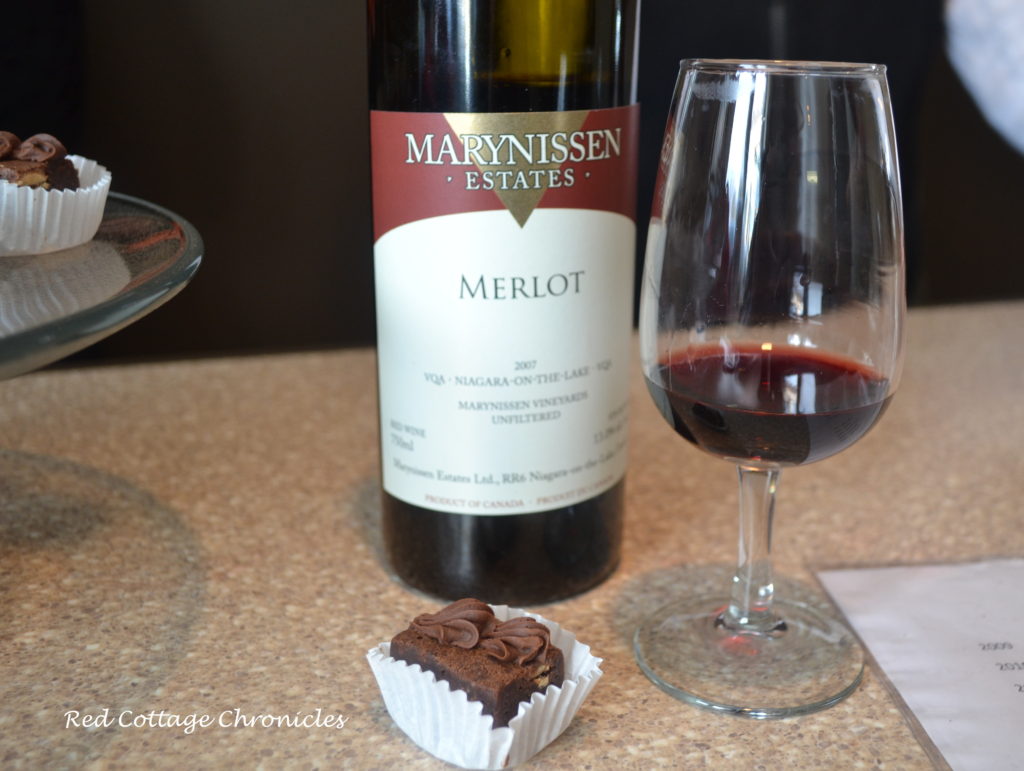 I was really looking forward to visiting Pondview Estates Winery as they were pairing a 2011 Select Late Harvest Vidal with a banana chocolate tart drizzled with caramel. The wine was fruity (think peachy) and sweet, exactly how I like it! The tart was not nearly as sweet as I had expected in fact, I could barely detect a banana flavor, but good all the same.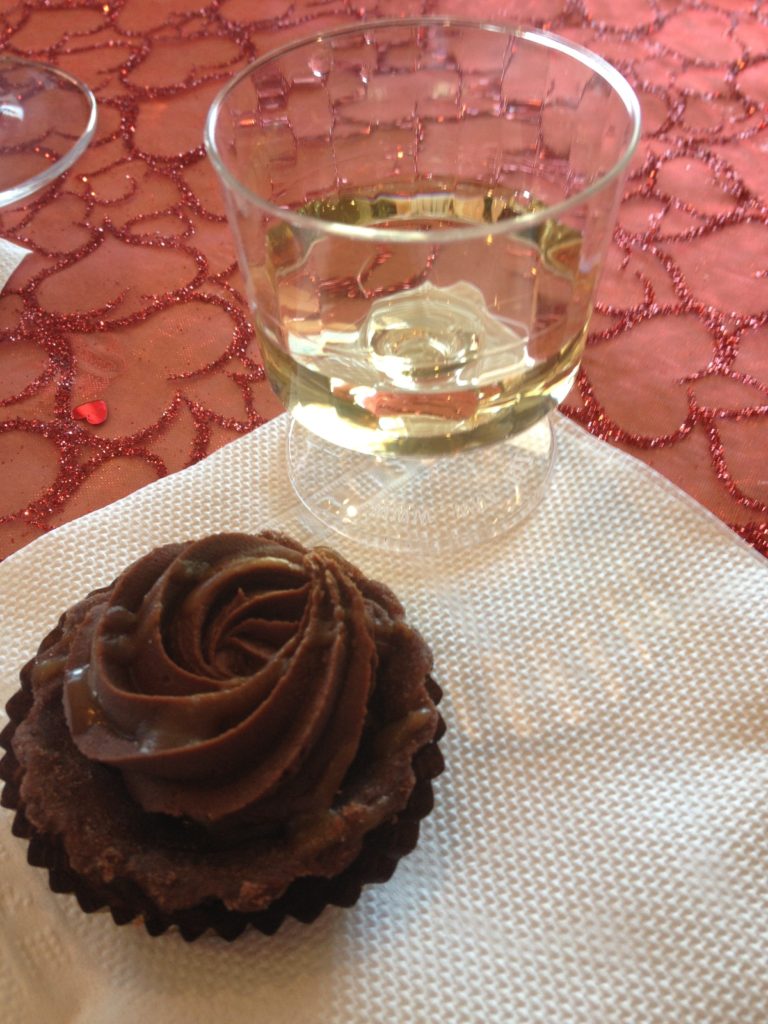 Coyote's Run paired their 2011 Five Mile White with a white chocolate dipped lemon shortbread. The wine was crisp and fruity and the subtle lemon flavored cookie was a treat. One of the larger sweets on the tour!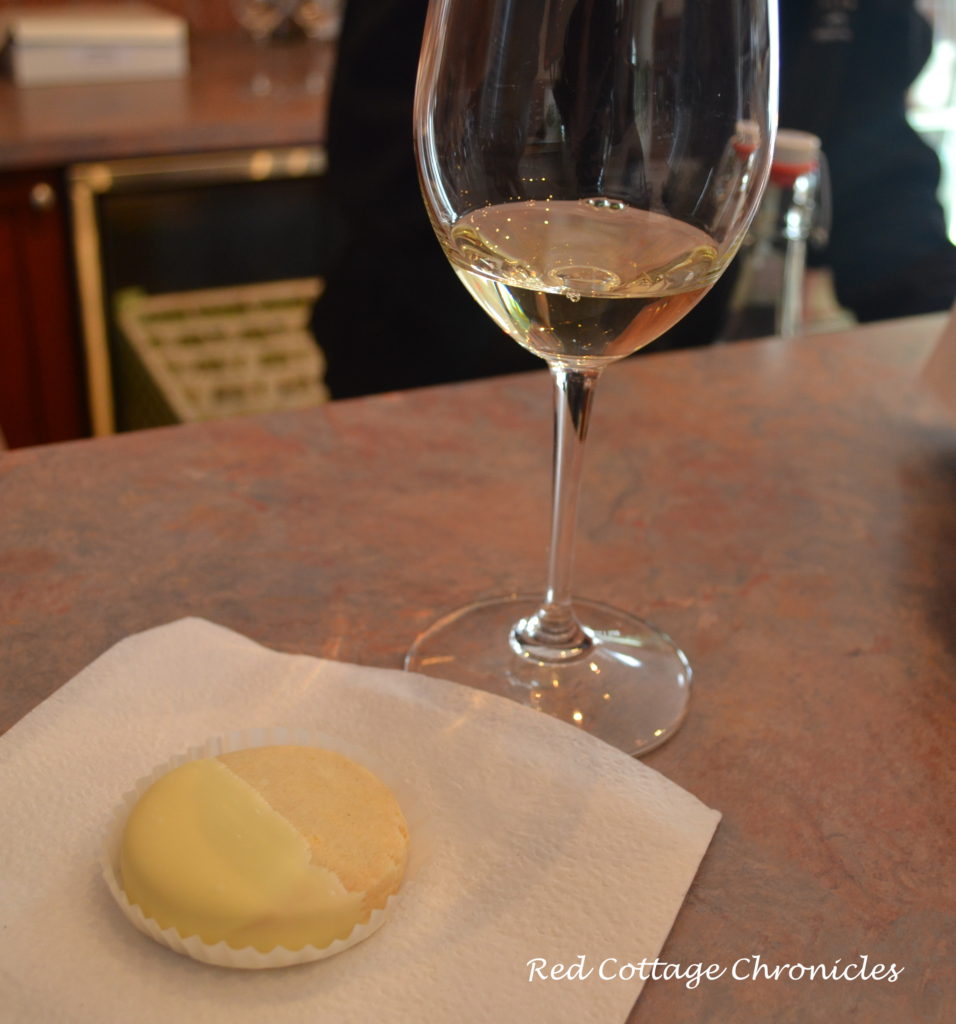 One of my favourite wineries was Hinterbrook! Here we were greeted by a gentleman named Rick, who was a wealth of knowledge and really knew his stuff. We enjoyed a paring of their 2010 Merlot with a Cafe Royle, which was a dark chocolate delight, again had me swooning over the Merlot.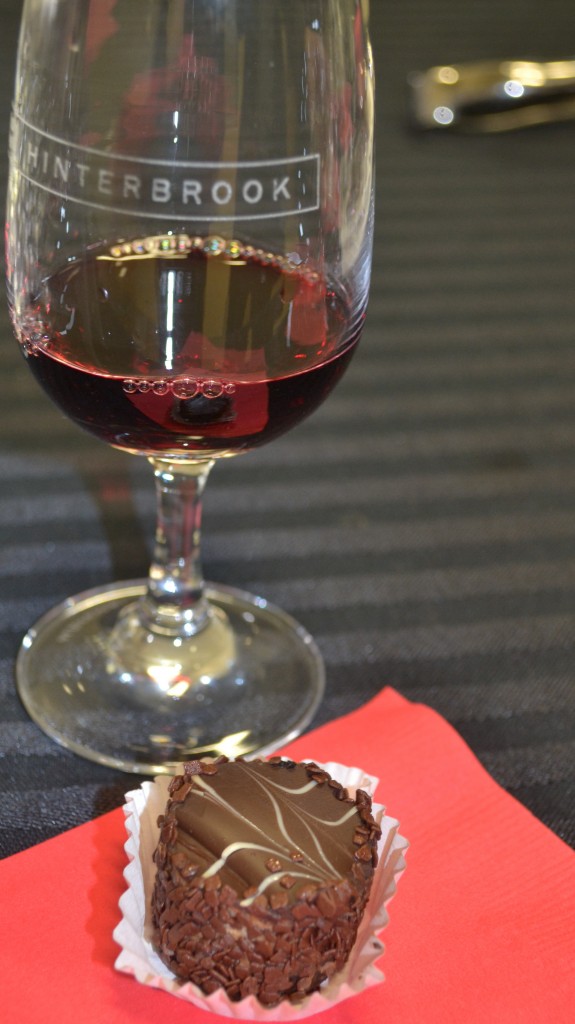 We got to sip our tasting as we explored the cellar room which smelled of just a hint of oak!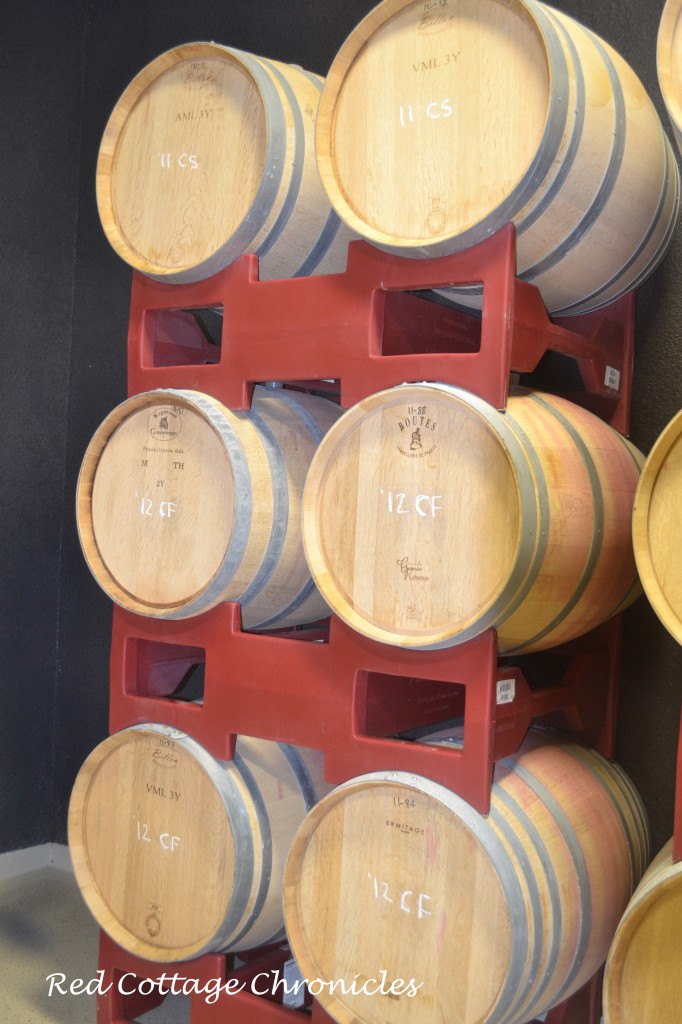 Rick left us wanting to come back again for a more complete tour and to enjoy their patio in the summer time!
I hope you are enjoying the tour so far, and I have left you wanting to return for more!!
I will leave you to savour all the wonderful wines and sweets and will post Part II next week.