Since I un-decorated after Christmas, my mantel has looked like this…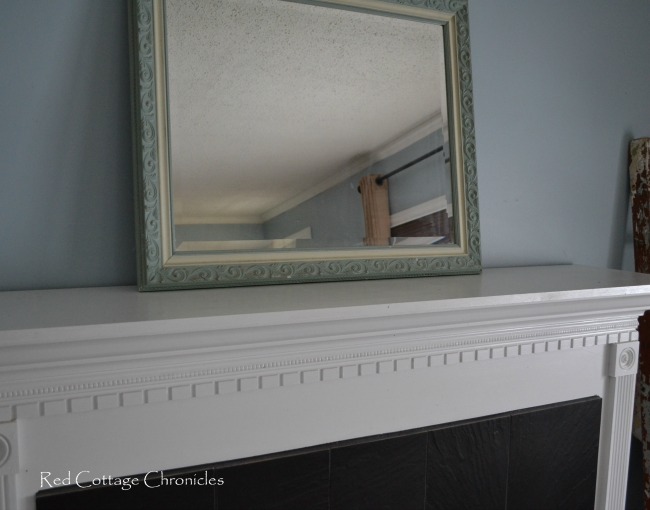 Well, it has been known to be a drop zone for odd socks rescued from the likes of Tripper, a few odd candles, and other odd things completely inappropriate for mantel décor!
It kind of started to remind of the scene out my front window.
Cold and snowy.
I knew I needed to add some life to the poor thing, but had no desire to run out and spend mindlessly to get me the mantel out of its' rut!  So, I gathered up "stuff" from around the house that reflected a happy mood.  What better than an early spring mantel!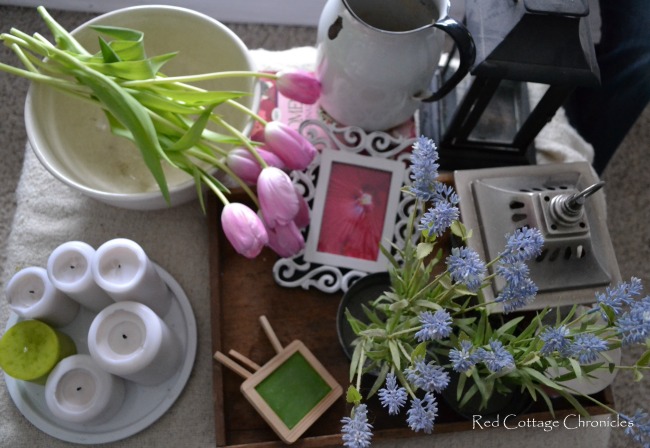 The white candles I have had forever, and just added one from the dollar store in lime green.  Candles, real and not so real flowers, a tiny chalkboard easel I completely forgot I had, and a few other bits and pieces I thought might work.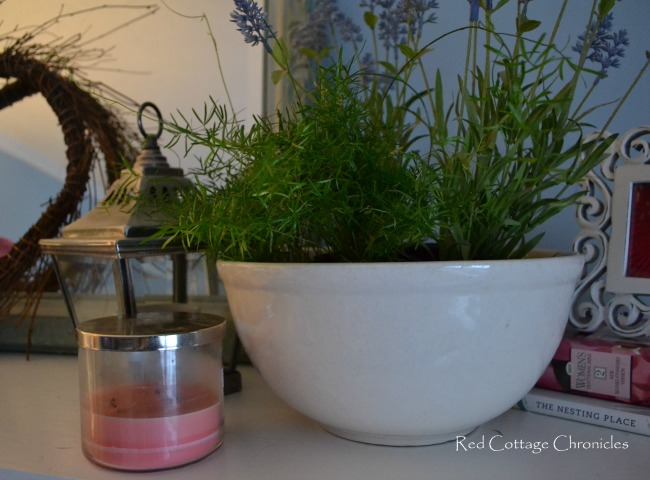 I used this big ceramic mixing bowl to hold both faux lavender plants from Ikea and 2 potted real plants I picked up at Home Depot a few weeks ago for only$2.49 each.  Then I stacked a couple of books that worked with the color pallet and a photo taken by a friend.  The photo was actually a note card, but I loved it so much I framed it in this pretty frame.
A pink grapefruit candle and an outdoor lantern that usually spends its summers in our screen porch finish the look.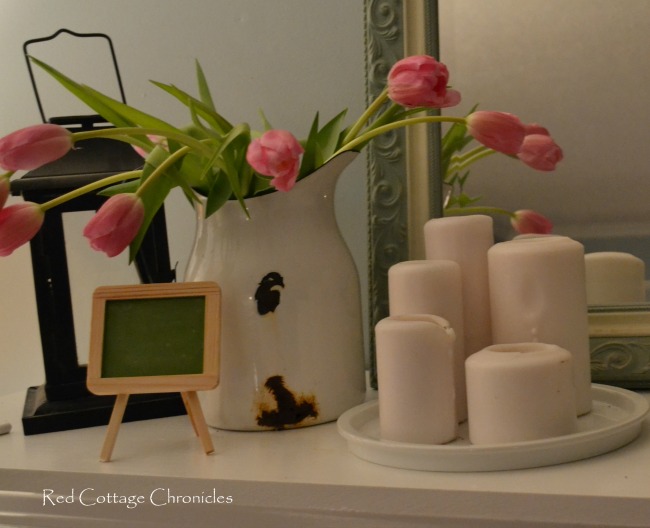 After styling the opposite side with an old iron pitcher, the mini chalkboard, another lantern, and the candles from Ikea, something was missing and the balance was off.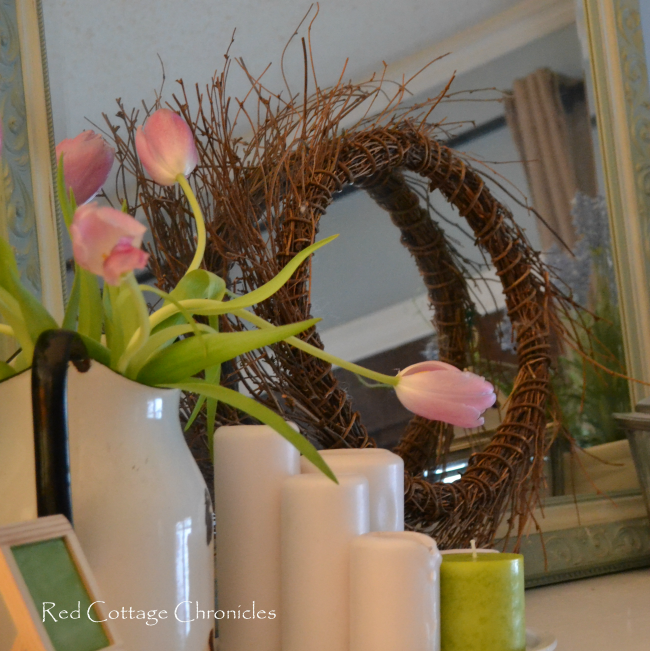 Just adding the lime green candle from the dollar store and a grapevine wreath I have had forever created a balance and warmth to the look.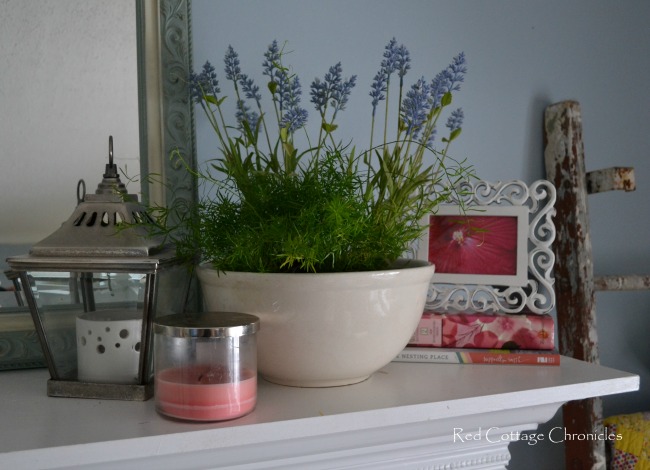 Shopping your home for things to style a mantel, or even just a small vignette on a side table or other tabletop is always fun.  I pulled out things I forgot I had tucked away.  It's like getting something new all over again!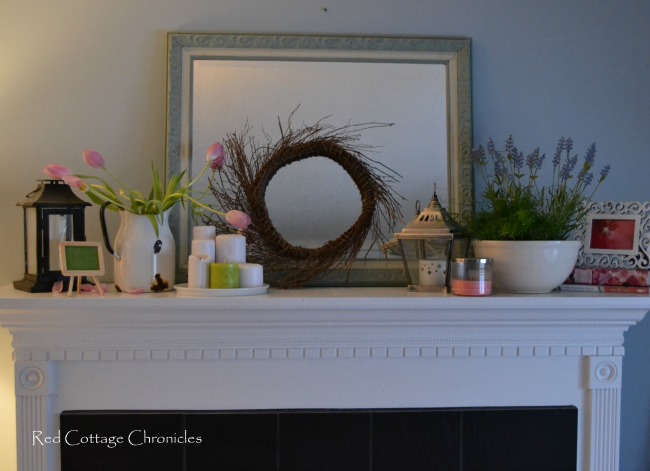 I don't know what I did before Tim built me this amazing fireplace and hence the mantel to decorate.  I am blessed.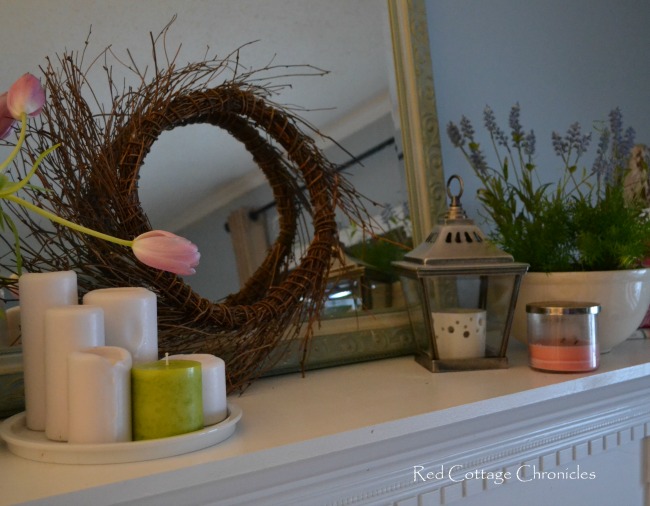 I think the whole room is smiling now!
Prettying up our home.  Just because it makes me happy.
Until next time….
Maureen
I would love to have you subscribe!
Subscribe to redcottagechronicles.com  Click and add your add your email to receive notification only when a new post goes live!