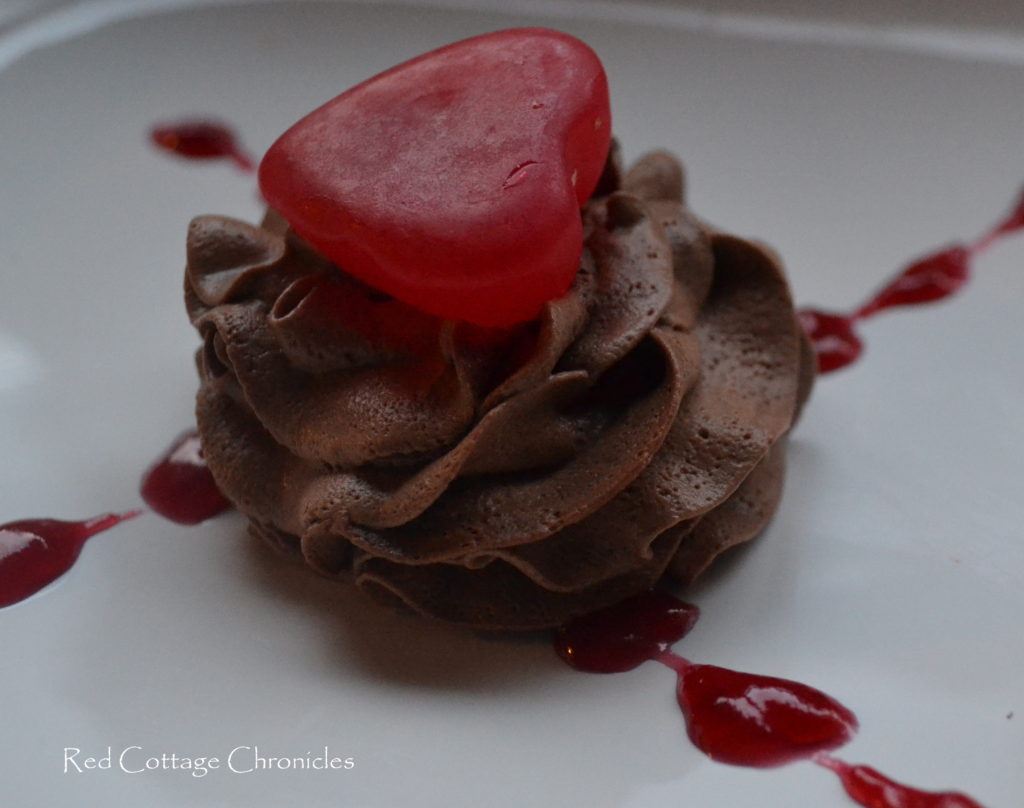 The Mr and I have celebrated 28 Valentine's Days together as husband and wife, and about 5 years dating before we were married. So you can safely say we have seen a lot of sweet treats over the years. Some I have made and some he has surprised me with!
Early on in our marriage we would make it a point to go to a fancy restaurant, which for us meant not ordering at a counter or a drive through window!!
While I certainly enjoyed those dinners, for me it is all about dessert. As the years have passed, I am just as happy enjoying a luscious treat right at home. Lavender Crème Brulee is a Valentine's Day favorite or a simple Strawberry Cupcake can make the day special.
This year dessert will be a rich dark chocolate mousse with simple raspberry sauce!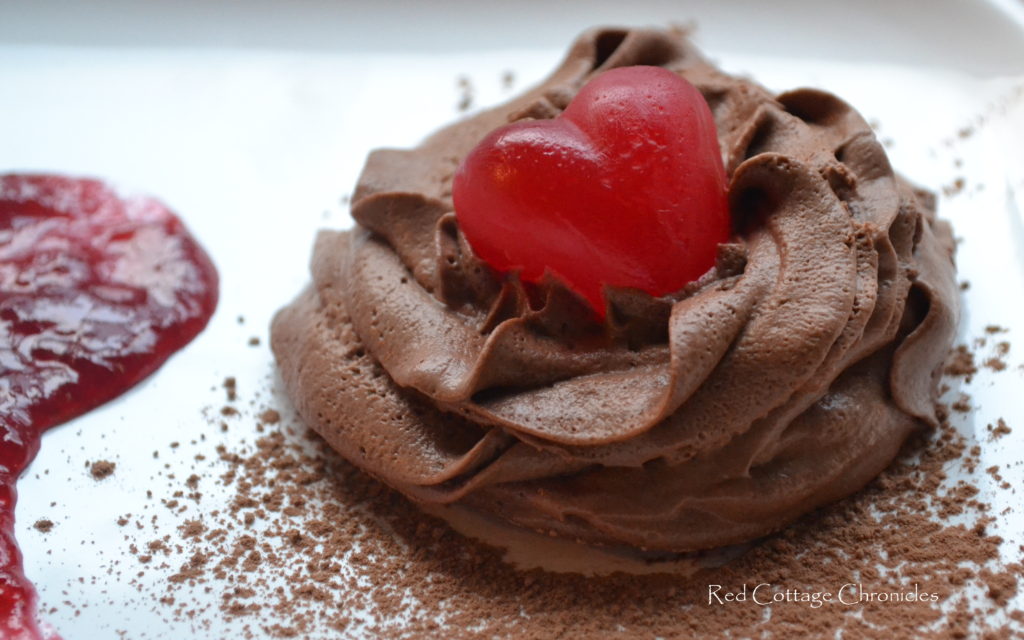 I used to think that Valentine's Day needed to be a "flashy" show of love and affection. I have to admit that the homemade meal, a special dessert and a card or note made special for him is the best way to spend our day! Nothing makes me happier than knowing he feels truly blessed and loved. And maybe some chocolate!
And, I mean really, how fancy does this chocolate mousse look? I simply used a large star tip to pipe the mousse on the plate and dusted it with cocoa. I heated up some seedless raspberry jam and on one plate just swirled it on with a spoon, and on another I dotted it in rows and ran a toothpick through to create little "hearts". I topped it off with his favorite jujube hearts, but a wedge of decadent quality chocolate would be equally awesome.
Our perfect Valentine's Day dessert!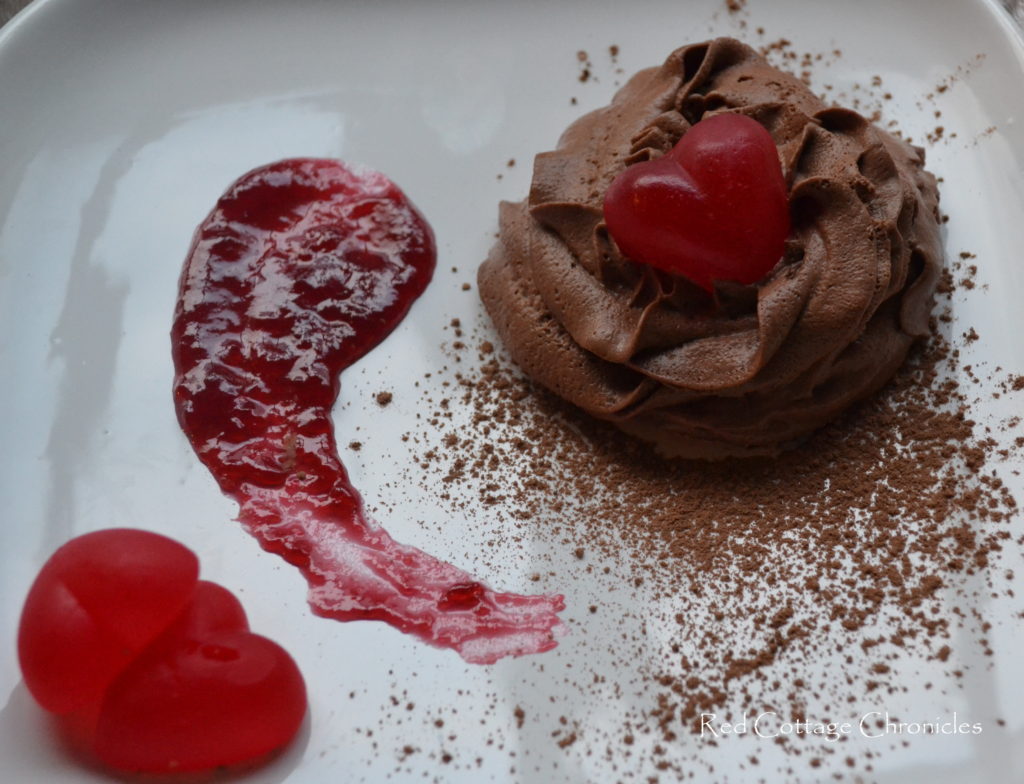 What is your perfect Valentine's day treat?
Until next time…..
Maureen
Ingredients
2 cups (500 ml) whipping cream
1/2 cup (90 g) granulated sugar
3 1/2 tablespoon (50ml) water
4 large egg yolks
1 whole large egg
8 oz (220 g) dark chocolate (70% cocoa), finally chopped
Instructions
Place mixing bowl and whisk attachment or beaters in the freezer to chill.
In a heavy saucepan over medium heat, combine the sugar and water, gently stirring until sugar dissolves. Bring to a boil and continue boiling until candy thermometer reads 224 F degrees.
Meanwhile, beath the egg yolks and the egg together in a stand mixer at low speed.
When the syrup reaches 224 degrees slowly pour it down the side of the bowl and into the eggs. Beat at high speed until the mixture cools, about 10 minutes.
Place the chopped chocolate in a bowl resting over a pot of gently boiling water and still until melted. Remove from heat.
Remove the mixing bowl and whisk from freezer and pour cream into the chilled bowl. Whip the cream until firm peaks hold.
Add the melted chocolate to the egg mixture with a rubber spatula, folding gently until smooth and well combined.
Beat one third of the whipped cream into the mousse.
Gently fold the remaining whipped cream into the chocolate mixture until well combined and smooth.
Serve in dessert cups or pipe with a large star tip onto a plate.
Garnish as you wish.
https://www.redcottagechronicles.com/recipe/dark-chocolate-mousse/