Last year I thoroughly enjoyed being part of a dynamic group of bloggers who love setting a beautiful tablescape just as much as I do. I was thrilled to be invited back to the group this yea.r and our first Tablescape Blog Hop celebrates Valentine's Day and I am sharing a romantic table for two.
Chloe of Create of Celebrate and Decorate works diligently to keep us all organized and on track, and this week 23 bloggers are sharing their vision of a romantic tablescape. By the end of the week you will have no shortage of ideas to inspire you. Each day as the posts go live I will update the bloggers links below.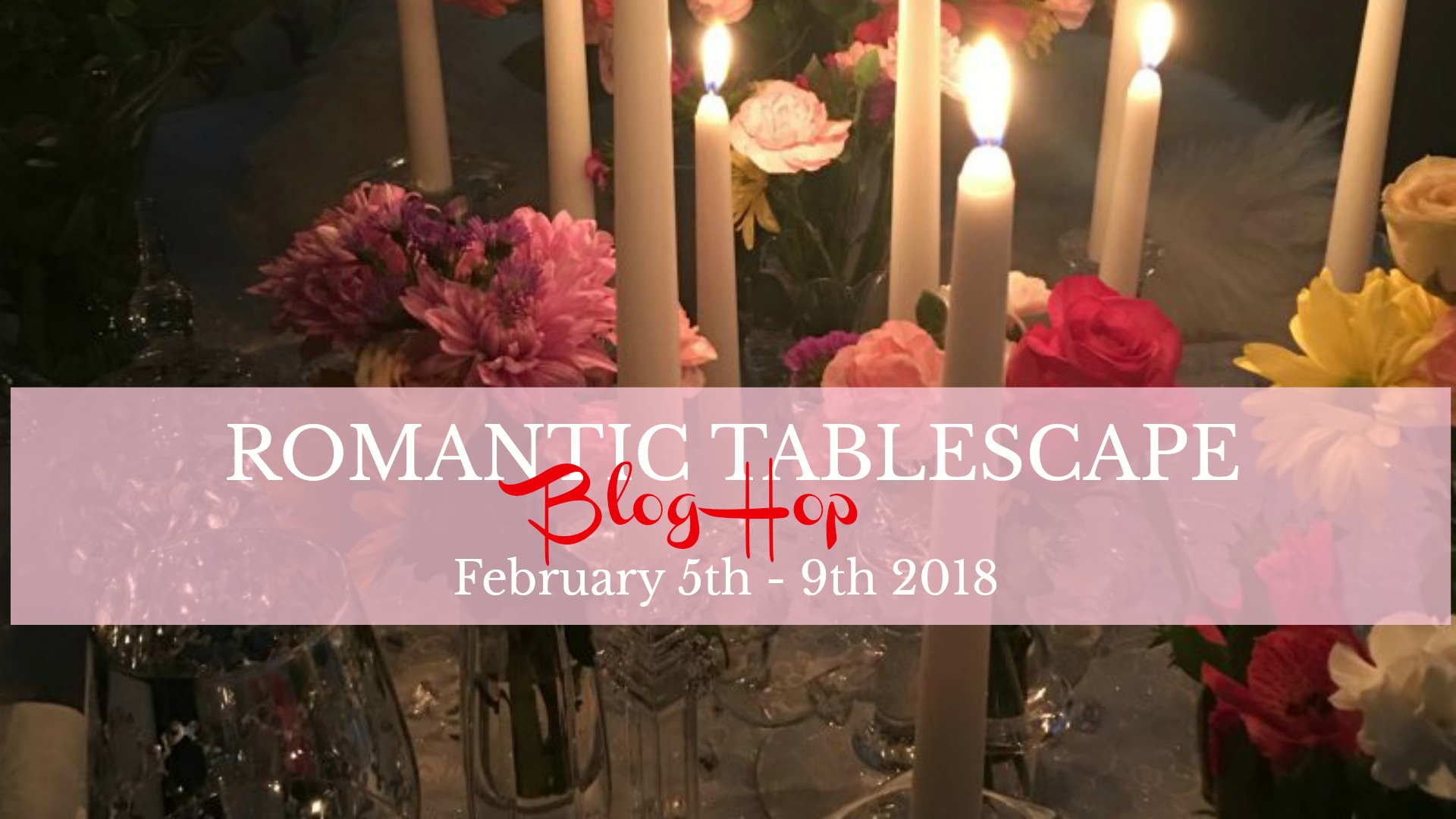 Romantic Table For Two
When it comes to a romantic table for two, you don't need a fancy dining room, or even a dining table. In fact, I created this tablescape at my sisters home, in front of a bay window in her living room. Her living room is quite large, and she created an intimate sitting area for two in front of the window with two comfortable chairs.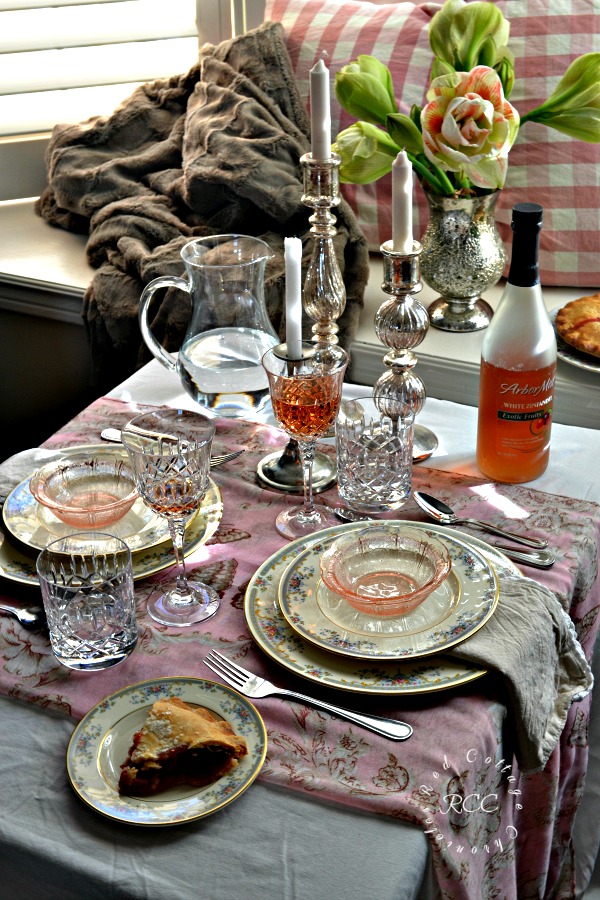 I repositioned an end table that once belonged to our Nana. It has two side leaves that when raised was the perfect size when placed between the chairs.
I have to admit, often when I am creating a tablescape I fly by the seat of my pants. I definitely have a vision of how I want it to look, but often add and take away on the fly.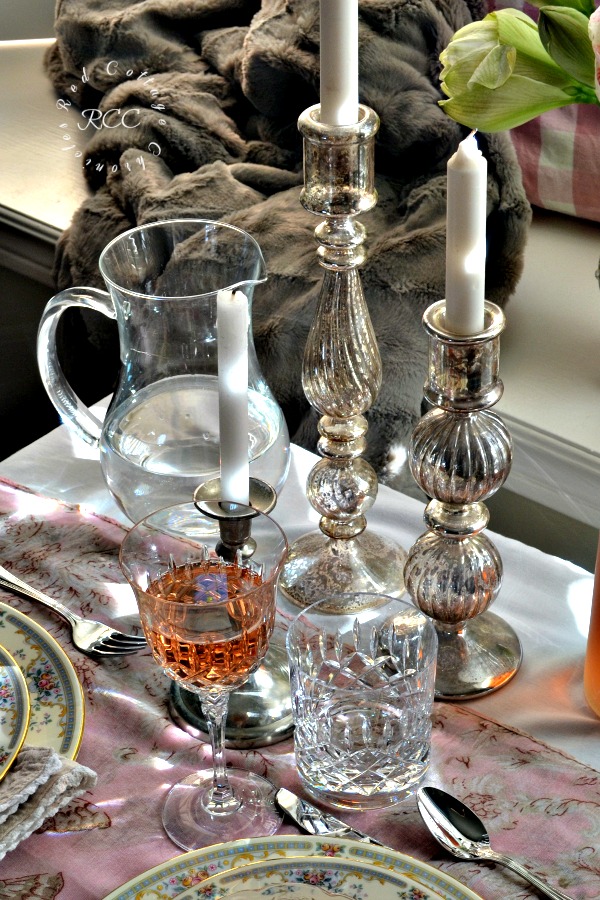 In fact I had intended to just use a plain white single bed sheet as a tablecloth but decided it needed something more. It just so happened I had worn a scarf that day, that worked perfectly as a wide runner across the table. It added much needed colour and texture to the table.
Inspired by our Nana's china pattern featured in this post, my sister's beautiful china is from Royal Dalton. It could not be a better fit for a romantic table. It is from their Romance Collection and is called Juliet.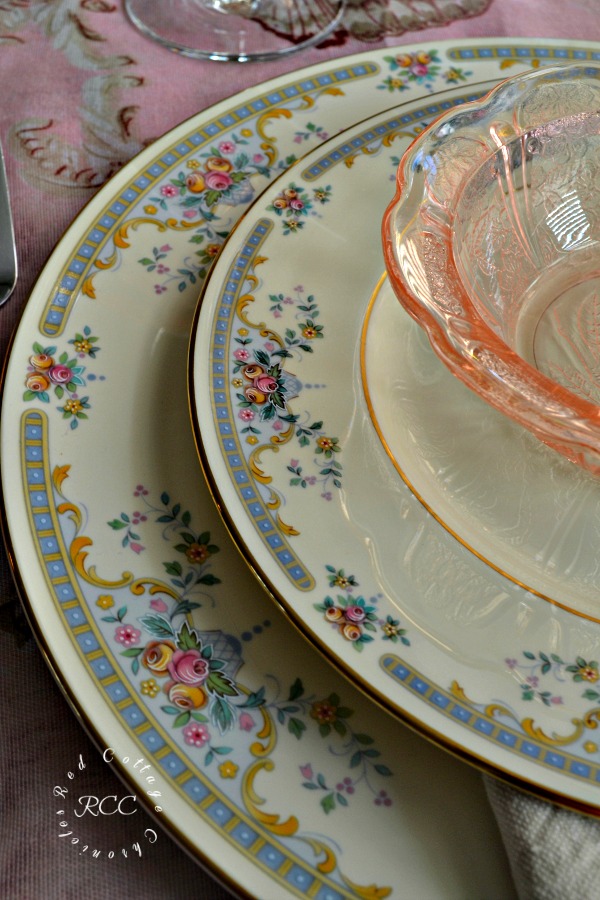 I had brought along the pink depression glass bowls, which really brings out the pink roses in the china. For Valentine's Day it would be fun to fill the bowls with chocolate hearts! An appetizer salad of fresh greens and raspberries would also be a pretty touch.
The Waterford crystal glasses sparkle in the sun filtering through the shutters. Filled with an exotic fruit Zifandel it is just the right blush pink.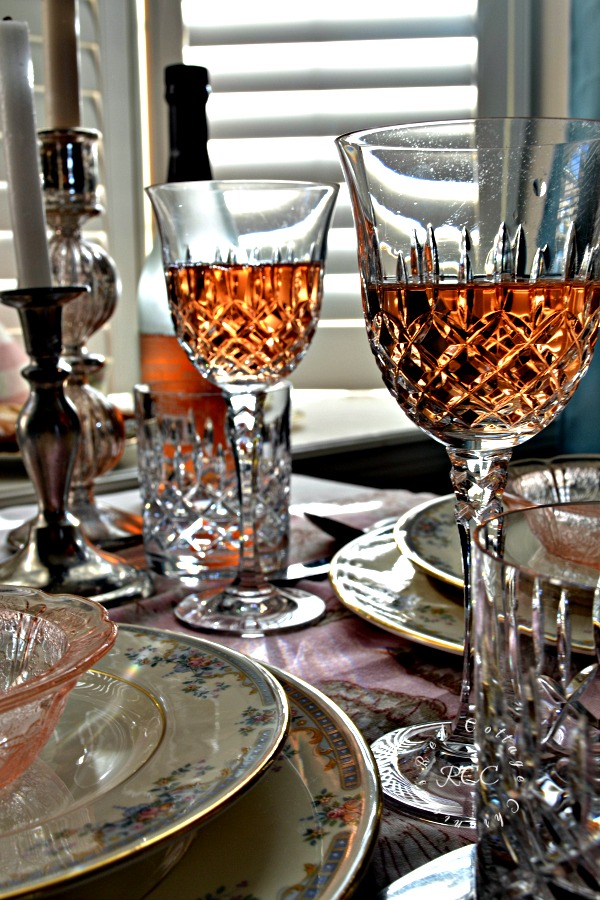 I love to use food when putting together a tablescape, and this one was no exception. A cherry pie waits in the window seat along with china cups to encourage lingering at the table just a little longer.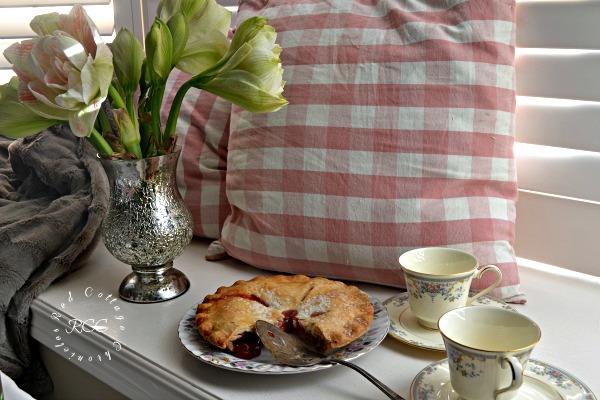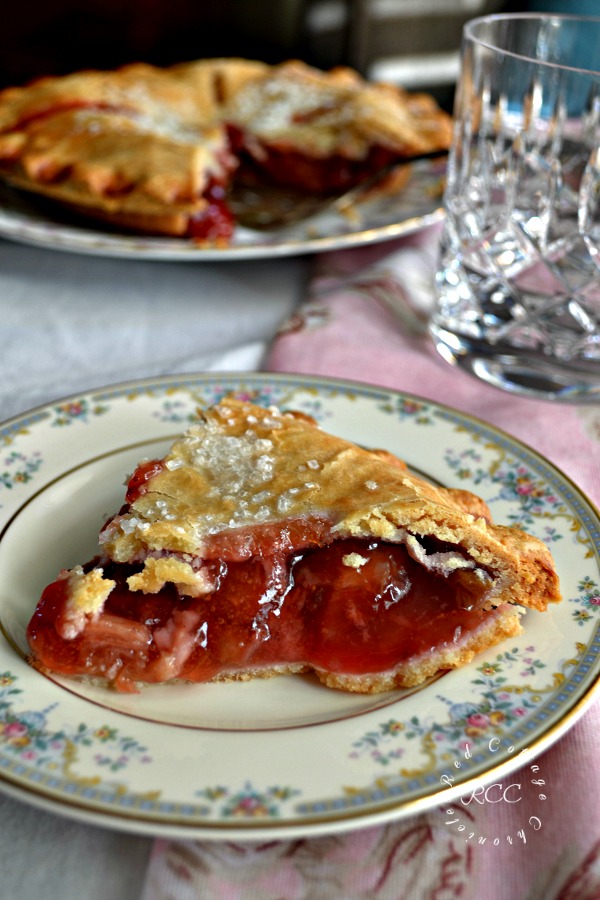 It was the last week to buy Amaryllis blooms at the local Farmer's Market on the weekend, and they certainly didn't disappoint. Placed in a mercury glass vase, the blooms were just starting to open when I set the table. By the time they fully opened they were stunning. If you follow me on Instagram, you can catch a glimpse of all the blooms fully open.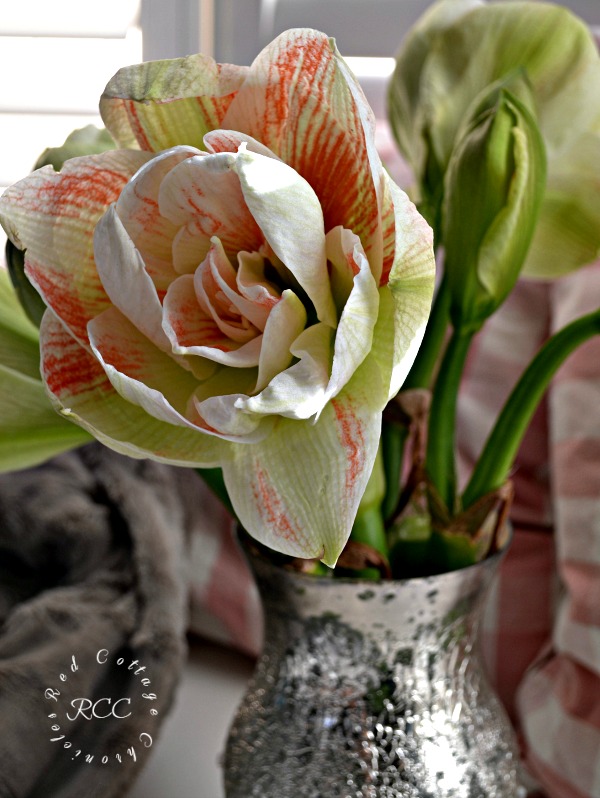 Mercury glass candlesticks hold simple white taper candles to be lit when the sun goes down. I bought these candlesticks years ago at Home Sense and still amaze myself that I haven't yet broken them!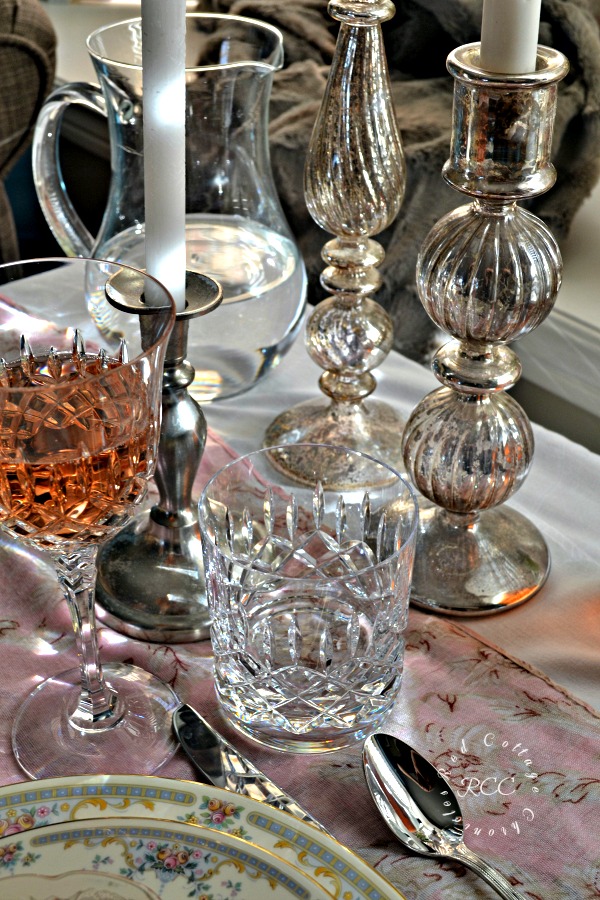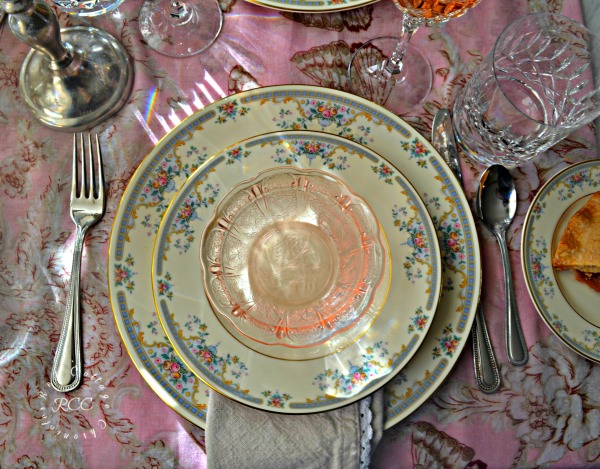 A romantic table for two doesn't have to be set just for Valentine's Day. In my opinion, setting a table like this on a random Wednesday evening gives cause to slow down, relax and enjoy the company of your someone special!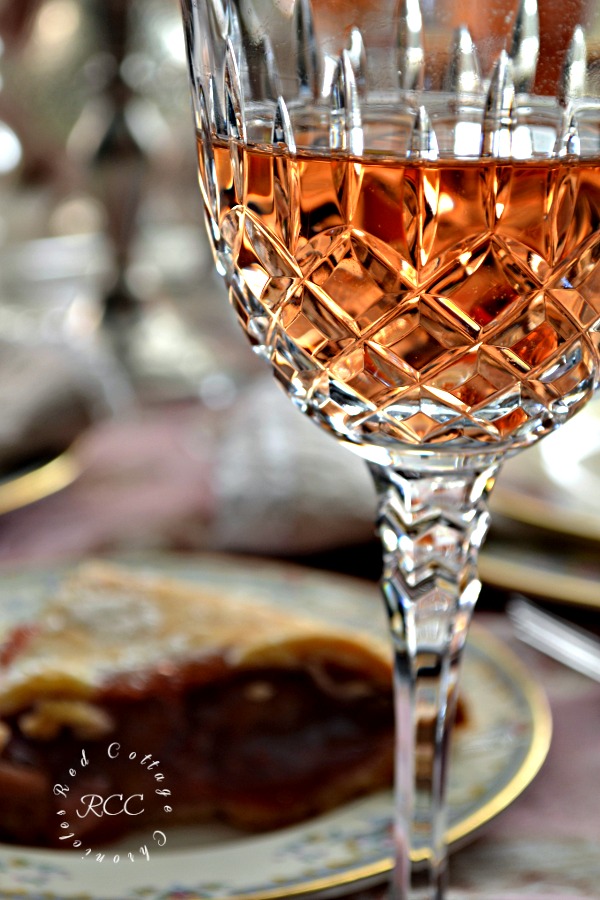 I am all for using your "good" China for everyday occasions once and awhile. Whether you choose the pattern yourself or has it passed down from a loved one, it shouldn't be locked away in a cabinet waiting for that special occasion. Enjoy it whenever you can!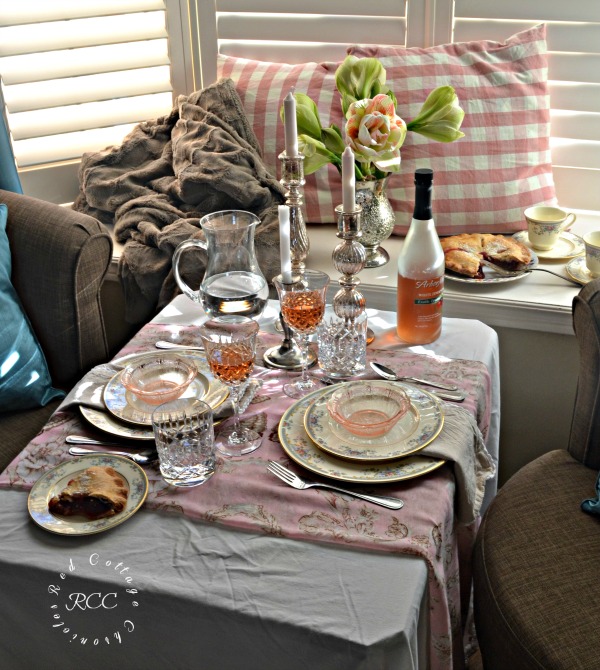 Almost 32 years ago I married my high school sweetheart and there was no looking back! Not a day goes by that I don't think how lucky I am to have such a handsome husband who is always on board to make my crazy ideas come to life, and who loves me to the moon and back. There is nothing I love more than to spend quiet dinners with just the two of us, chit chatting about our day, our goals and our dreams.
I hope you enjoyed my vision of a romantic tablescape. Now it's time for check out the blog links below. Be sure to check back each day this week as the links go live for inspiration to set your own romantic table for two…..whether it be for Valentine's Day or even better, just because!
Until next time….

Monday
Home is Where The Boat Is
Belle Blue Interiors
Everyday Living
A casa di Bianca
PMQ for Two
Tuesday
Life and Linda
Knock it Off Kim
My French Twist
Red Cottage Chronicles
Our Crafty Mom
Wednesday
Bluesky at Home
The Painted Apron
The Little Yellow Corner Store
The Corner of Plaid and Paisley
Living With Thanksgiving
Thursday
At Home With Jemma
Dining Delight
Panoply
Friday
From My Carolina Home
Me and My Captain
The Red Painted Cottage
Celebrate & Decorate