A bit of randomness today!
The Christmas season is starting to really rev up around here.  Since the weather has been so nice, the Mr. got all the outdoor lights  up.  He is begging to turn them on, but I have my limits!  December 1st will do just fine.
Our Church had a bake table at the Legions Christmas Bazaar so I made these yummy cupcakes to contribute
You can use whatever cupcake recipe you like.  I used the buttercream recipe below and added some course decorating sugar and candy snowflakes.  To get the swirls of red I "painted" a stripe of Wilton Christmas Red food coloring down two sides of the icing bag and filled it with white icing.  Easy peasy!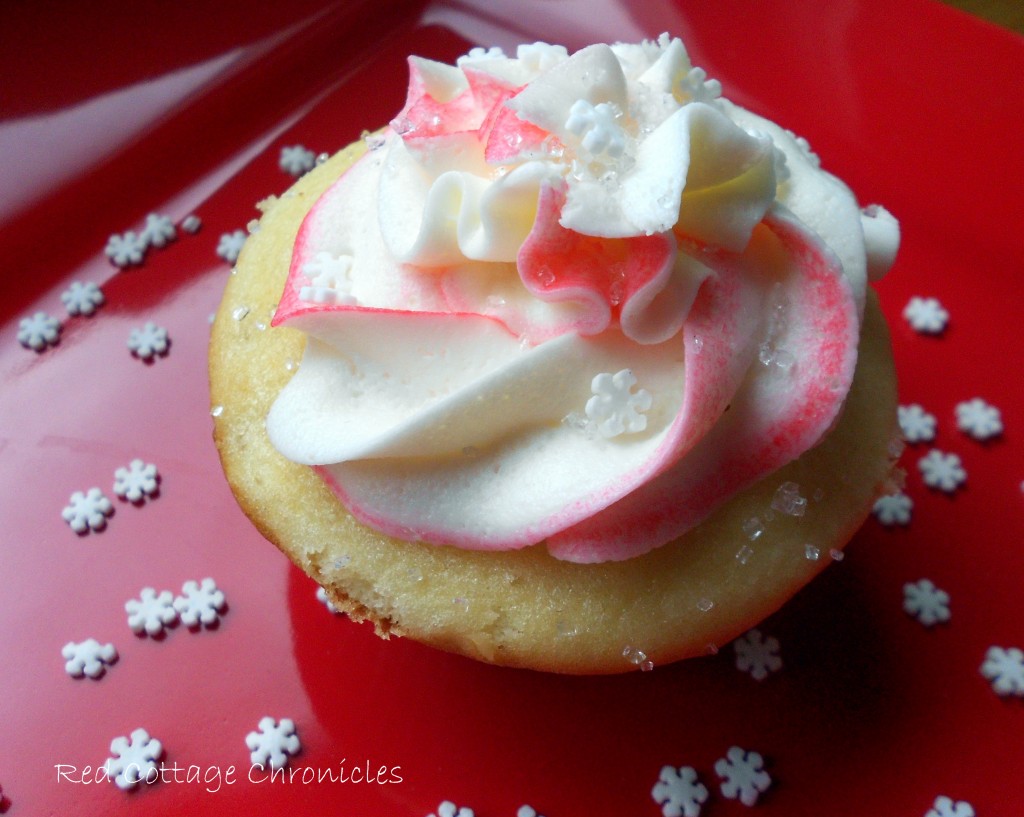 After packing up the cupcakes for the Church, there were only 2 left.  Good thing cause that icing was addicting!
Having a rare day with no one home but me, I spent a minute, or 60 checking out Pinterest for winter mantel ideas and got motivated to take down my fall mantel and get started on some ideas.
This was my fall mantel and as much as I really loved that one, I am really ready to move on to winter!
This is my starting point.  Mercury glass. Thank you Home Sense for having so many bargins!  They even had the silver skeleton keys we were looking for.  I will be sharing a project soon that we found on Pinterest that is the cutest thing ever!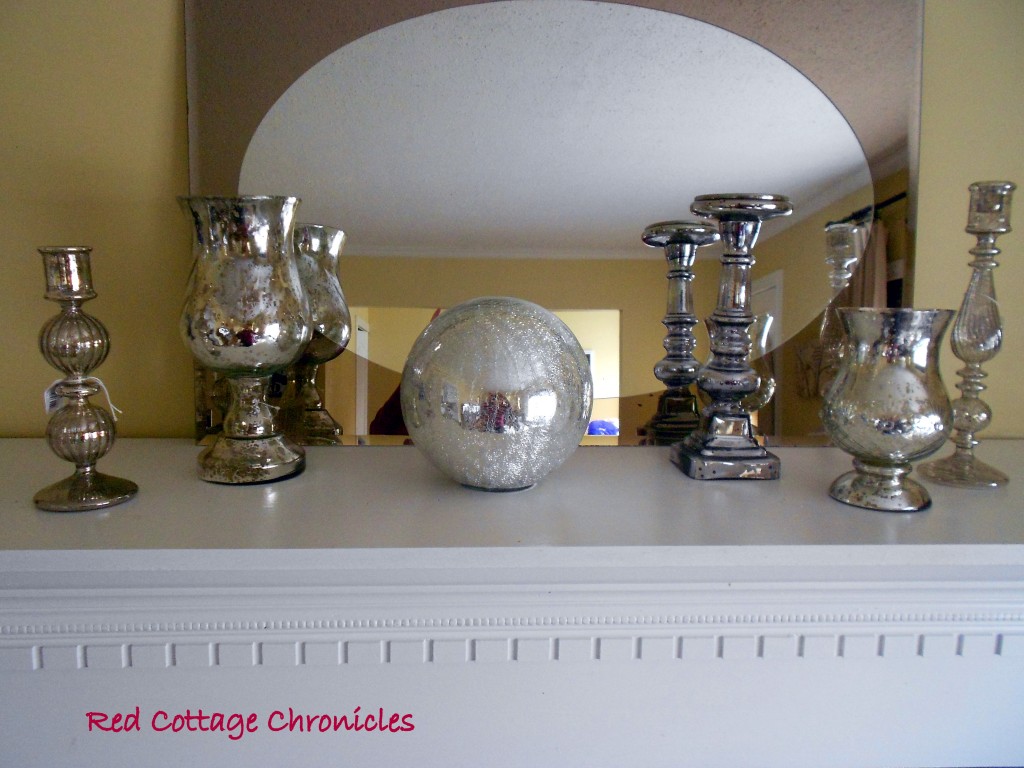 When it is all finished there will be touches of green, red and snowflakes!
Now, you might be wondering what Justin Bieber has to do with anything.
Our family is shopping for Christmas gifts for a family in our community through the Adopt a Family program.
We are provided with the family dynamics as far as how many girls and/or boys in the family (we requested a single parent with 2 children), the childrens ages and a "wish list" of gifts.  The lists were very short and it has been a very, very long time since I have shopped for pre-adolescent girls!  One this is for sure….there is a Justin Bieber fan in the family!  Her wish list pretty much said "anything Beebs"!
This is the Bieber stuff that we have picked up so far!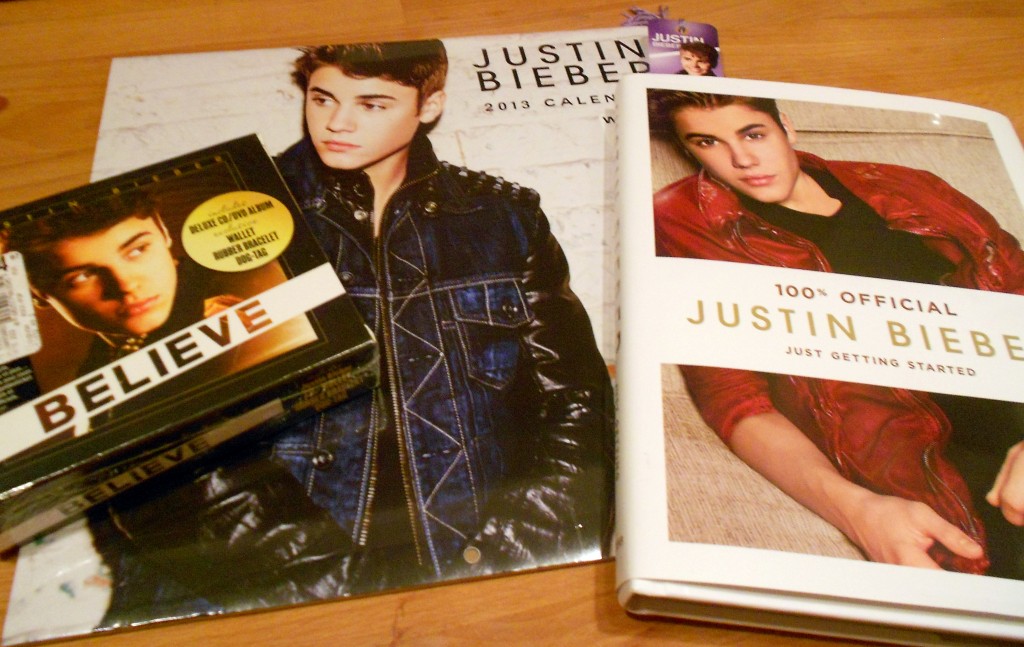 We are having a lot of fun shopping for the family and are very blessed that we are able to participate!  I must say, the clothes for little girls these days are a.d.o.r.a.b.l.e!!
I have lots coming up to share….
Christmas baking will soon be in full swing, candlelight stroll, Christmas House tour, picking out the Christmas tree  and before we know it, Christmas will be here and we will be celebrating the birth of Jesus with our family and friends.
I'm a little worried about our tree this year.  With Tripper "pruning" all my shrubs outside I can only imagine what could happen with a live tree in the house.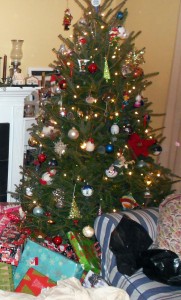 Last years tree
"It's the most wonderful time of the year"!
Peppermint Buttercream Frosting
Prep time:
Total time:
Ingredients
7-8 cups confectioners sugar (sifted)
1 cup butter, softened
1/2 cup milk
1 tsp pure pepperment extract
Instructions
In the bowl of an electric mixer add 4 cups of the confectioners sugar, butter, milk and extract. Mix on low speed of mixer for 30 seconds and then increase speed to medium/high and mix for 3 to 5 minutes.
Add the remainder of the confectioners sugar 1 cup at a time, mixing at least 2 minutes between additions..