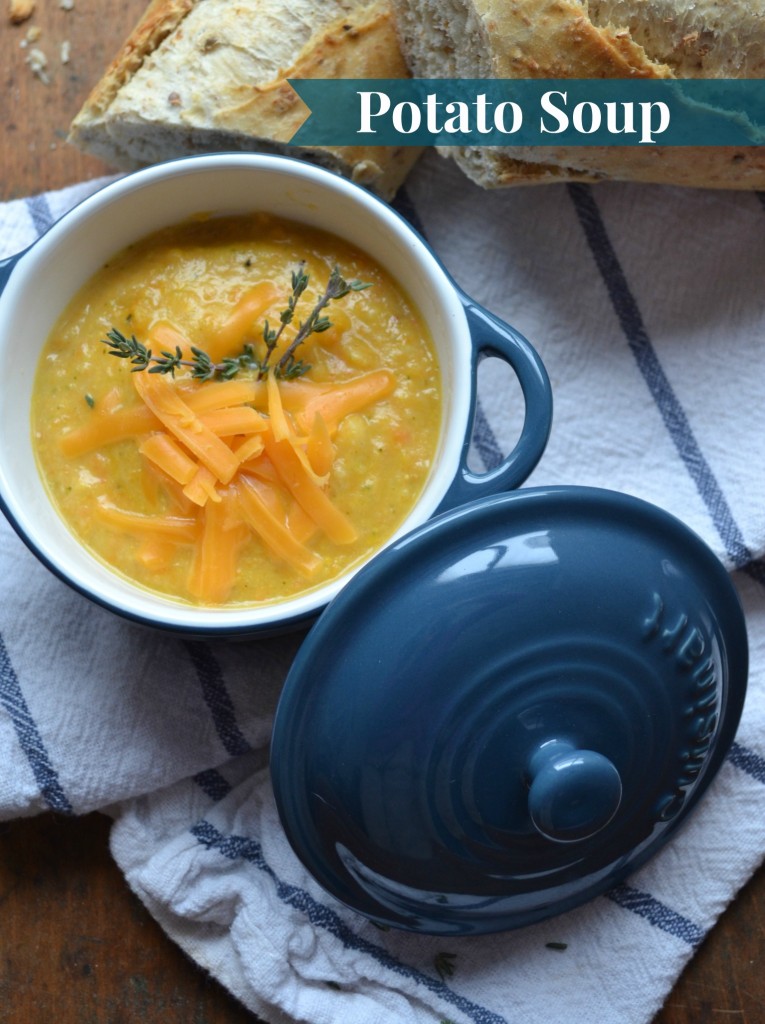 Getting in my recommended daily servings of vegetables is no easy task. I am really not a lover of vegetables and am always looking for ways to sneak them in. This soup goes a long way to help solve that problem in a tasty way. Despite this being called potato soup, it has lots of fresh veggies including carrots, cauliflower, broccoli and corn. And while the original recipe calls for chicken or vegetable broth, I went with vegetable broth to keep it vegetarian friendly.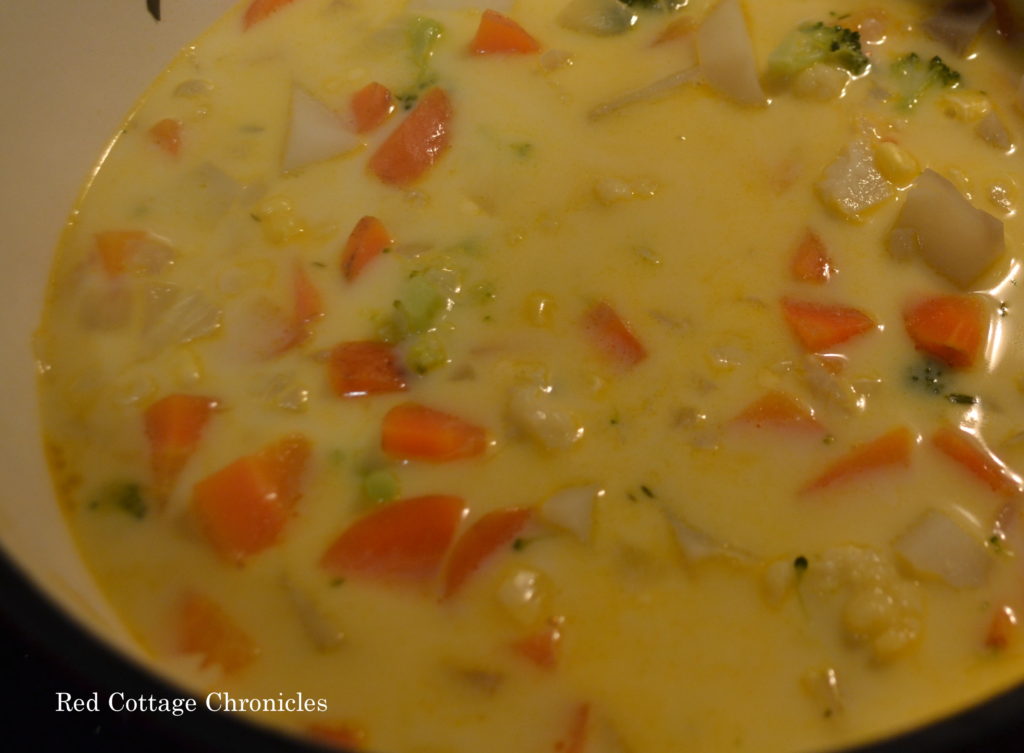 While you can certainly choose to puree only half the soup, leaving chunks of tender vegetables, I prefer to puree the whole thing. This results in a thick, creamy soup which is filling all on its own. I think that is one of the things I love about winter soups. They are easy to prepare, yet hearty enough that if you add in some fresh bread you have yourself a meal.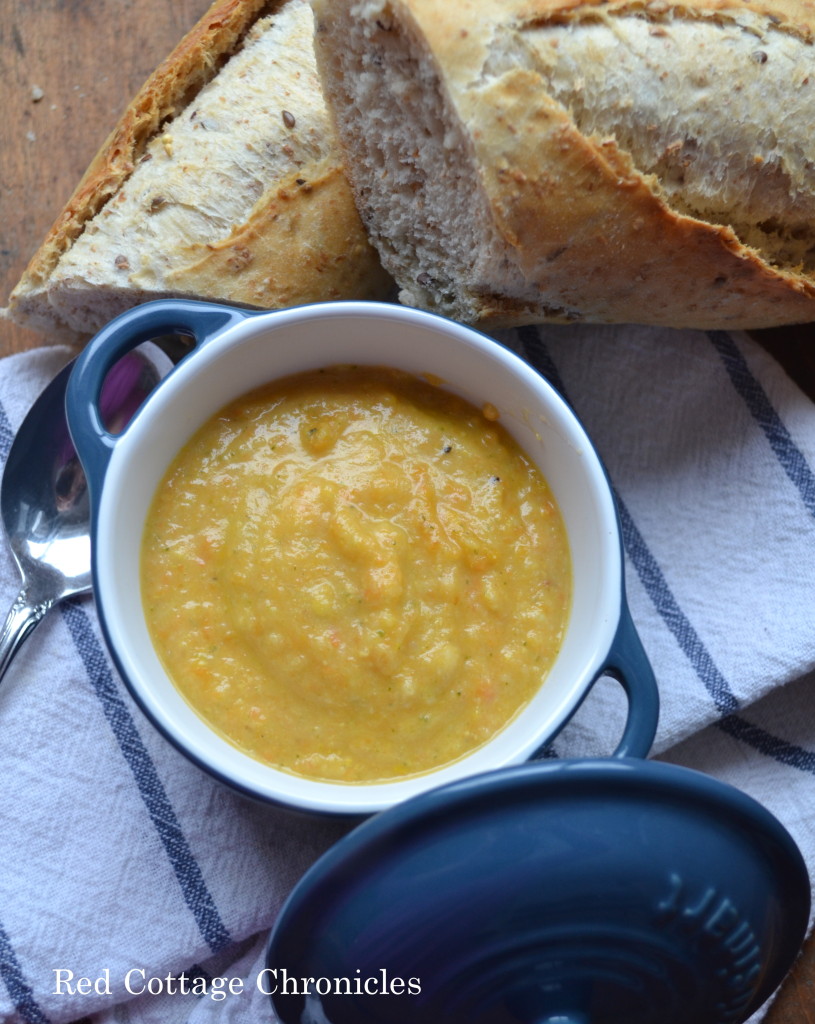 To make it extra special, serve this soup in little enameled cast iron pots (these ones are similar) sprinkled with some cheddar cheese, and garnished with some fresh thyme.
I had a conversation with a friend today about as we get older, with all the crazy things going on in the world, it would be nice just to move to the woods country and really enjoy all the simple things in life. Shop from the farmers market, raise our own chickens for eggs, hibernate in our only little space in peace and quiet. While this will never be a reality for me, I can totally relate to this feeling. For some reason making a big batch of healthy soup fits with this vision. Add a fresh baked loaf of bread and a warm caramel apple tart made with freshly sliced apples. Bliss.
Be sure to visit A Bright and Beautiful Life who is posting a recipe for Chicken Gnocchi Soup (Olive Garden Copycat)
and
Keeping Up With Mrs. Smith who is sharing her recipe for Easy Tex Mex Chili
Today, I am also so honored to be posting over at Create and Babble! I am sharing my caramel apple tart recipe! Go on over and have a look. Jeanie is one talented crafter and has so many inspirational ideas to share!
Until next time….

Potato Soup
2017-01-11 13:07:36
Ingredients
2 tbsp. butter
2 carrots, diced
2 cloves garlic, minced
1 large potato, peeled and cubed
1/2 tsp dried oregano
1/2 tsp dried thyme
1/2 tsp salt
pinch of pepper
3 cups vegetable broth (or chicken broth)
1 cup chopped cauliflower
1 cup chopped broccoli
1 cup frozen corn (or peas)
1 cup milk
Instructions
Melt butter in a large dutch oven or saucepan.
Add carrots, garlic, onion, potato, oregano, thyme, salt and pepper. Cook until onion softens.
Add broth, cover and allow to simmer for 10 minutes.
Add cauliflower and broccoli and simmer for another 5 to 10 minutes.
Stir in corn and milk and heat until steaming.
Puree using an immersion blender or a regular blender, either half or all the soup. If you puree just half, add it back into the chunky soup and stir to combine.
Heat as desired.
Serve in soup bowls and sprinkle with cheese and croutons if you wish.
Adapted from Recipe adapted from a clipping for a local newspaper
Adapted from Recipe adapted from a clipping for a local newspaper
Red Cottage Chronicles https://www.redcottagechronicles.com/