Are you loving the home that you have?  If you are anything like me your easy answer will be a resounding "NO".  Enter Melissa Michaels' new book Love the Home You Have.  Michaels, who writes the most charming "nesting" blog The Inspired Room has hit a home run with this book that I believe is going to speak to home owners (and renters) no matter what season in life they are in.
Be it a first rental apartment or your forever home I think we all have issues with really loving where we are.  The world of Pinterest, to which I am completely emerged, sometimes does us no favours when it comes to our expectations.  Michaels' teaches you how to take from Pinterest what will work for your home.  And this is just one small thing you will learn from this book!
Take my living room remodel last year.  I pinned several pictures that while I knew would never work in my limited space, they did highlight one or two features that knew I could incorporate in a style all my own.
My inspiration photo (source)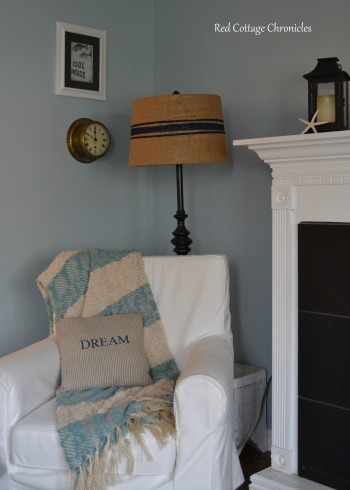 My Pottery Barn inspired lamp makeover
I am only a few chapters into the book, but I cannot believe how much it speaks to me and my relationship with my home.  This is our forever home.  I am not sure that was the intention when we bought the home, but given that I want to retire in 5 years (give or take), we do not want to be saddled with a big mortgage.
With only 500 square feet of living space on the main floor and about another 500 finished basement, it is a small house.  It has only been the last couple of years that I have even begun to embrace our home as anything but a roof over our heads.  Love the Home You Have has been an eye opener and I am ready to jump in with both feet.
 I have to admit I am guilty of not treating our home the way it deserves.  Living in such a small space it essential to utilize every single square foot, either for storage or for living.  When you don't love the home you have it is easy just to let things be just good enough.  To think, "why bother", and not to create a more beautiful and organized space.
That is exactly what I did with this next space I am about to show you.  You would think that living in 1000 square feet with a spouse and 2 20-something daughters, I would want every inch of space liveable.  Well, apparently not.
I will warn you that these next pictures are not pretty.  I hang my head in shame actually.  You may want to look away!  Or maybe, just maybe you have a room in your home that is rarely used and has just been let go to collect everything no-one knows what to do with!
Okay, no more putting it off…..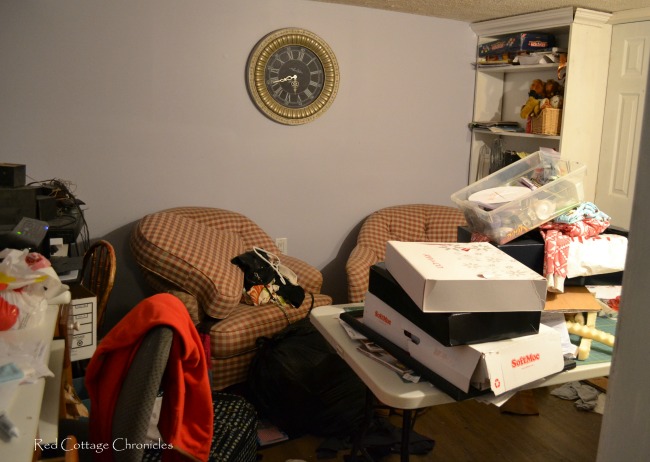 Let me explain.  This didn't always look like this.  Just late last year it was completely functional as my office, which I used when I did typing from home for a physician.  When I gave that up, I just didn't need to go in there much.  It didn't take long to become the landing pad for everybody's stuff.
Here is another sorry view….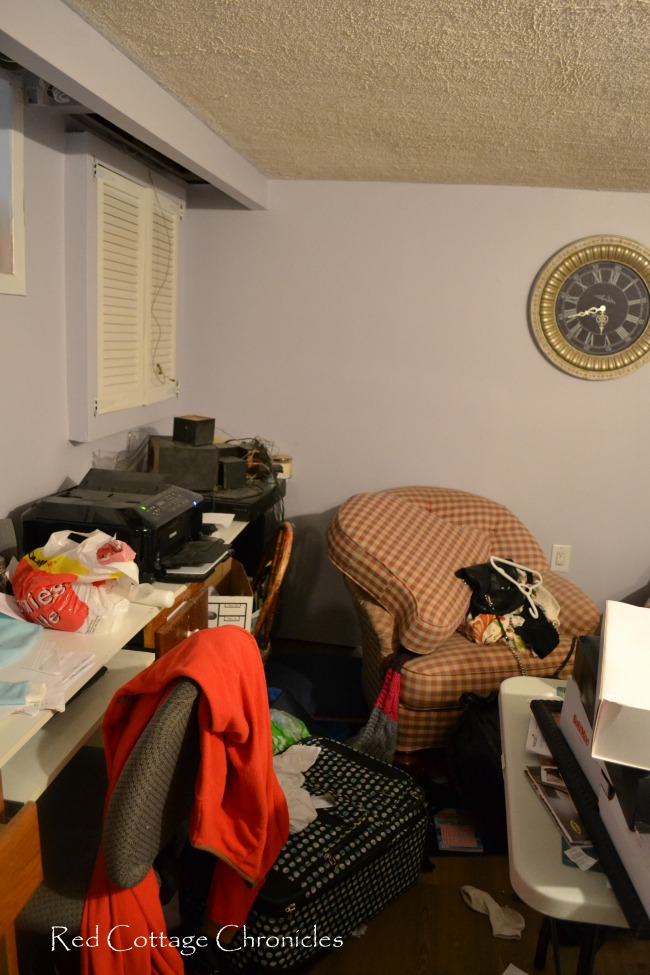 You can see why Love the Home You Have has really hit home with me.  Looking at these pictures confirm I have not loved my home the way it deserves.  The way I deserve.  It is time I start reclaiming space in our small home!
I have already felt a shift in my attitude and dare I say "hope" that my love and appreciation for my home will blossom into the home I have always dreamed of having.  Just on a smaller scale!!
Now that I have shown you the ugly, are you intrigued to find out how this all unfolds? I think this room is going to take me awhile.  You might just want to subscribe so you don't miss the update!
 Now, don't wait another minute.  Get your copy of Love the Home You Have and start a journey to a more beautiful and organized home today!
Love the Home You Have: Simple Ways to…Embrace Your Style *Get Organized *Delight in Where You Are
 (affiliate link)
(Visited 121 times, 1 visits today)