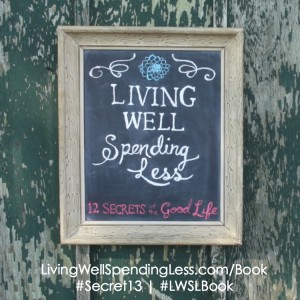 At this time of year we are all looking for ways to start out the new year with resolve. Living well and spending less are tops on my list for 2015!
Thanks to Ruth Soukup's new book, Living Well Spending Less, 12 Secrets of the Good Life, I have a road map to guide me through and keep me motivated to set goals AND achieve them!  Ruth has a knack of setting you on the right track for success and follows through with challenges you can put into action for each and every one of the 12 Secrets.
I think this quote from Ruth really says it all.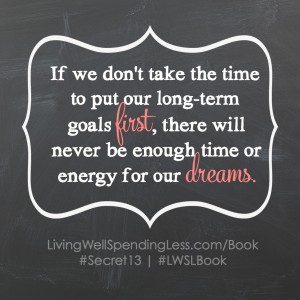 Whether your goal for 2015 (and beyond) is to organize your home, cut your monthly grocery bill, pay down debt, streamline your cleaning routine, and simply to learn new ways to give more of your heart, you will find it in Living Well and Spending Less.
After each chapter I confidently declared that chapter as my favorite.  Until I read the next! And the next!
And while I gleened information from each and every chapter I would have to say one of my favorites and really hits home for me is Chapter 6:  Less Stuff equals more Joy!  I could really relate to Ruth in this Chapter and have made it my personal goal for January!  Purge, purge purge is my goal this month.  After ridding our home of the needless clutter I know it will make implementing so many of the other Secrets easier!
After reading Living Well Spending Less: 12 Secrets of the Good Life I have a confidence in my ability to achieve our goals to become debt free, clutter free and live more authentically,  rather than continue on the treadmill of life we seem to be running on and getting nowhere!  If you have read this post about my horrible ability to stick to a grocery budget, (which by the way I have yet to successfully master) you know how I really need some motivation in this department!  I found it in Chapter # 9!
Discover your own secret of the Good Life in Ruth Soukup's new book, Living Well Spending Less: 12 Secrets of the Good Life. Through personal stories and practical action plans, she will inspire you to make real and lasting changes to your personal goals, homes, and finance. It is real, honest, and speaks to the heart of the matter—how can you live the life you've always wanted? (And be sure to preorder now to take advantage of Ruth's AWESOME preorder bonuses!!)
To Order your copy of Living Well Spending Less: 12 Secrets of  Good Life click here!  Just 1 more day to pre-order and take advantage of some pretty awesome bonuses!