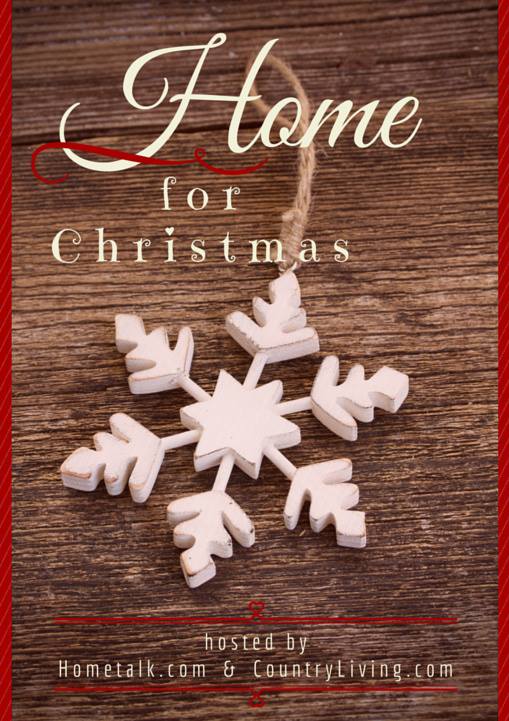 Our Christmas mantel is probably my favourite thing to decorate at Christmas time.  This year I knew I wanted to make a sign to hang above the mantel.  Add lots of fresh greens, and some lanterns or candles and I would have a simple Christmas mantel.  Since we made our own fireplace, the mantel is quite substantial.
In keeping with my plan to spend less this Christmas I looked around the house for something to make the sign.  We have lots of scrap lumber, but I have no real skill at lettering so I knew that would just frustrate me to try and hand paint it.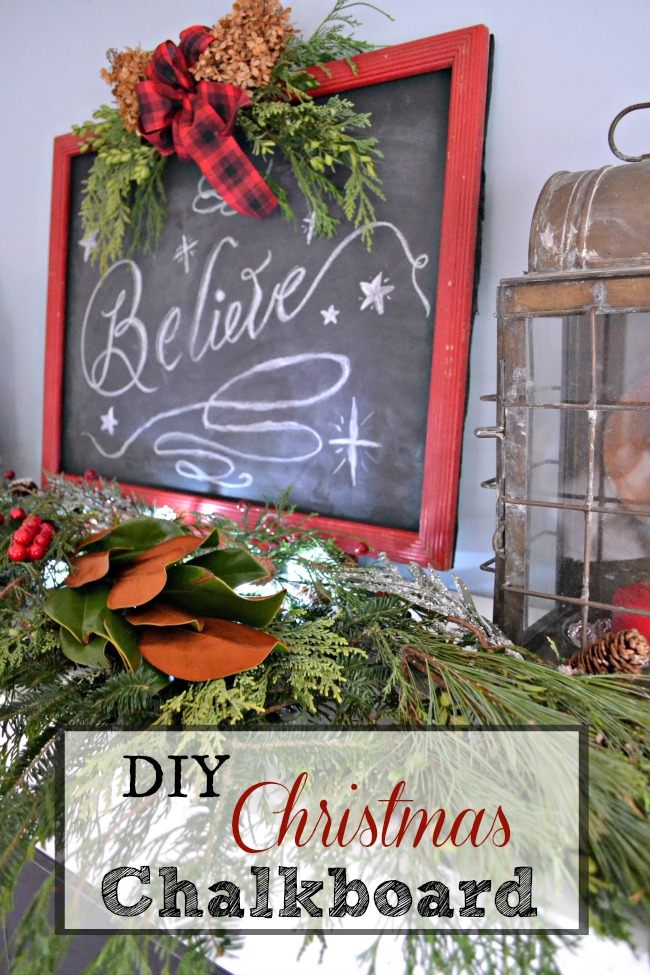 I came across an old picture frame that I had painted red a few years ago, but didn't have a chalkboard near big enough.  I came up with the plan to use inexpensive black foam board, give it a light coat of chalkboard paint and voila, I would have a nice Christmas chalkboard sign on the cheap!  To take it from plain to pretty I cut some greens and dried hydrangeas from the yard, added a bow and I had an evergreen swag to embellish the top of the frame!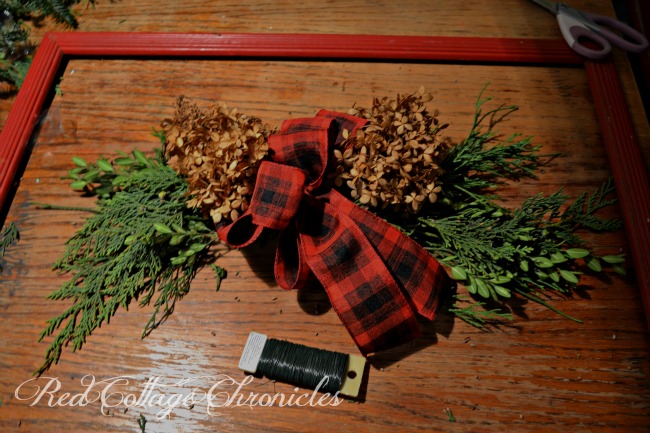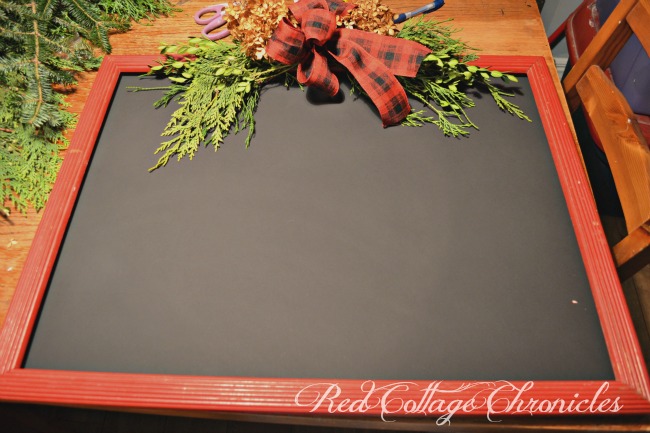 I "seasoned" the chalkboard by rubbing chalk all over and then erasing it lightly.  I think it gives it an old well used feel.  Don't you?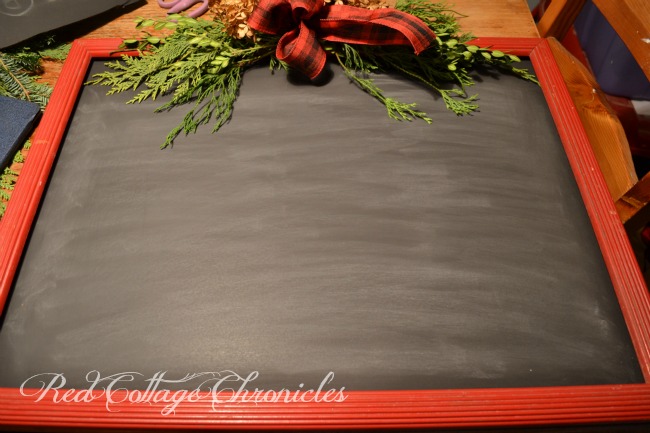 I wired the evergreen swag on with some light floral wire.  The foam board I just taped to the back of the frame, making it easy to remove if I ever decide to use the frame differently.
I sat for awhile thinking what I wanted the sign to say.  Some Hymn lyrics came to mind.  Or maybe a Bible verse.  I headed to Pinterest for some inspiration and I saw this word used a few times and I knew this was the word that was just what I needed. 'Believe'.  One particular sign I saw had these pretty stars around it that just made the word sparkle.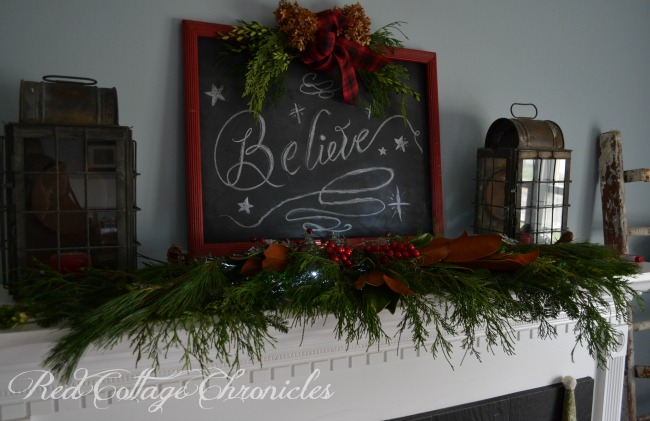 With so many crazy things happening in the world around us I need to remember to believe that the number of good people in our world far out number the bad.  I need to believe that the our world is a good place and if each and every one of us does one good thing every day, the world indeed will be a better place.
Secondly, my faith and belief in God has been slipping the last couple of years.  Partly because of the tragic things happening in the world, but also because of things that have happened in my own church in recent years that me left doubting.  We haven't been to church in well over a year and each week we stay away, the more I have a hard time believing.  I know in my heart that I believe, but I just need my mind to let me follow my heart.
And of course I think everyone, no matter how old, needs to Believe in Santa Claus.  At the very least believe in the magic of Santa!  It keeps us young at heart and gives us a sense of anticipation.  It lets us forget about the real world for just a little bit and look at the world from a child's eyes.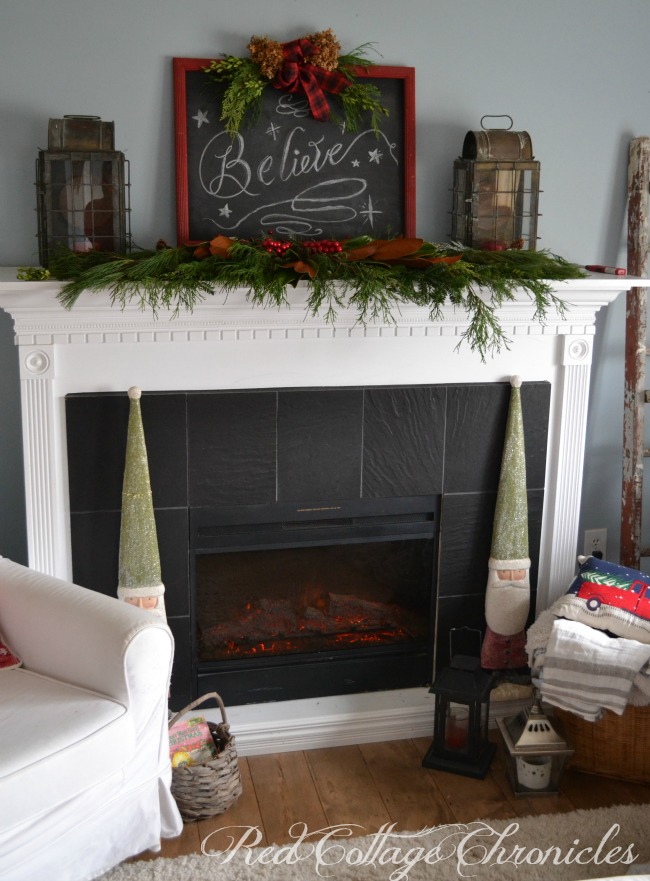 I mentioned that my lettering skills are rather lacking non-existent!  So now what?  I called my friend Leslie of course!  She has beautiful penmanship and I enlisted her help with writing the word 'Believe' and then I embellished it a bit myself!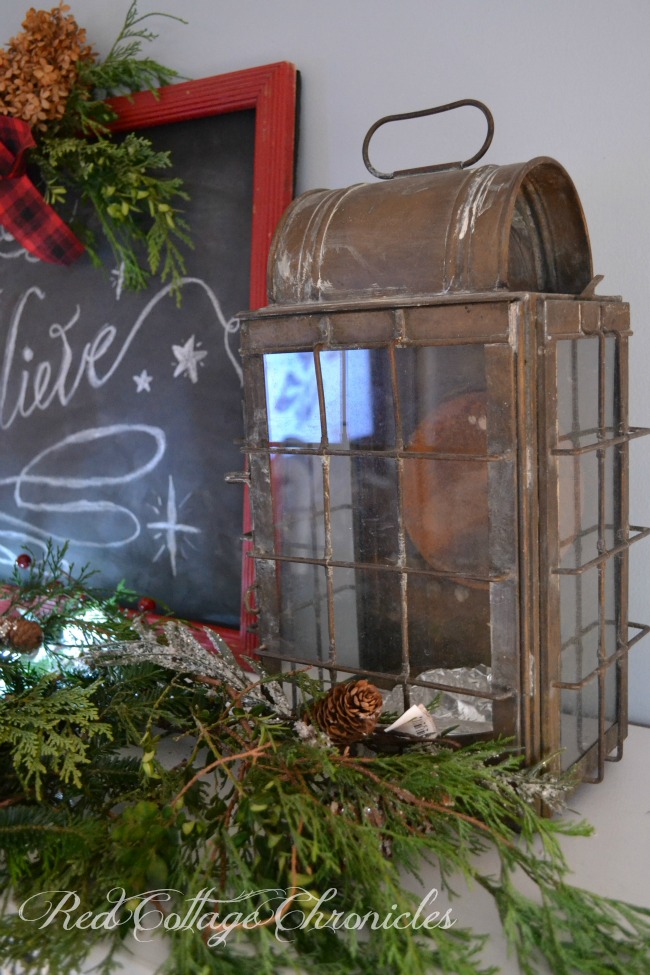 I have several lanterns at my house, but I knew I wanted something more substantial than any of mine.  A quick call to my mom and these beautiful lanterns that came from one of my Poppa's ships are now part of my Christmas mantel.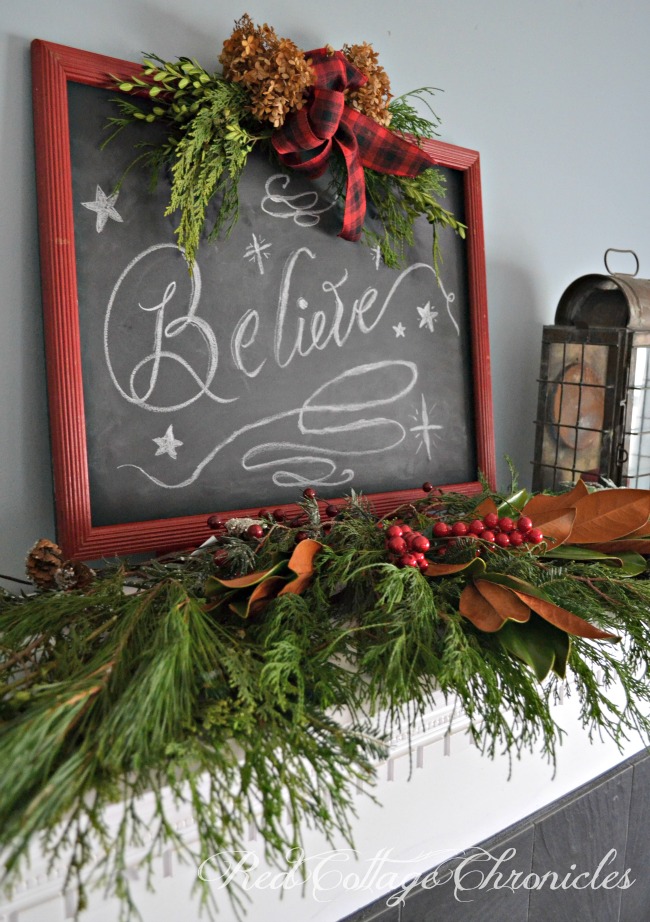 A lighted dollar store garland is embellished with fresh greens from the yard and a few magnolia branches I picked up at the garden centre.
The Christmas tree will go up tonight and we will watch Christmas Vacation while we decorate it!  Over the next several weeks we will gather in our living room with family and friends and I hope that each and every visitor will look at my Christmas chalkboard sign and find something to believe in for themselves!
How about you, do you Believe?
Until next time….
Maureen
Thank you to Hometalk.com and Countryliving.com for hosting this awesome bloghop!  Make sure you check out all the fabulous bloggers who linked up down below!