I love this time of year! Our home is a buzz with Christmas spirit, led by my Christmas lov'in husband. It is hard not to dive knee deep into planning for the season. Our December calender is almost full. Christmas house tours, candle light strolls, Christmas movie nights, cutting down the tree, and of course Christmas baking!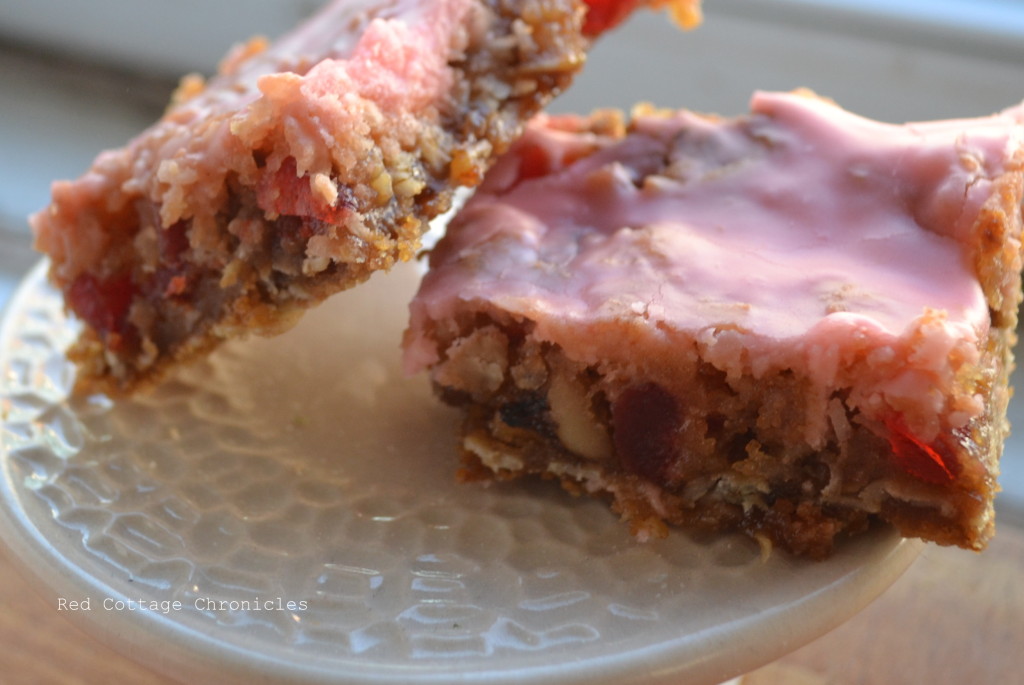 The anticipation of the Christmas season was always heightened once my mom started her Christmas baking. Her Cherry Chews have always ranked amongst my most favorite. The taste of cherries and coconut with a subtle almond flavor in a chewy pink iced square was always something to look forward to. Thankfully this recipe makes a big 9 x 13 pan and can be cut into lots of bite sized squares for sharing. Which is a good thing because they always go fast!
I am delighted to share this recipe with you today. I really cannot even tell you the source of this recipe, as they are a Christmas treat that my mom has been baking for as long as I can remember.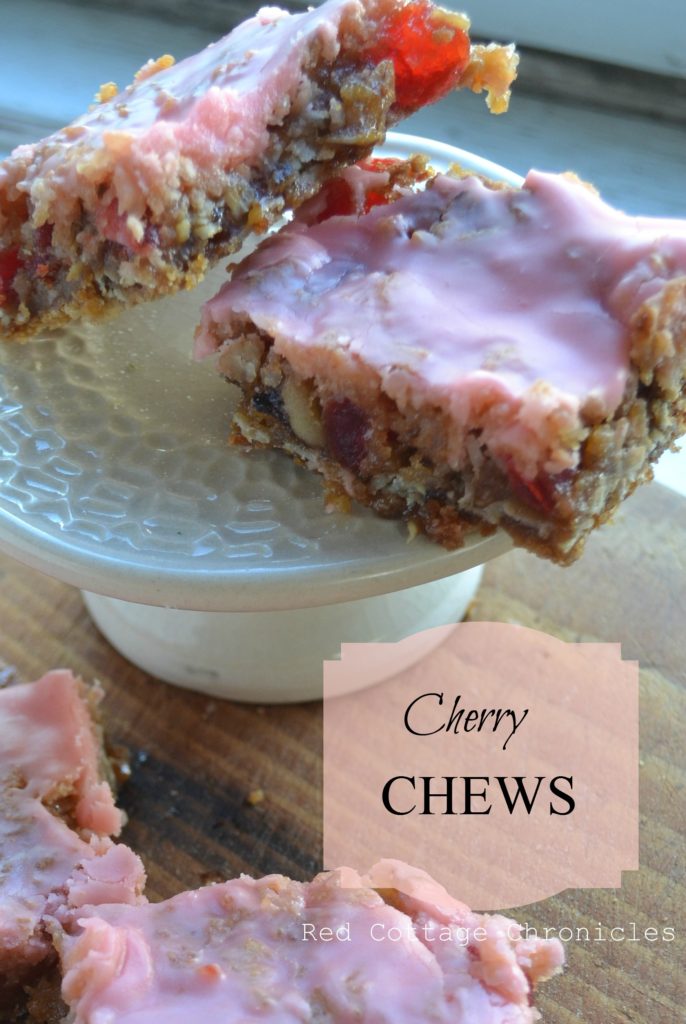 I like this recipe because it requires no electric mixers to prepare. As a matter of fact I primarily use just one big bowl to make them.
Begin by using a large bowl to mix the flour, rolled oats, brown sugar, baking soda and salt. Rub (or cut) in 1/2 cup butter. Press this mixture into a greased 9 by 13 inch baking pan. Bake at 350 degrees for 10 minutes.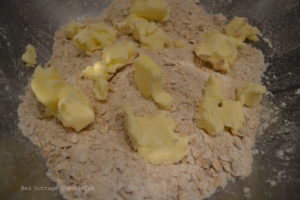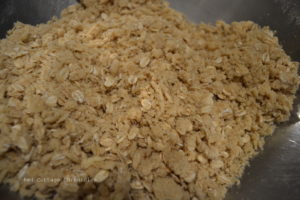 Using the same bowl, beat eggs with a whisk. Stir in brown sugar and almond extract. Combine the flour, baking powder and salt and stir into the egg mixture. Add the coconut and chopped cherries. Using an off set spatula, spread this mixture over crust. Sprinkle with chopped pecans. Return to oven and bake for 25 minutes (until lightly browned). Remove from oven and allow to cool slightly.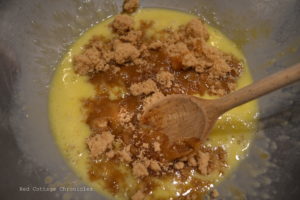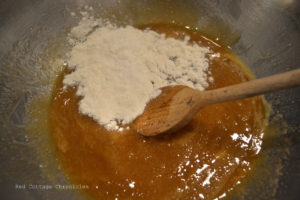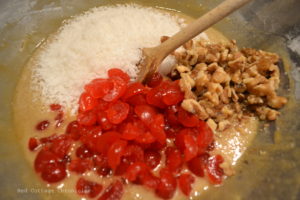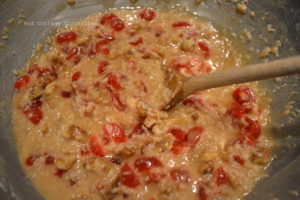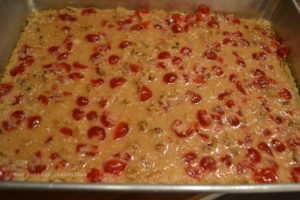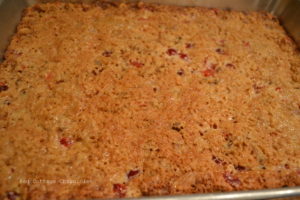 Meanwhile, in a large bowl sift 1 cup of confectioners sugar. Add softened butter and 4 to 5 tablespoons of reserved cherry juice, and 1/8 teaspoon almond extract. Stir until desired consistency is reached, adding more cherry juice if required. This will give a very light coating of frosting for the squares. By all means it can be doubled for a thicker frosting.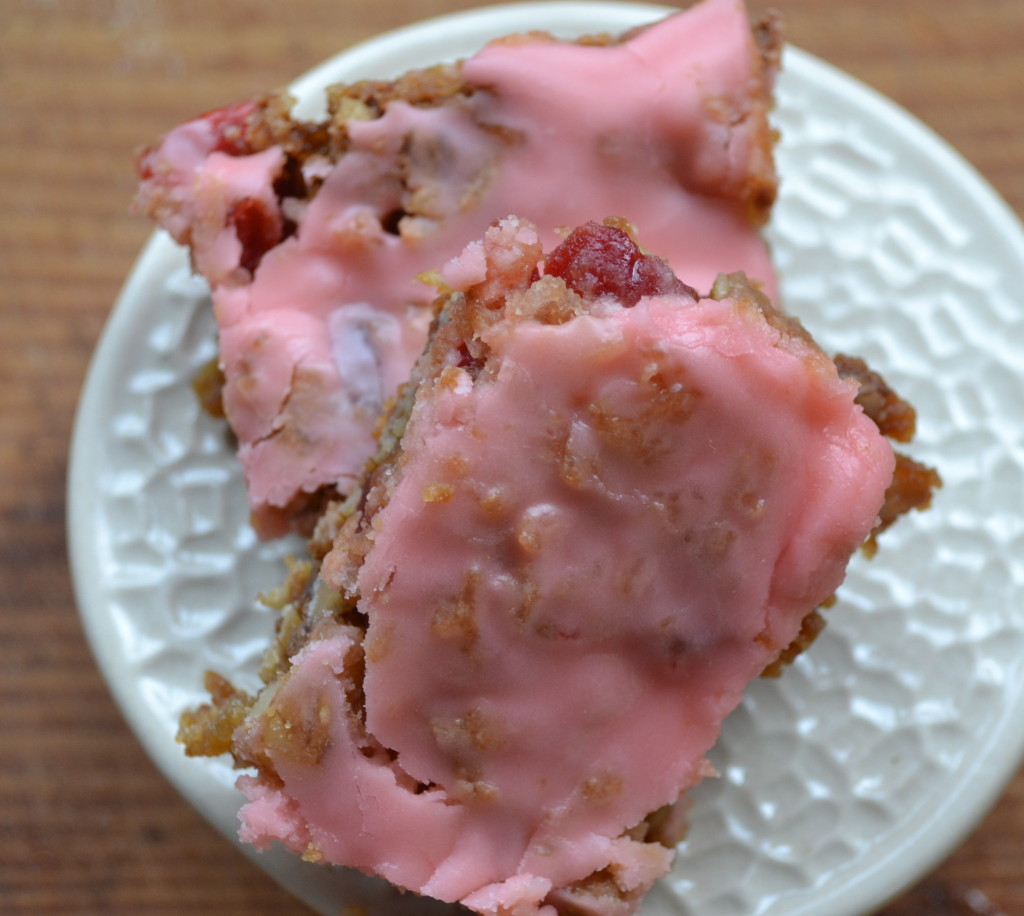 There you have it. One my earliest memories of the Christmas spirit courtesy of my mom's cherry chews!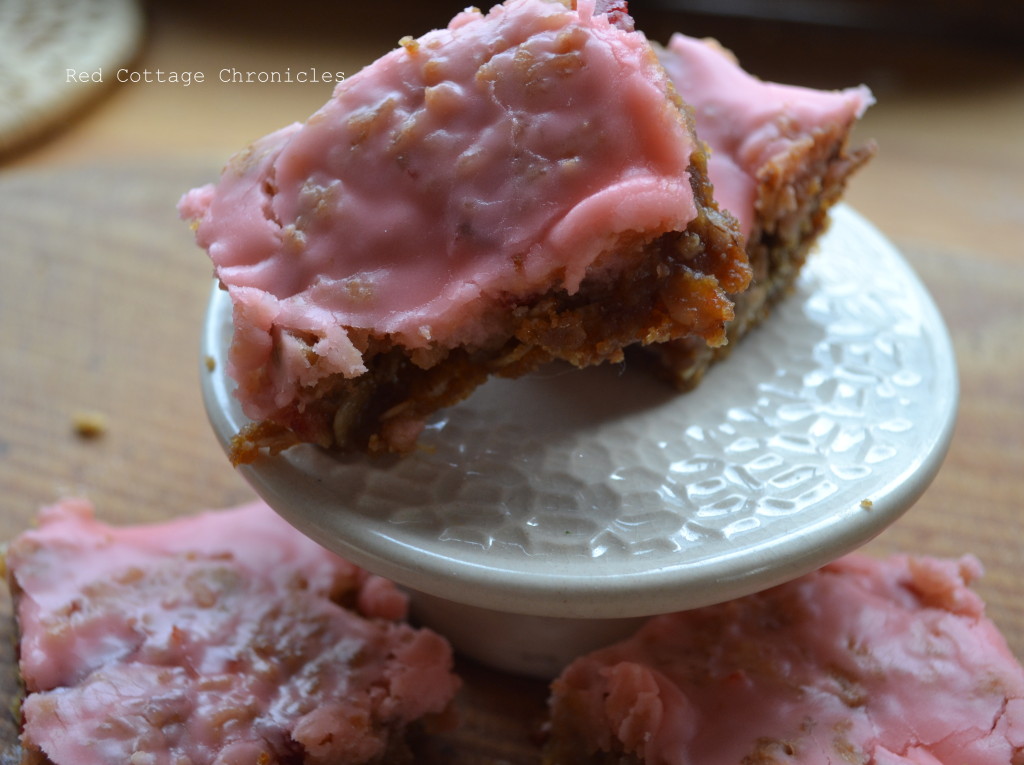 If you are looking for more yummy cherry recipes, check out this recipe for Cherry Surprises – it was one of the very first recipes I ever posted, so it could use some updated photos but the recipe is tried and true! Or, maybe a simple cherry quick bread like this Old Fashioned Cherry Bread is something you will enjoy.
Until next time….

Cherry Chews
Prep time:
Cook time:
Total time:
Ingredients
For Crust:
1 cup all purpose flour
1 cup rolled oats
1 cup brown sugar, lightly packed
1 teaspoon baking soda
1/4 teaspoon salt
1/2 cup butter
For Filling:
2 eggs
1 cup brown sugar
1/2 teaspoon almond extract
2 tablespoons flour
1 teaspoon baking powder
1/2 teaspoon salt
1 cup coconut
1 cup well drained maraschino cherries, quartered (reserve juice)
1/2 cup chopped pecans
For Frosting:
1 1 /2 tablespoons soft butter
1 cup confectioners sugar
4 to 5 tablespoons cherry juice
1/8 teaspoon almond extract
Instructions
For Crust:
Mix flour, oats, brown sugar, baking soda and salt in a large bowl. Cut in butter until mixture is crumbly. Press into greased 9 by 13 pan and bake at 350 degrees for 10 minutes.
For Filling:
In a large bowl beat eggs, stir in brown sugar and almond extract.
Mix flour, baking powder and 1/2 tsp salt and stir into egg mixture.
Add coconut and cherries, stir until combined.
Spread mixture over prepared crust using an off set spatula.
Sprinkle with chopped pecans.
Bake at 350 degrees for 25 minutes, until lightly brown.
Remove from oven and allow to cool while preparing frosting.
For Frosting:
Combine all ingredients and stir until smooth and well blending, adding addition cherry juice for desired consistency.
(Visited 1,096 times, 8 visits today)